---
Refinishing your basement? Turning that unused space into a comfortable lounge area? Tired of hot and cold spots in an already finished basement? Looking for a more efficient way to heat and cool your basement? If you've answered yes to any of these questions, a Mitsubishi ductless heating and cooling system, also called a mini-split, might be the perfect solution for you.
Benefits of ductless heating and cooling for basements
If your basement isn't connected to your central heating and cooling system, you have two options — install additional ductwork and replace your existing furnace and central AC to increase the system's capacity, or install a ductless mini-split from Mitsubishi. Here are the main benefits of ductless in your basement:
Easy installation process
A ductless mini-split features an indoor air-handling unit connected to an outdoor unit. Very small lines run between these units, meaning that you don't have to worry about installing bulky ductwork or committing to a massive construction project.
Zoned controls
The ductless heating and cooling system turns the basement into its own zone. You can set a unique temperature for this part of your home. When you're not using the basement, you can adjust the thermostat so you don't waste energy heating or cooling an unused space. And when you're using the basement, you can adjust the temperature to a perfect comfort level that isn't affected by the rest of your home. If you decide to upgrade to a whole home ductless system, you will get several zones throughout your home, each with its own thermostat.
Heating and cooling
Using heat pump technology, a ductless mini-split can provide both heating and cooling to your basement. You no longer have to worry about the inconveniences of space heaters, window ACs, pellet stoves, or other solutions sometimes used for areas not connected to your central HVAC system.
Efficiency
The heat pump runs very efficiently. When used to replace traditional heating and cooling methods, the ductless mini-split reduces homeowners' energy bills.
Quiet operation
Whether you're watching a movie, working in your basement home office, setting up a quiet guest room, or using your basement for other purposes, you can enjoy these activities in peace. Mitsubishi ductless units operate very quietly. The noise level varies slightly depending on the basement ductless unit you select, but most units are whisper-quiet and make about the same level of noise as gently rustling leaves.
Air purification
Mitsubishi ductless units feature high-tech filters that safeguard the quality of your indoor air. The filters remove microscopic dust mites and allergens from your air, allowing you to breathe easily.
Dehumidification options
Mitsubishi ductless units for basements boast many features and settings including a dry setting. With this feature, you can dehumidify your basement to protect your belongings and make the space more comfortable.
Multiple style choices
Mitsubishi ductless units for basements come in a range of styles. Choose between wall-, ceiling, or floor-mounted options in a variety of colors and finishes.
Remote controls
With a ductless unit, you don't have to get up to change your settings, you can control the unit remotely with a remote control or a WiFi-enabled app.
Ready to hear more about why many homeowners opt for ductless heating and cooling for basements? Then, contact us directly. At NETR, Inc, we have completed Mitsubishis's highest level of contractor training, and we're always excited to talk with clients about the potential of these systems.
Related Resources
Case Studies
Case studies about Mitsubishi ductless in basements
We work closely with our clients to solve their unique heating and cooling challenges. To get a sense of our process and how Mitsubishi ductless units have improved other basements through Massachusetts, take a look at this case study:
A Mitsubishi Ductless Unit Helps a Basement That's Too Humid in the Summer and Too Cold in the Winter (Somerville, MA).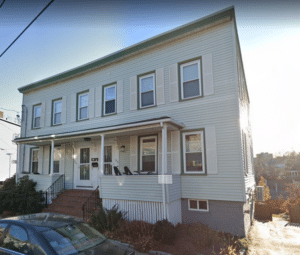 To find more case studies, check out our residential case studies page. There, you can search for cases studies based on the type of home (ranch, split-level, colonial, multi-family, etc) or by your town. Then, you can see how ductless has helped people in similar situations as you.
Ductless Heating and Cooling
Learn more about ductless for basements
Want to learn more before choosing a Mitsubishi ductless unit for your basement? Then, check out these resources.
Feel free to search through our site. We regularly add new content about ductless HVAC. Or, contact us directly. We love to talk with people who are interested in ductless options.
Rebates
Rebates for ductless heating and cooling
Because of the efficiency of these systems, Mass Save and other groups regularly offer rebates. To see if you might be able to offset the cost of your investment with a rebate, check out our rebates page.