---
Your bedroom is your sanctuary. It should be a comfortable and inviting place to sleep so that you're well-rested and ready for the rest of your life. Unfortunately, many bedrooms aren't the optimal temperature. They're too hot in the summer, too cold in the winter, or just the wrong temperature overall.
There is a solution. A Mitsubishi heat pump can keep your bedroom at the ideal temperature all year long. Take a look at how this technology can improve your sleeping area.
Why Bedrooms Are Too Hot or Cold
Bedrooms in homes with central HVAC systems are often too hot or cold. In fact, about half of homeowners with central HVAC systems report that at least one room in their home is too hot or too cold.
This effect impacts bedrooms in particular because they are often at the end of the ductwork. By the time the air reaches the bedroom, it has lost a lot of its temperature and power.
Additionally, the thermostat in most homes tends to be in the hallway or downstairs, and it adjusts to the temperature in that area, not in the bedroom. As a result, your bedroom doesn't get the right amount of heating or cooling.
Benefits of Mitsubishi Ductless Heating and Cooling
When you install a Mitsubishi mini-split, your bedroom becomes its own zone. You can opt to just install the ductless unit in your bedroom, or you can put multiple units throughout your home to create multiple zones. Each zone has its own thermostat so that you can perfectly control comfort levels based on the needs of the occupants in each area.
Here are some additional benefits of putting a Mitsubishi heat pump into your bedroom.
Heating and cooling
Heat pump technology efficiently heats or cools your bedroom. During the winter, the heat pump extracts heat from the cold outside air, and during the summer, it works in reverse to extract hot air out of your bedroom.
Consistent comfort
The indoor air-handling unit boasts a wide range of settings. The fan options ensure that the warmed or cool air reaches every corner of your bedroom evenly. Additionally, the unit runs in a consistent way that maximizes comfort. It doesn't have the harsh on-and-off cycles of traditional forced-air HVAC equipment.
Advanced air filtration
Whether you're putting Mitsubishi into your bedroom, the baby's room, or the guest room, you can rest assured that the air will be healthy. The advanced air filtration systems in these units remove microscopic dust and allergens.
Humidity control
You can also use your ductless HVAC unit to control the humidity in your room. Dry settings reduce unwanted humidity easily and effectively.
Quiet
These units are considered to be whisper quiet. The indoor units typically have noise levels that are about the same as rustling leaves. The outdoor units are quieter than a whispered conversation.
Multiple designs
The indoor heating and cooling units come in a range of designs so you can select the right style and comfort fit for your bedroom. There are also ducted units that work with your existing ductwork to heat or cool your bedroom.
When you contact us, we will talk with you about your too cold or hot bedroom or about any other heating or cooling challenges you're having. Then, we'll guide you toward the best solution for your needs.
Related Resources
Case Studies
Case Studies About Ductless in Bedrooms
At NETR, Inc, we have been working with homeowners throughout Massachusetts for years, and we've chronicled many of our experiences in case studies. Check out how Mitsubishi has helped this homeowner with their bedroom.
A Couple Makes Their Bedroom More Comfortable with Mitsubishi ductless (Beverly, MA)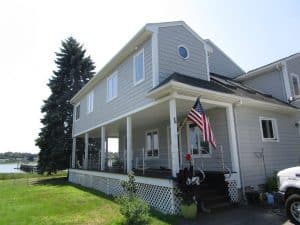 Want to read more about how ductless heating and cooling has improved bedrooms and other parts of homes in Massachusetts? Check out our residential case studies page.
Ductless Heating and Cooling
Learn More About Ductless Heating and Cooling for Bedrooms
We want all of our clients to know as much as possible about ductless heating and cooling. Tired of a bedroom that's too cold to be comfortable or too hot for sleeping? Then, a ductless mini-split may be the right answer. Check out these resources to learn more:
We believe in empowering consumers with information. Explore our site for more blogs, web resources, videos, and podcasts. Or contact us directly. We have completed Mitsubishi's highest level of contractor training, and we have extensive experience with all types of HVAC solutions. Let's talk about your questions today.
Rebates
Rebates for Installing Mitsubishi in Your Bedroom
To encourage homeowners to embrace energy-efficient heating and cooling solutions, MassSave and other groups offer rebates. Check out the rebates page to see if you qualify for any programs that can help to offset the cost of upgrading your heating and cooling.