---
A Mitsubishi heat pump can replace or supplement the boiler in your home. Heat pumps offer highly efficient heating and cooling for your whole home, or they can be used in just a section of your home. They are easy to install and often qualify you for generous rebates.
Wondering if it's time to upgrade your boiler-heated home to ductless heating and cooling? Here's what you need to consider.
Heat Pumps Versus Boilers
Heat pumps use compression and heat transfer to heat or cool your home. In contrast, boilers use fuel combustion. To heat your home, boilers burn fossil fuels, and their byproducts such as carbon dioxide and nitrogen dioxide contribute to climate change and pollution.
Boilers cannot produce more heat than the energy they consume. This is an outdated, inefficient model that increases your home's heating costs. A heat pump can create up to three times more heat energy than it consumes in electrical energy. Even at just 5° F, a heat pump can work at 100% of its stated efficiency level. This saves you money and reduces your carbon footprint.
Additionally, boilers can only heat your home. A heat pump can both heat and cool your home. It can take care of your needs all year long.
Zoned Comfort From Mitsubishi
When you decide to add a Mitsubishi heat pump to your boiler-heated home, you can choose from multiple different configurations. You can add a heat pump to a single part of your home, or you can add multiple indoor air handling units throughout your entire home.
Whether you opt for a whole home solution or a single unit, each unit creates its own zone. You can control the temperatures in each zone separately. This allows you to create comfort levels that match how you use your home. For instance, you don't have to heat or cool areas that aren't in use. Or, you can add additional heating or cooling to the rooms you use the most.
Benefits of Replacing a Boiler With a Mitsubishi Heat Pump
Many homeowners replace their boiler with an all-electric heat pump. Others keep the boiler in place as a backup heating source. Here are some of the benefits of putting in a heat pump:
Energy-efficient heating even in cold climates.
Convenient cooling capabilities in the hot summer months.
An easy installation process that doesn't require you to add ductwork or disrupt walls.
Zoned controls so you can maximize comfort throughout your home.
The ability to create up to eight indoor zones with a single outdoor unit.
Quiet operation of both the indoor and outdoor units.
Improved air quality thanks to advanced filtration.
Dehumidification settings to keep your home dry and comfortable.
Multiple styles of indoor air handling units that fit into walls, floors, or ceilings.
Remote controls and apps so you can conveniently change settings.
Each Mitsubishi ductless unit comes with its own unique range of features. We look forward to talking with you about the additional benefits of Mitsubishi ductless systems.
Related Resources
Case Studies
Case Studies of Replacing Boilers With Ductless Heating and Cooling Systems
Homeowners throughout Massachusetts contact us with a wide range of heating and cooling challenges. There is not a one-size-fits-all solution. We work closely with homeowners to find the right solutions for their unique needs.
Check out this case study to learn more about how Mitsubishi has helped people replace or augment their boilers.
Homeowners Augment Their Oil Boiler with Ductless Heating and Cooling (Stoughton, MA).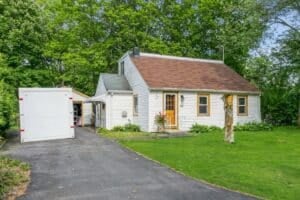 Want to check out more case studies? Then, visit our residential or commercial case studies pages. We set it up so that you can easily search by your town or the type of home you have.
Ductless Heating and Cooling
Learn More About Adding Ductless to Boiler-Heated Homes
To help you make this decision confidently, we've put together a variety of resources. To learn more about ductless HVAC, heat pumps, and heating in general, check out the resources below.
If you decide that you want to keep your boiler in place as a backup heating method, check out the above post on how to integrate controls so that you know what to expect. Feel free to explore our site to learn more about boilers versus heat pumps. Or, contact us directly.
Rebates
Rebates for Investing in Heat Pumps
Groups like MassSave want to encourage homeowners to move away from fossil-fuel burning heat sources to clean, electric options. To incentivize people to make the switch, these organizations offer a lot of different rebates., If your purchase qualifies for a rebate, we'll even help you with the paperwork.