---
Many older homes still rely on oil, propane, or gas for heating. These energy sources are inefficient and expensive. They are also environmentally harmful, and unfortunately, they don't make your home as comfortable as modern heating solutions.
A Mitsubishi heat pump can supplement or replace these legacy systems. By upgrading to ductless heating and cooling, you improve the comfort of your home and reduce your energy bills at the same time. Find out why homeowners across Massachusetts are making the change from fossil fuel heating to electric heating.
Electric Heat Pumps Vs. Oil, Propane, and Gas Heating
Electric resistance heat pumps offer countless advantages over furnaces that rely on oil, propane, gas, or other fossil fuels. Here are just a few of the reasons why more and more homeowners are embracing mini-splits.
Reduced energy consumption — Furnaces that rely on fossil fuels consume more energy than electric heat pumps. When homeowners switch to heat pumps, they watch their energy bills drop instantly.
Fewer price fluctuations — Fossil fuels are often subject to more dramatic price shifts than electricity. By switching to an electric heat pump, homeowners enjoy more consistency in their budgets.
Minimal concerns about environmental byproducts — Furnaces that burn fossil fuels also create harmful byproducts. These byproducts aren't good for the environment, and if your home isn't properly ventilated, they can be bad for your health as well.
Smaller carbon footprint — When you burn fossil fuels, you increase your carbon footprint. Heat pumps, in contrast, produce about the same amount of heat as they consume in energy. This reduces your carbon footprint, and it's the reason people with net-zero homes often choose this solution.
Consistent heating or cooling — Oil, gas, and propane heating creates inconsistent temperatures. The furnace runs on high until your home reaches the temperature on the thermostat. Then, everything shuts down until the temperature drops just below the desired level. This creates inconsistent temperatures that can be uncomfortable. In contrast, mini-splits keep your home at a consistent temperature.
No hot and cold spots — Additionally, traditional HVAC methods often leave parts of your home too hot or too cold. Ductless systems feature fans and occupant sensors that eliminate unwanted hot and cold spots.
Zoned thermostat controls — With a traditional HVAC system, you control everything with a single thermostat. Each indoor unit of your ductless system has its own controls. You can set a unique temperature for each zone of your home based on its unique needs.
Air conditioning — Oil, gas, and propane heaters often don't have a built-in AC. You will either end up sweltering through the summer or relying on window ACs and fans. With a ductless system, you can add both heating and cooling.
These are just some of the benefits of a ductless mini-split over an oil, gas, or propane heater. To talk about additional benefits, contact us directly. Armed with Mitsubishi's highest level of contractor training, we are ready to answer your questions.
Related Resources
Case Studies
Look at Case Studies of Massachusetts Home Owners
We have worked with many homeowners who have oil, gas, or propane heaters. Some of them wanted to add air conditioning to their homes but didn't have built-in ductwork. Others wanted to supplement their fossil-fuel-burning systems with a more efficient option. Some of our clients decided to go with a hyper heat solution that could completely replace their existing furnace.
Take a look at this case study to get a sense of how we work with clients to solve their heating and cooling challenges:
Mitsubishi Ductless Replaces Oil Heat (Marblehead, MA)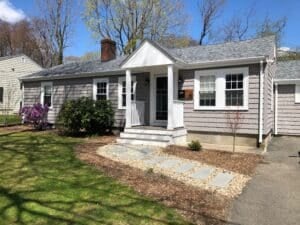 Visit our residential or commercial case studies pages to search for more case studies based in your hometown or in your style of home.
Ductless Heating and Cooling
Learn More About Mitsubishi Ductless
At NETR, Inc, we love the power of ductless technology. Through the years, we have helped many clients make the switch to this energy-efficient option. Ready to learn more? Then, check out these resources:
Rebates
Rebates for Mitsubishi Ductless Systems
You may qualify for many different rebates when you invest in a ductless mini-split. Historically, there have been generous rebates specifically focused on homeowners who upgrade from oil, gas, or propane heating to ductless.
The rebates are always changing, but we do our best to keep our site updated with the most current offers. We can even help you with the rebate paperwork to ensure you get maximum value for your purchase.