---
The perfect place to soak up some rays during the long cold winter or enjoy warm summer days, a sunroom is a welcome addition to many homes. However, while the light may be perfect, these rooms can struggle to stay comfortable if you don't have the right heating and cooling solution.
A Mitsubishi Electric heating and cooling system is often the best solution — keep reading to find out if it's right for you.
Benefits of mini-splits for sunrooms
With a mini-split, you can easily add heating and cooling to a sunroom, even if it's not connected to your central HVAC system. Mini-split systems consist of a single indoor unit paired with an outdoor unit.
Whether you want to heat or cool your sunroom, the indoor air handler brings the room to the desired temperature. During the winter, the heat pump in the outdoor unit extracts heat from the outside air and transfers it to the indoor unit. During the summer, the process works in reverse, extracting warm air from your home and releasing it outside.
Heat pump technology provides even, consistent heating and cooling, and it's significantly more efficient than window units, baseboard heat, and other options. You can opt to add a mini-split to just your sunroom, or you can use Mitsubishi electric solutions to heat and cool your entire home. With whole-home heating and cooling, you have several indoor units, and to save even more energy, you only have to heat and cool the areas you're using.
Ductless options for sunrooms
When you choose a ductless mini-split from Mitsubishi, you get to enjoy enhanced comfort, energy efficiency, and quiet operation. But you can also choose from a range of styles to perfectly match your decor. Here are the main ductless indoor units for sunrooms:
Wall-mounted indoor units — If your sunroom has standard construction sidewalls, you can attach your indoor unit to the wall.
Ceiling cassettes — These indoor units recess into the ceiling and are ideal if your sunroom is glassed on three sides.
Floor-mounted indoor units — If your sunroom has knee walls, higher than 2-feet, a floor-mounted design may be the best option.
With each of these models, you can find a range of capacity sizes, sleek designs, and compelling features like Dual Barrier Coating to stop the build-up of dust and allergens in your system and advanced filtration to protect your indoor air quality. You can also easily control the settings to optimize comfort with a range of control options. There are even remote controls and apps so you can comfortably change settings from anywhere.
Installing Mitsubishi heating and cooling in sunrooms
The installation process for Mitsubishi mini splits is fast and streamlined, whether you're in the construction face or adding comfort to an existing sunroom. When you choose a ductless unit, the installer positions the outdoor unit and installs your desired indoor unit. Then, they make very discrete holes in the wall to run in the refrigerant and electrical lines between the two units. The process can be completed in less than a day.
In some cases, a ducted ductless solution may be the right option. With that option, the installer attaches an air handler to your existing ductwork.
Related Resources
Case Studies
Case studies about sunrooms
At NETR, Inc, we have worked with home and business owners throughout Massachusetts, and we work closely with our clients to ensure we guide them toward the best solution for their heating and cooling challenges. Check out this case study to see how one of our previous clients has used Mitsubishi heating and cooling solutions in their sunroom:
Ductless HVAC Heats and Cools Sunroom (Andover, MA)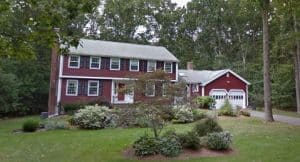 To see more case studies of how people have improved the comfort and efficiency of their homes, check our residential case studies page.
Ductless Heating and Cooling
Learn more about Mitsubishi ductless heating and cooling
To help you learn more about Mitsubishi heating and cooling, we've put together the following resources and insights.
Or, feel free to contact us directly. We have extensive hands-on experience solving heating and cooling challenges. We also have Mitsubishi's highest level of contractor training, meaning we can answer any question you have.
Rebates
Rebates for ductless in sunrooms
There are many rebates that can help offset the cost of adding energy-efficient heating and cooling to sunrooms. Want to save some money while upgrading your home's heating and cooling? Then, check out the rebates page for more details.