If you need to install or supplement HVAC for a single room, you may be wondering what the best option is. There are a lot of different ways you can add cooling or heating to a room and it's easy to get overwhelmed by them all.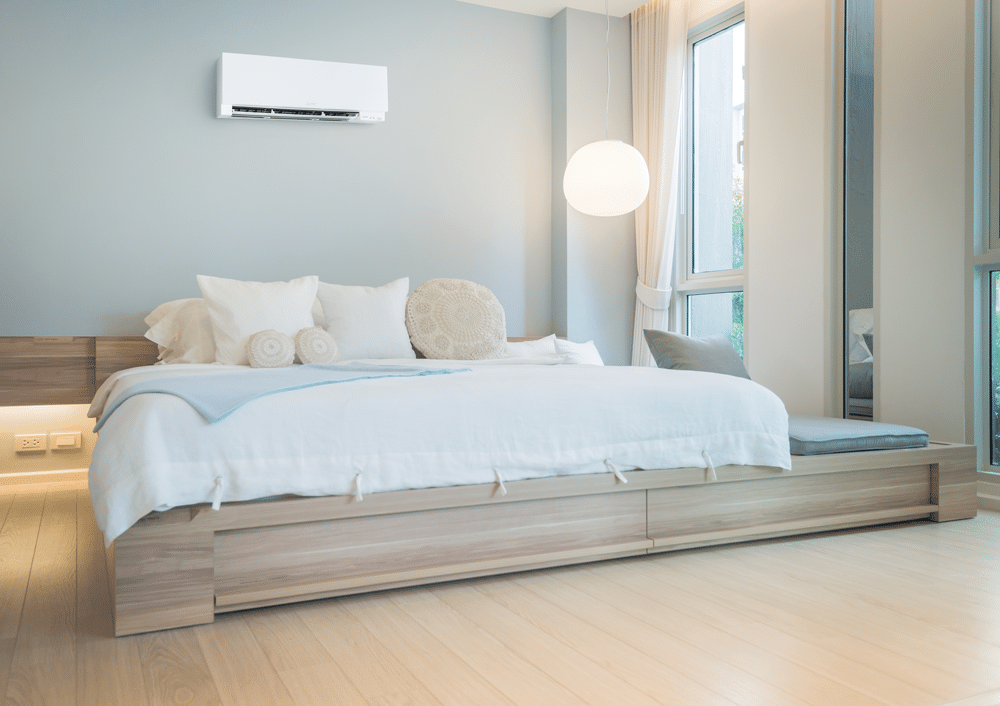 Should you build additional ductwork? Put in a window AC unit in the summer? Or will a wall-mounted heat pump work best? Here are 5 reasons why you should consider installing a small wall ductless unit for single-room HVAC and how N.E.T.R., Inc. can help you get started.
1. Improved Temperature Control
Cooling and heating a single room can be challenging. Central HVAC creates hot and cold spots that are difficult to make comfortable, and window ACs can easily make the room too cold the summer while not putting out enough air to reach other rooms of the house.
Putting a wall-mounted ductless unit in a single room can provide you with immediate cool air and technologically sophisticated thermostats help regulate the room's temperature. It can also be used to heat the room during the winter, which a window AC unit cannot do.
2. Maximum Airflow
Central HVAC isn't as effective for air flow in every part of the house because there is typically only one fan that pushes cool air throughout the entire system of ducts. The airflow from a window AC might initially seem powerful, but this tends to wane quickly as poor-quality materials sustain regular wear and tear.
Alternatively, wall-mounted ductless HVAC units are positioned in the best place for maximum airflow. They sit roughly 8 to 12" below the ceiling, usually on the center of the wall. This allows air to circulate both above and below the unit for maximum heating and cooling efficiency.
3. Minimal Changes to Your Home's Structure
If you have a central HVAC system and are adding onto your home, you'll have to build ducts for your new room if you want to use your system for the additional space. This can be costly and time consuming.
Ductless, on the other hand, only requires a small opening in your wall to install and doesn't require you to expand your ductwork. Only minimal changes to the structure of your home are needed to add heating and cooling to the new room, and you can still use your central system and any supplemental heating you have along with your wall-mounted ductless unit.
4. Improved Air Quality
Ductless HVAC offers the best air quality in the industry, eliminating common allergens like dust and debris that are constantly pushed around by window ACs and central HVAC systems. With a ductless system, contaminated air isn't circulated through your home again and again, gaining more pollutants each time.
Instead, air goes through multiple stages of filtration before being carried throughout your home. They're easy to clean and maintain, so you can keep the unit in great condition. This reduces a significant amount of dander, dust, pollen, and bacteria, helping you to breathe easier.
5. Reduced Ambient Noise
A wall-mounted ductless unit is the quietest form of cooling and heating currently available on the market. These units operate at around 32 dB, or the volume of a human whisper. This is extremely quiet compared to central HVAC and window air conditioners.
Central HVAC systems run at about 70 to 80 dB, which is slightly louder than the sound of a noisy restaurant or the sound of a vacuum cleaner. Window ACs are also just as loud, with most models producing between 50 to 80 dB of noise during operation. Using a small wall ductless unit for a single room instead of a window air conditioner or central HVAC system is the best choice for reducing ambient noise in your home.
Switching to Ductless? N.E.T.R., Inc. Is a Leading Boston HVAC Contractor
If you're interested in switching to ductless air conditioning, we can help you access the resources you need to make a decision. There are many different heat pump configurations and mounting options, and which is best depends on multiple factors like the layout of your home and how many independently-controlled temperature zones you want to have.
At N.E.T.R., Inc., we have been providing residents of Boston and surrounding areas with reliable heating and cooling service since 1989. Our Mitsubishi Diamond Elite certified technicians are available now to answer your questions. Call today by dialing (781) 933-6387.