As climate change continues to change weather patterns across America, temperatures are starting to fluctuate from hot to cold and back again more than ever before. It could be 30 degrees in the morning with ice forming on your windshield, only to heat up to a balmy 60 or 70 degrees in the afternoon. This can be frustrating when you're trying to keep your home comfortable.
While you can dress in layers that you can put on and take off as the weather changes outside, that's not exactly something you can do in your home. Here are some tips and tricks you can do to combat changing temperatures to keep your house cozy or cool and how N.E.T.R., Inc. can help you get home HVAC service you can rely on.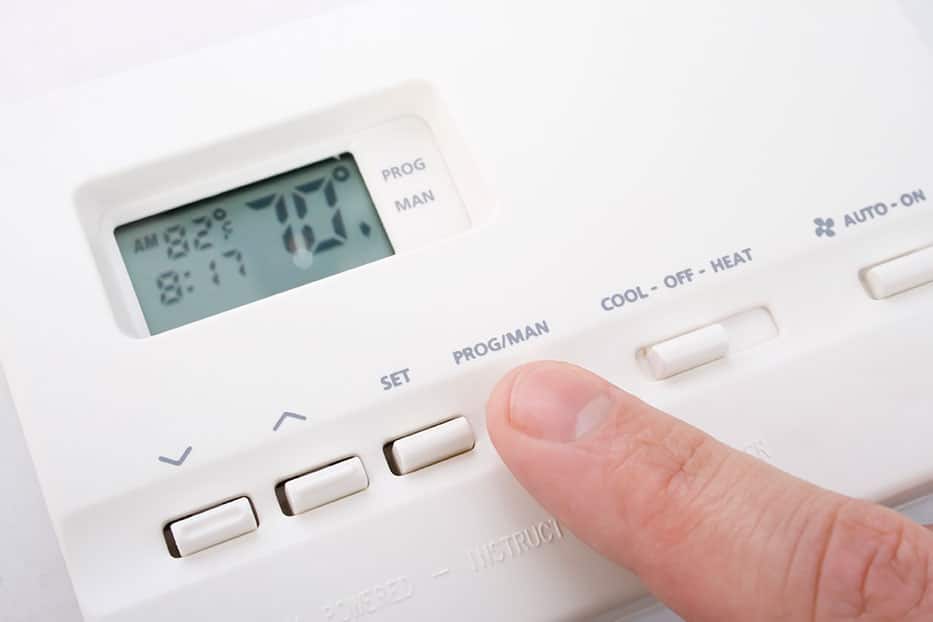 Decide On Comfortable Day & Night Temps
Start by deciding what temperature you want your house to be during the day and at night. Usually, these aren't the same and night temps are about 3 to 5 degrees lower than what you like your thermostat at during the day. You'll want to make sure it's a temp that is comfortable for everyone who is living in the home. If you have a ductless system with zoned heating and cooling, you can even have different temperatures for each room.
Then, you can take whatever steps are needed to control the comfort of your home based on what the weather is like outside. For example, you can open your windows and set up fans when it's cool in the morning during the spring and early summer, and then turn on your air conditioner in the afternoon when it's hotter.
Install A Programmable Thermostat If You Don't Have One
If you don't already have a programmable thermostat for your HVAC system, investing in one is a great way to keep your home more comfortable when outdoor temperatures are fluctuating a lot. You can "set it and forget it" and your unit will do all the work, turning on and off as needed to keep your home at the temperature you set it.
This is also a great way to save money on your heating and cooling bills. You can program your thermostat to automatically lower while you're away at work or at night, which can significantly reduce energy consumption and costs. And you can control smart thermostats from your phone anywhere in the world, so you can change the temperature in your home quickly if needed.
Supplement Your Heating Or Cooling With A Ductless Mini Split
Another great way to keep your home at an even temperature throughout the day is to invest in a ductless unit to supplement your current heating and cooling system. With a ductless mini split, you can quickly increase or decrease the temperature in your home with the click of a button in just a few minutes.
For example, instead of changing the thermostat on your central HVAC system when a surprise cold front rolls through and waiting an hour or longer for your entire house to heat up, you can just turn on your ductless unit to add a little bit of extra heat.
You can also do the reverse in the summer and use the same system to cool your home during the hottest parts of the day when your central unit may be struggling to get the temp down to under 80 degrees.
There are plenty of other benefits of using a ductless system to supplement your existing heating and cooling, like:
Better air quality. Ductless systems don't push dirty, dusty air around your house through metal ducts, so the air that comes out of the unit is cleaner.
Humidity control. Mini splits can come with a "dry mode" that lets you dehumidify your space separately from the cooling mode. This is great for rainy days, especially in the summer when the heat evaporates the precipitation and makes it muggy.
Lower electric bills. Ductless systems are the least expensive and most energy efficient HVAC systems to operate, cutting down on your electric expenses.
N.E.T.R., Inc. – Your Boston HVAC Specialists
At N.E.T.R., Inc., your comfort is our priority. If you're struggling to keep your home warm or cool, our Mitsubishi Electric Diamond Elite contractors can help you solve your HVAC problems once and for all with affordable and reliable equipment.
Contact us today to learn more about ductless heating and cooling or to set up a time for our team to come to your home for an assessment and price quote. Call (781) 933-6387 or fill out our online form and we'll get back to you right away.