There are many different brands of ductless HVAC equipment currently on the market and an even wider variety of models. At N.E.T.R., Inc., we know that which equipment you use makes a big difference in your overall comfort level and energy savings in the end. We use Mitsubishi Electric ductless HVAC equipment and are Mitsubishi Electric Diamond Elite contractors. Here's why we choose Mitsubishi and how to get in contact with our HVAC experts.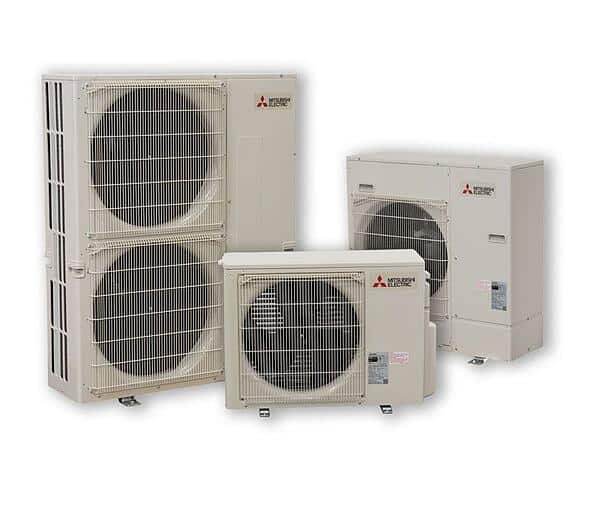 Benefits of Ductless HVAC
Before diving into why we recommend Mitsubishi Electric over other brands of HVAC equipment, let's recap the basic benefits of ductless heating and cooling:
Unparalleled energy savings. Although the upfront investment in a ductless HVAC system can seem steep, the cost savings in electric bills over time will help the system pay for itself.
Independently controlled temperature zones. Don't worry about hot and cold spots or different people in your home feeling too hot or too cold. Ductless heating and cooling allows you to have independently controlled temperature zones, so you can have the room you're in set at a toasty 72 degrees Fahrenheit and another set at a cool 67 degrees when you're not using it or if someone else likes their space a bit chilly.
Improved indoor air quality. Window air conditioners, space heaters, wood stoves, and central heat and air all cause indoor air pollution, which can worsen allergies and put you at risk of developing chronic health issues. Ductless HVAC is the cleanest available heating and cooling.
Easy to clean and maintain. Central HVAC systems require duct cleaning from time to time, and wood and pellet stoves are almost impossible to get all the grime and soot off of. Ductless systems, on the other hand, require very little maintenance comparatively.
Reduced carbon footprint. Ductless heating and air conditioning generates the fewest carbon emissions compared to other options.
Why Mitsubishi Electric Edges Out the Competition
Newer Mitsubishi Electric ductless models include advanced comfort technology that makes your heating and cooling both better and less expensive.
Instant Hot Start gives you a burst of heat immediately upon turning on the unit, instead of getting an initial draft of cold air and having to wait for the system to warm up. This can be helpful during New England's bitterly frigid winters when you come in from the cold.
The 3D i-see Sensor® detects people in the vicinity and automatically adjusts the system's temperature level and airflow so you don't have to.
Kumo Cloud® controls allow you to control each ductless unit in your home independently via an app that can be downloaded to your tablet or smartphone. This enables you to adjust your HVAC settings from anywhere, so your space is at the right temperature whenever you arrive.
Hyper-Heating INVERTER® (H2i®) allows Mitsubishi Electric ductless HVAC systems to deliver consistent, comfortable heating in temperatures down to -13 degrees Fahrenheit.
Voted #1 Greenest HVAC. Variable speed compressor technology reduces energy consumption by about 40%, saving on electric bills and reducing environmental impact.
Multiple indoor unit designs allow you to place your air handlers on the wall, in the ceiling, just above the floor, or even above the ceiling or underneath the floor for great aesthetics.
Best-in-class warranties mean that when you work with a Diamond Contractor on your Mitsubishi ductless installation, your system is protected for 12 years.
N.E.T.R. Is a Mitsubishi Diamond Elite Contractor
N.E.T.R., Inc. is proud to be a Mitsubishi Diamond Elite Contractor. Mitsubishi offers in-depth, multi-stage training for contractors to become certified by the company. There are three certification levels: Diamond, Preferred Diamond, and Diamond Elite. Each level has a number of unique criteria that builds upon itself and touches on the five most important performance indicators in an HVAC contractor – training, marketing, sales, service, and customer satisfaction.
Customers can have full confidence in their HVAC installation when working with a Mitsubishi Diamond Contractor of any level. However, working with a Diamond Elite Contractor means you'll enjoy superior knowledge and unparalleled service.
Contact Our Expert Heating and Cooling Contractors Today
If you're considering your heating and cooling options, a Mitsubishi Electric ductless HVAC system should be on your list of solutions to explore. Our veteran contractors can come to your home or office and offer a comprehensive quote for a Mitsubishi Electric system designed specifically to meet your unique needs. Call today to speak with one of our heating and cooling experts by dialing (781) 933-6387.