When it comes to heating and cooling options in New England, there are many. Among them, ductless HVAC is the most effective and cost efficient overall compared to central HVAC, oil heating, window air conditioners, and wood or pellet stoves. There are even more options to choose from when you opt for a ductless heat pump, like wall-mounted ACs, floor mount units, recessed ceiling units, and concealed duct air conditioners.
Wall mounted heat pumps are the most popular type of ductless installation and for good reason. They are one of the easiest setups to install and provide numerous benefits. Here's where to get a wall-mounted AC and heater in Boston and how N.E.T.R., Inc. can help.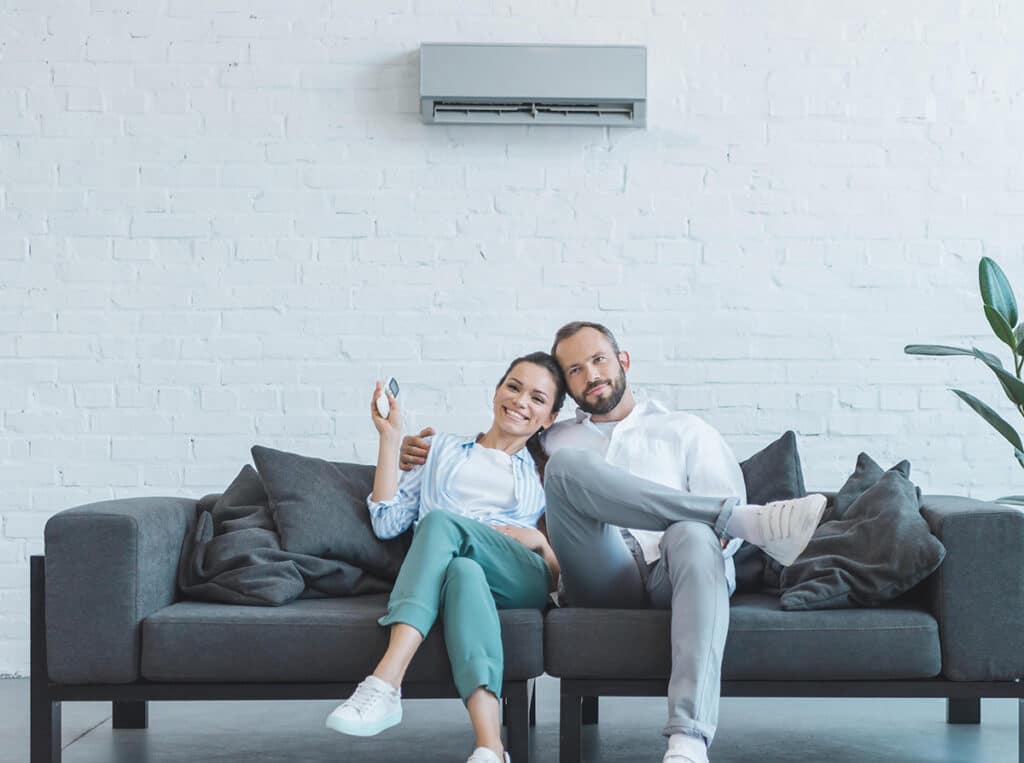 The Dangers of Installing a Wall-Mounted AC Yourself
Even though installing one wall-mounted ductless air conditioner might seem easy enough to do yourself, there are many dangers of DIY ductless installation. Self-installation may seem attractive, especially when single ductless units are readily available at most big-box home Improvement stores. However, you put yourself and your family at risk of the following if you attempt to do a ductless installation as an unlicensed layman.
Electrocution. Your system must be connected to your electrical system in order to run. This can be exceedingly difficult if you are not an electrician or HVAC contractor, and puts you at risk of being electrocuted during the installation process.
Fire. Electrical fires can the extremely dangerous not only for you but your whole household should a fire get out of control or begin while your family is sleeping.
Critical injuries. Maneuvering utility equipment like the outdoor condenser can be difficult, especially if you are unsure of what you're doing. Pouring concrete or otherwise setting up a foundation for the outdoor unit can result in serious injury.
Damage to your walls, yard, or other property. Unless you are a skilled HVAC professional, you run the risk of causing serious or even irreparable damage to your home during installation.
Improperly sized system for the size and layout of your home. Although getting the size of your HVAC system wrong isn't necessarily dangerous per se, it can negate the benefits of having a ductless system. Your system will end up either short cycling or working too hard. This can also cause premature wear and tear.
Benefits of Professional Installation
The best place to get a wall-mounted AC and heater is through an experience ductless HVAC contractor near you. Beyond keeping you and your family safer, professional installation has many advantages, including but not limited to:
A professional will survey the layout and size of your home to determine the size and number of wall-mounted mini splits that will give the desired results.
The installation will be completed quickly and without damage to your home or other property.
Your ductless HVAC system will be designed for maximum comfort and efficiency. Your contractor will work with you to create independently controlled temperature zones in your home that can be controlled via remote. This allows you to turn down your system while you are away to save energy, and you can program your thermostat to automatically raise the temperature in your home at a predetermined time.
A professional will show you how to use and maintain the system. When you install a ductless HVAC unit on your own, you will be responsible for figuring out how it works and how to troubleshoot it. When you work with a professional, not only will they show you how to use the system once it's installed, they will be available to help you troubleshoot future potential issues.
You can take advantage of the latest rebates and zero percent financing.
How to Choose a Heat Pump Contractor
Once you decide on switching to ductless, it's important to hire an experienced contractor. While many homeowners put budget at the forefront of their consideration criteria, this may not be the best approach. You should choose a contractor with good reviews, an established local reputation, manufacturer warranties, and a long history of successful installations of the same type of system you want and/or the style of home you have.
Contact a New England Ductless HVAC Contractor at N.E.T.R., Inc. Today
Ductless heating and air conditioning is the HVAC of the future, now. Contact our office today to learn more about the benefits of a wall-mounted AC and heater or to speak to a contractor about scheduling a home visit for a quote on the cost of ductless in Boston, Massachusetts. Call now by dialing (781) 933-6387 or reach out by filling out our simple contact form.