Settlers first came to Danvers in the 1600's. They found a wonderful area to live and people have been building homes here ever since. Our homeowners have a cape-style home that needed a better heating and cooling solution. Their home did not have any ductwork, so a traditional central heating and air solution was not practical.
They were tired of relying on noisy window units that were expensive to run and a pain to install every spring and put away every fall. The homeowners were looking for a cost-effective solution that would be quiet and efficient, so they wouldn't spend all their time worrying about energy bills!
This family did their research and settled on the professionals here at N.E.T.R., Inc. because of our outstanding reviews and experience. When we sat down with them, we knew we would be able to design a system that would meet all their needs and give them the ability to customize their comfort throughout the home!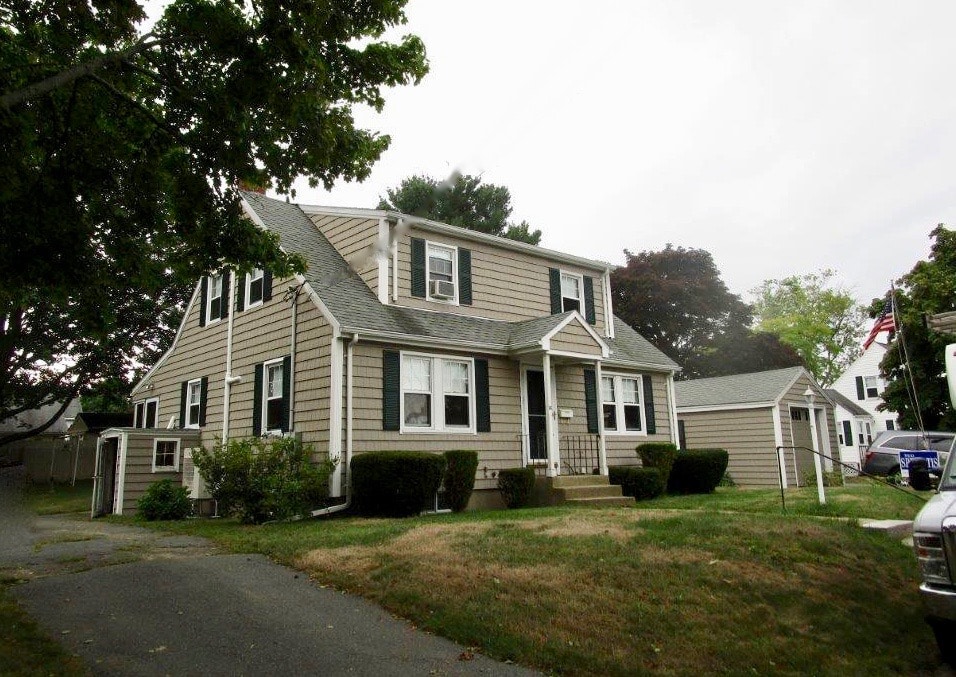 Like many homes in New England, this home relied on window units to provide relief from the heat. More and more homes in the area need better cooling systems throughout the summer, and noisy, inefficient window air conditioning units are simply not a good solution. In addition, many homes like this one rely on radiator heat in the winter which is a slow, inefficient heating system. Often these radiator systems leave hot and cold spots because the right temperature in one room may cause another room to be too hot. The uneven heating led to frustration for everyone.
We knew we could install a multi-zone ductless system for this home that would allow the homeowners to have just the right amount of heating and cooling in room, independent from the others. This means that if Mom & Dad love having their room icy cold, but the kids like it warmer, each person can adjust the temperature in their room to their liking without affecting the temperature in other areas of the home. The multi-zone system we designed for this home will ensure that our homeowners get the comfort they want, where they want, and won't waste money heating and cooling spaces that may not in use. That's smart savings any homeowner can appreciate.
We designed a seven-zone Mitsubishi Hyper-Heating system that would create individualized comfort throughout the home. Each ductless AC unit is controlled independently with a remote. In order to accomplish this advanced system, we divided the home in half and placed an outdoor Mitsubishi outdoor heat pump condenser unit on each side of the home. This meant that we could reach rooms throughout the home, minimize piping (and expense), and position the indoor ductless units where they needed to be to deliver maximum comfort.
---
Problem: This cape-style home needed to upgrade from window AC's and radiator heating for efficient, cost-effective heating and cooling throughout the year.
Solution: We installed a seven-zone Mitsubishi Hyper-Heating ductless system with two outdoor units to control the seven indoor ductless ACs. This highly specialized solution provides heating and cooling throughout the home all year long.
---
It's frustrating for each room in a home to have its own temperature and humidity when running on a single, inefficient system.
Our homeowners had been relying on radiator heat and window air conditioning units to try to keep their Danvers home comfortable, but different areas of the home always seemed to be too hot or too cold! On top of that, the window air conditioning units were loud, inefficient, and expensive to run.
By upgrading to the Mitsubishi Hyper-Heating ductless system with its energy efficient technology, the family will save significant money on operating costs throughout the winter! The Hyper-Heating heat pumps have been shown to deliver heat even in temperatures as low as -13F.
The new ductless AC system will also provide fantastic cooling all summer long. The ductless units operate quietly and efficiently, and our homeowners will never have to install the window units in spring or take them down in the fall- a seasonal chore NOBODY likes.
Now in spring and summer, the touch of a button will deliver cool air as needed. It can cool off the kitchen after fixing a big family dinner. They can add little chill to the air in the master bedroom on hot and humid nights to ensure a good night's sleep.
The heat pump can provide additional warmth in any of the zones, rather than waiting for the radiator system to try and deliver that warmth they crave. Our homeowners are adding significant comfort to their home by having multiple zones, each family member can achieve the custom comfort they want, whenever they want.
When we designed the system for this home we divided it into two larger sections. This minimized disruption to the house and lessened the required piping for the ductless units. On the left side of the home, our outdoor Mitsubishi Hyper-Heating unit powers the front bedroom, dining room and kitchen. This outdoor unit provides the heating and cooling to these rooms and each room has its own remote control so it can be adjusted independently from the others. That means you can have a toasty warm bedroom and keep the kitchen cool while cooking all year round.
The right side of the home got another Mitsubishi Hyper-Heating MXZ unit that powers four indoor units in the master bedroom, second floor back room, first floor TV room and first floor painting room. Each of these rooms is also controlled independently, so the painting room will always have the heat- or cooling- it needs, while the master bedroom can be as hot or cold as they need it for a good night's sleep.
Best of all, these new heat pump units provide comfortable, affordable heat on demand, and are incredibly energy efficient, saving homeowners significant money in operating costs.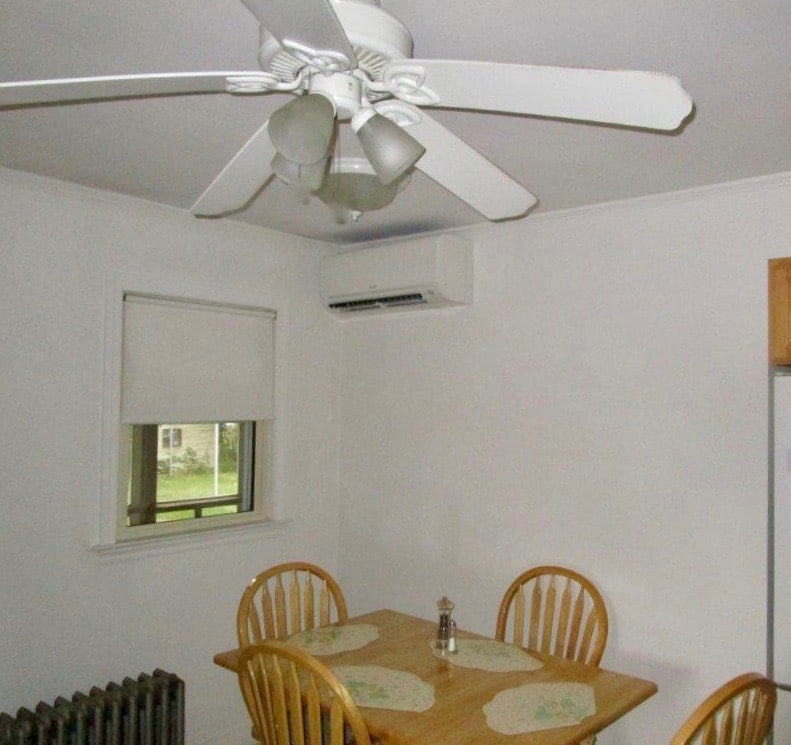 Our homeowners were so happy with the results, they left us the following review on Yelp:
In the fall, we had 7 Mitsubishi heat and air units installed in our home. First, Chip who was the consultant, was excellent in providing information, explaining the system and checking to make sure all our questions were answered during the installation. He also provided the paper work to get rebates on the units.
The installers arrived on time and were extremely careful going through the house wearing protective covers over their shoes. The first day, 4 workers arrived (Adam, Jose, Steve and Tim) and got right to work. They came with me through the house to make sure where the units were going and answered all the questions I had. They worked very hard and all the units were in by day 1. They were extremely careful with the furniture, walls, and items in each of the rooms and the hardwood floors. During the next 4 days, Adam and Jose worked diligently to get the work completed on time. Their work was impeccable. All of the tubing in the basement and outside work looks so professional. They are an unbelievable team. This was a great group of installers. They are very skilled hard workers. They were so careful and everything is clean looking and neat inside the house and outside. They are friendly and courteous. The heat pumps and AC work terrific. We have used both. It's amazing how quickly the heat and AC provides the heat and air. I highly recommend N.E.T.R., Inc. Mr. Cappuccio has a staff that deserves an A+ rating.
We are so glad they are happy! There's nothing better for us here at  N.E.T.R. Inc. than to hear that the system is working well, and the customers were happy about every aspect of the process. We strive to make sure our process from the information on our website to your interactions with our sales and service people exceeds your expectations.
We love installing Mitsubishi ductless heating and cooling systems, because they are so energy efficient and save folks money! Because these new systems are so efficient and help out the environment, many homeowners qualify for rebates from the Mass Save and Mass CEC programs. These rebates help make ductless an even more affordable solution for your home while getting comfort every day of the year. There are still rebates available, so if you are interested in this type of energy efficient equipment, be sure to ask your comfort specialist about what sort of rebates would apply.
The key points of this home:
The home owners now have a comfortable, quiet solution to heat and cool their whole home with seven zones that allow pinpoint control of comfort for every area of the home.
Their energy bills will drop because of the energy efficient technology and by not heating or cooling areas that are not in use.
Best of all, rebates help make increased comfort affordable up front, as well as providing energy savings every month.
---

---
A Great Investment
This kind of installation gives this family the heating or cooling they desire, on demand, room by room. Every person will be able to customize the temperature according to their needs, and achieve additional cost savings by not heating or cooling rooms when not in use. The house can always be completely comfortable.
The warranty on all qualifying systems installed after April 1, 2015 has been extended to 12 years, making this a great investment in your home's comfort! Click here to see the details.
---