Adding a finished basement is a great way to expand the living space in your home. You get an extra room or two and usually a little privacy from the rest of the house. What you don't always get, however, is the right temperature.
---
Problem: A colonial-style home in Amesbury, MA home did not have heat or air conditioning in the basement.
Solution:  Installed a Mitsubishi outdoor heat pump with a matching indoor ductless HVAC unit.
---

Split System HVAC Installation for a Basement
The basement of this colonial home in Amesbury, MA was spacious. It was also mostly unfinished. This made it a blank slate of sorts for HVAC installation.
When our tech arrived, there were just some carpeting and a few walls put up. The drywall was still showing and all the electrical outlets had just been installed. The rafters and insulation in the ceiling were still exposed.
You could tell the new basement was going to be used a lot. It was already separated into a few different rooms. Someone could live down here on their own, or, a few family members could use different spaces down there for different activities. 
That's what makes a finished basement so great. It's like adding an addition to your home without doing major construction. However, there's one drawback: climate.
A basement tends to get colder than the rest of the house. This is mostly because it's underground, where the air is already cooler. This means it needs heat before other parts of the house when the weather gets cold.
And, its underground location isn't always enough to keep a basement chilled in the dead heat of summer. Add to that the fact that this basement only had two small windows, it could get stuffy without better air flow.
All this meant that the basement needed some HVAC work. What good with this new living space be if it wasn't comfortable all year-round?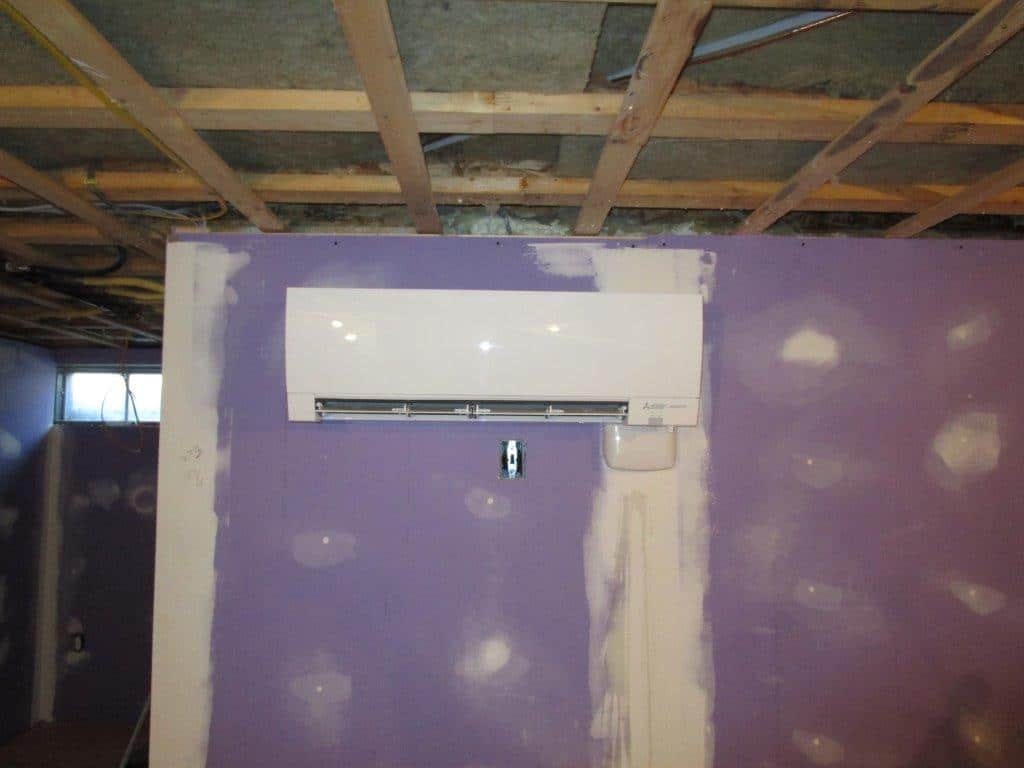 Our tech talked with the homeowners about options and prices. They already were paying a lot of money to finish the basement and the floor plan was already laid out.
This meant we had to find a solution that was in their budget. It also had to work around the new walls. For both these reasons, a traditional duct system wasn't ideal.
To get central heating and air conditioning in the basement, the homeowners would have to work ducts and vents around the new walls. They'd also have to run lines from the furnace and air conditioner. It would cost a lot of money and take a lot of time to plan out.
Fortunately, there was a better way.
A Mitsubishi Ductless Mini Split System
The best way to keep the basement cool in the summer and warm in the winter was with a Mitsubishi ductless mini split system.
Ductless systems use wall-mounted units to deliver hot or cold air. These are sleek and skinny and can be put up just about anywhere. Air gets delivered to the units through small tubes that are less than an inch thick.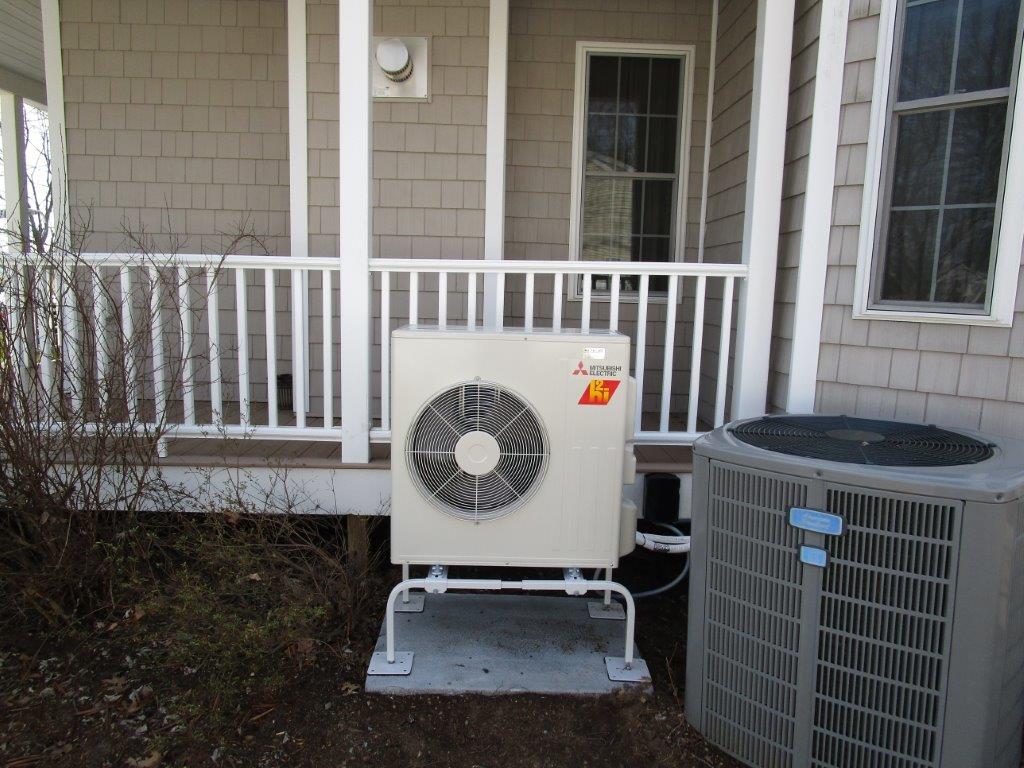 This was perfect for the large basement in this colonial home.
With the Mitsubishi ductless mini-split system, our tech could just mount the units wherever they would work best. Then, he drilled small holes behind them and ran the tubing through the walls, which connected to a condenser outside.
Additionally, Mitsubishi ductless systems are much quieter than old-fashioned air conditioners. When it kicks on, there's no dull roar. In a space like a basement, that sound could interfere with a television or a conversation. Not so with a ductless system.
Zoned Heating and Cooling and Rebates Save Money
An added bonus to a Mitsubishi ductless system is that they can save you money. In this case, the homeowners got some instant savings. And, over time they'll pay less in energy bills than they would have with a traditional HVAC system in their Amesbury, MA basement.
The rebate came courtesy of Mass Save. Here, local utility companies work together to provide cash incentives for people to save energy. In this case, the homeowners received a $500 cash rebate just for installing a mini split system.
Split system HVAC is energy-efficient because it offers zoned heating. This is different from one thermostat controlling all the heating or cooling in the entire house. Not every part of a house is always the same temperature to begin with.
That's especially true of a large colonial like this one. As we mentioned earlier, a basement is often cooler than the rest of a house. That would mean cranking up the heat for the rest of the house just to get that area warmed up.
Instead, a ductless HVAC unit warms or cools one just small area, or zone. Each unit can be programmed to a different temperature.
Now, the homeowners can push some extra heat into the basement without overheating the rest of the house. And, in the summer they can turn off the air conditioning in the basement while the other floors stay cool.
Of course, running HVAC units in new parts of the house will mean their energy bills will go up a little. But, by using an energy-efficient ductless system, that increase won't be nearly as much as it could have been with traditional central heat and air.
Do you want a better and more cost-effective and efficient option for heating and cooling your home? Contact us and we'll design the perfect Mitsubishi ductless HVAC solution for you!