The homeowners of this split entry ranch home in Andover, MA, were facing a multitude of heating and cooling problems. In the winters, the baseboard heating system left hot and cold places throughout the home.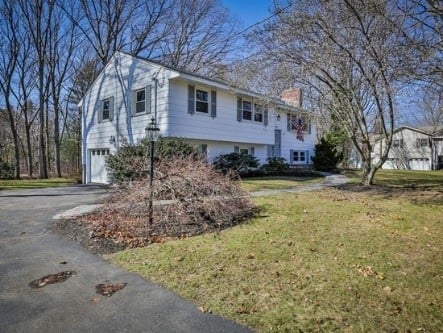 The home did not have a central air conditioning system, so they were forced to rely on both window and wall AC's to fight the heat. Unfortunately, the window AC's were expensive to run and could not keep up, so the family was left paying a fortune for inadequate cooling. They knew there had to be a better option out there for all their heating and cooling needs.
Once they decided that enough was enough, the homeowners investigated their alternatives. After reading some of our reviews from previous customers who faced similar problems with supplemental heating and air conditioning in the Andover, MA, area, they knew N.E.T.R., Inc. could find a solution for their home.
N.E.T.R., Inc. is the #1 Elite Diamond Dealer for Mitsubishi ductless air conditioning systems in the Boston area. We have experience working in homes, just like this one, to solve problems from replacing outdated heating and cooling systems to providing supplemental air and heat to existing systems.
The owners of this ranch home knew that with our experience we'd be able to design the perfect system for all their needs.
---
Problem: Ranch home in Andover, MA, had no air conditioning and needed to supplement their baseboard heating system so they could stay warm in the winter months.
Solution: N.E.T.R., Inc. installed a single Mitsubishi ductless air conditioning system with Hyper-Heating heat pumps for excellent cooling in the summer and supplemental heat in the winter.
---
The Installation
One of the primary reasons that these homeowners decided to choose the Mitsubishi ductless air conditioning with Hyper-Heating technology was so that they could make their home comfortable all year long. In the summer, these ductless units take the place of the clunky, noisy, inefficient window ACs. Running a window air conditioner is not only loud, but it blocks your windows all summer and costs a fortune to maintain a comfortable temperature.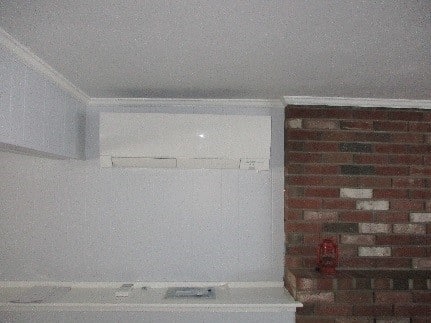 One ductless AC unit was installed in the family room. The new Mitsubishi ductless AC is mounted on the wall, out of the way so that it won't interfere with the view or the aesthetic of the room. Installing the ductless cassettes on the wall also allows N.E.T.R., Inc. to place them strategically in the room so that they can give the optimal distribution of the cooled air.
These ductless air conditioners not only monitor the temperature in a room but the humidity as well! This feature, along with their whisper-quiet functioning volume make them ideal for installing in music studios and bedroom since they don't make much noise to run.
The original heating system in this home was an electric baseboard heater. This system was unable to keep up with cold in the winter and left the homeowners with hot and cold spots throughout their house. Thankfully, the Mitsubishi ductless Hyper-Heating heat pump that was installed with this system allows for the indoor unit to pump warm air into the home at the touch of a button.
These Hyper-Heating heat pumps have been proven to function in temperatures as low as -13 degrees, so the homeowners can rest assured that they'll have the warmth they need all winter long. The temperature can easily be adjusted from the comfort of the couch with the remote control and, should they expand the system in the future, each additional ductless wall unit would operate separately from the others, so the owners won't waste energy heating a room they do not use.
Ductless Benefits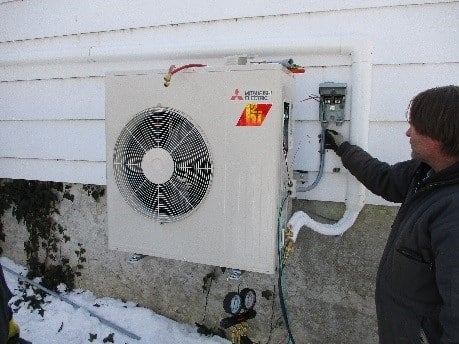 Because of the energy efficiency of these ductless heating and air conditioning units, most homeowners who upgrade from older, outdated systems can qualify for rebates and savings.
N.E.T.R., Inc. was able to help this family in Andover, MA, receive rebates from two different sources. The Mass Save program offered a rebate of $500, and Mass CEC provided $1250 in savings! In total, this family saved $1750 on their upgraded system just because it is a more environmentally friendly option than the window ACs they had been using.
Is Ductless Right for You?
Are you tired of struggling to keep your home the perfect temperature? Let N.E.T.R., Inc. design a heating and cooling solution for you!
We have tons of experience in Boston and the surrounding areas and have worked in both old and new homes. Our experts will work side-by-side with you to solve all your heating and air conditioning needs, and we'll help you apply for rebates as well!
You don't have to live with discomfort from inadequate central air conditioning or outdated heating systems. Contact N.E.T.R., Inc. today!