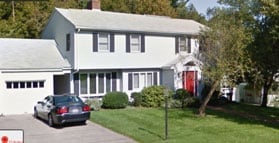 The summers in Arlington, MA, can range in temperature from mild to sweltering. This leaves some families struggling to stay comfortable all summer long.
One Arlington family had the additional problem of not having a central air conditioning system built in. This left them fighting the heat with window AC units. They were loud, inefficient, and covered the home's windows all summer long. They even caused the family to accumulate massive energy bills over the summer.
These homeowners were forced to reinstall the AC units every summer and store them each winter. Eventually, they had enough and decided that window air conditioners were not a suitable long-term solution.
---
Problem: The hot summers in Arlington, MA, left this family to depend on window ACs to stay cool. The window units were inefficient, expensive, and too loud to be an adequate solution.
Solution: N.E.T.R., Inc. installed a multi-zoned ductless mini split AC system with five indoor wall-mounted ductless AC units and an outdoor condenser.
---
Multi-Zoned Mitsubishi Ductless Mini Split AC System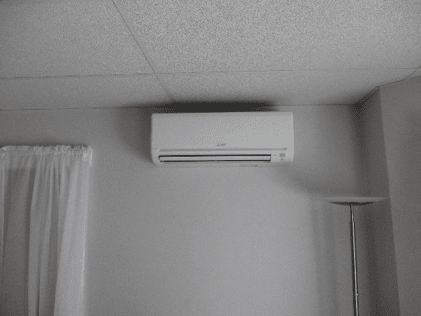 When the family decided they were ready for an upgrade, they researched potential options and found N.E.T.R. Inc.'s customer reviews. They knew our experts would be able to design the perfect ductless mini-split AC system system for their home.
N.E.T.R., Inc. holds the status of #1 Elite Diamond Dealer for Mitsubishi ductless in Boston and the surrounding areas. This status allows our experts to offer extended warranties and premium service to our customers.
For this install, Jimmy Smithell was the project manager who met with the homeowners to discuss their options. He suggested installing a multi-zone mini split ductless system that would allow pinpoint control of the temperature in every room.
The Install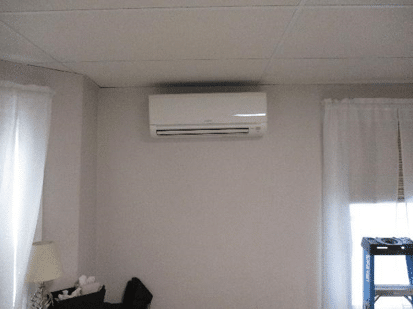 The zoned ductless mini-split air conditioning system allowed Jimmy and his team to install five separate indoor air conditioners in various rooms. Two units were installed in bedrooms, a third was mounted in the family room, and the final two went into the attic.
These ductless ACs were all connected to the outdoor condenser via thin tubing run through the walls. This tubing allowed the units to be installed without invasive construction and maintained the home's aesthetic.The wall mounted units optimized airflow and created a better cooling experience.
Each of the ductless units is controlled independently from one another. This allows for individualized comfort in every room. They can keep the family room cool while their bedroom stays warm. Unlike traditional central heating and air, ductless AC units are controlled by individual thermostats instead of a single home unit.
The family wanted to control their home's ductless mini split AC system from anywhere, so Jimmy installed a Kumo Cloud system. The Kumo Cloud systems allow the owners to access their home's Mitsubishi ductless units through a smartphone app. They can adjust the temperature of their home from any location.
Ductless Benefits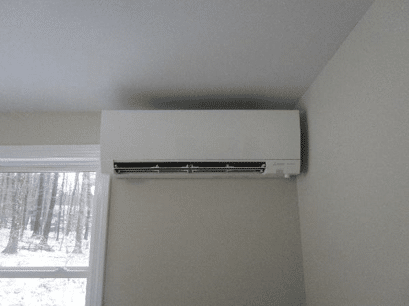 This family's AC units were not only inefficient at cooling the home, they racked up expensive energy bills during the summer. The new ductless mini split AC system will create significant savings on the family's monthly bills. These savings come from the energy-efficient technology in the units and the ability to individually cool only the rooms in use.
Installing Integrated Controls on this ductless system allows it to pair with the existing system to heat and cool the home efficiently. By integrating the two systems, these homeowners will get improved temperature control in the coldest months and reduce their fuel consumption.
Integrated Control allows the home heating to switch between the existing system and the ductless units based on the temperature outside. This saves fuel by allowing the ductless system to handle heating and cooling the home on most days. When temperatures hit extremes, it can switch to the traditional system.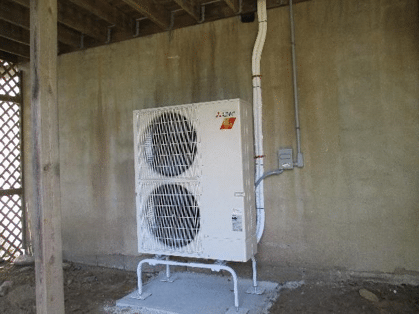 Another benefit that these homeowners received was through the Mass Save rebate program for energy-efficient AC upgrades. Because of the installation of integrated controls, this family qualified for a rebate of $5,600.
The Generous Fuel Optimization rebate is provided to homeowners for upgrades that reduce fuel emissions. Just by upgrading their window AC units to more energy-efficient technology, this family cut the costs of their ductless installation.
These ductless units will double as high-quality heat pumps in the winter. If the family finds their furnace is not their home warm enough, they can turn on the ductless unit.
Is Ductless Right for You?
Are you stuck trying to beat the heat with inefficient, noisy window ACs or a central HVAC system that doesn't cut it? If so, give N.E.T.R., Inc. a call. We have experience designing systems for homes and businesses alike.