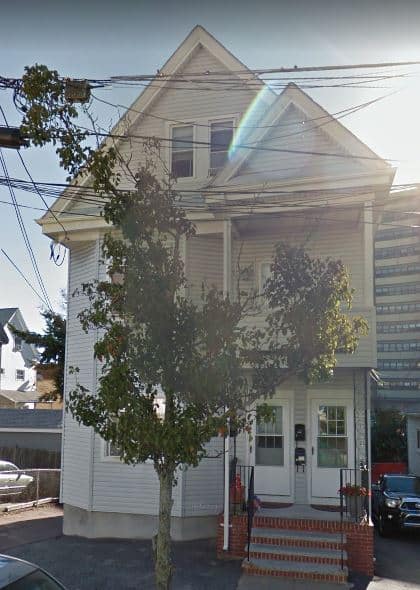 In general, the top floor of a home is the hardest to get right in terms of temperature. That problem gets even worse the higher you go. Where most homes are two stories, a house with three stories finds its top floor even harder to maintain. That's where our techs came in.
---
Problem: The third-floor living room in a multi-home home in Everett, MA wasn't being heated and cooled efficiently with electric heat and a window air conditioner 
Solution: Installed a Mitsubishi ductless HVAC system with an outdoor unit.
---
Terror on the top floor
Ok, maybe terror is too strong a word. But, challenging is certainly appropriate when it comes to heating and cooling in this Everett, MA home.
The owner of this multi-family home wasn't happy with his HVAC system on the third floor. This isn't all that unusual. Getting the top floor of any home is tricky when it comes to climate control. A third floor is even tougher.
Many times, this happens because of where the thermostat is located. Often, there's one thermostat governing the whole house. And, it's usually on the first floor.
When that thermostat reaches the temperature you set, it turns off the furnace or central air. But, it's not taking into account the second floor. Therefore, it's turning off the unit before the other areas in the house are set.
This is why the upstairs is usually too cold in the winter. In the summer, a top floor ends up too hot. This is for the same reason along with the simple fact that heat rises.
For this home, those problems were even more pronounced. This was for a few reasons. First was the fact that this is a three-story home. Now, there are two extra floors of heat rising to the top, as opposed to just one in a two-story home. That makes it even hotter in the summer.
In the winter, the problem is a little different. This is due to it being a multi-family home. Each unit has different heating needs. It's difficult, then, to get it right for all three. As a result, the top floor has it the worst.
Third floor's the charm with ductless HVAC
For a long time, our homeowner was using electric heat and a window air conditioner n the third floor. These helped keep the living room up there warm in the winter and cool in the summer. But, it wasn't quite cutting it.
He knew he was spending too much money to not get the results he wanted. And, the air conditioner was especially a problem. Not only was it not passing muster, it was way too loud.
It was time for a change. That desire brought him to N.E.T.R., Inc. The owner knew all about our excellent service and stellar reviews. And, we lived up to reputation.
It was clear early on that a ductless HVAC system was the way to go for this home. It would provide him the flexibility, efficiency and quiet performance he wanted.
Ductless systems work on the same basic principle as older HVAC systems. But, they do so much more efficiently and with less hassle. Here's how:
A ductless system uses an outdoor unit connected to indoor units through small, flexible tubing. This is much less equipment than a furnace, air conditioner condenser, ductwork and vents. In this case, smaller is definitely better.
That takes us to the third floor. To remedy the situation in the living room, it just took one unit up there. Our techs installed a Mitsubishi wall-mounted unit up near the ceiling. Behind it is a small tube, no wider than an inch. It's going through the wall, but you can't even see it thanks to the actual unit.
That tubing travels down the house to an outdoor electric unit that delivers cold or hot air. And, that's it.
The homeowner didn't have to spend hundreds and hundreds more for a new ductwork scheme and to have new vents carved out in the walls. And, our techs didn't have to disrupt the other families living there by building ductwork from the furnace in the basement to the top floor.
Mitsubishi ductless means more comfort for less money
Comfort is a big reason why a Mitsubishi ductless HVAC system is a great unit. But, it's not the only one. A system such as this is a great long-term investment, and Mitsubishi is a top-of-the-line choice.
Mitsubishi is especially known for quiet, efficient units. That makes them more enjoyable and less costly than others.
Let's take a look at the ductless air conditioning for instance. Now, the top-floor tenant doesn't have to deal with a clunky window-unit a/c blocking the light and making all sorts of noise. This is especially notable in a small living area, where that noise can overpower a TV or conversation.
And, with ductless heating, the top floor can truly control its own heat. That makes it a more desirable apartment than before.
For the homeowner, who's paying the utility bills, it's less of a burden each month. Mitsubishi ductless systems are proven to be energy efficient. That means they use less energy than other systems to deliver. Less energy means less money you pay for the same effect.
In fact, these systems are so efficient that they can actually earn some money for the people who buy them. Rebates are available from more than one group in Massachusetts for installing energy-efficient HVAC systems. Our salesman made sure this homeowner knew all about them.
In this case, the homeowner got a $625 rebate from the Massachusetts Clean Energy Center. This is a group advocates for clean energy across the state. They also provide incentives for more people to adopt systems like the Mitsubishi one here.
And, he received another $100 from Mass Save. A group of utility company in this organization have a similar mission.
All in all, this homeowner got himself a heating and a/c system that makes the top floor more comfortable, saves him money each month and even put some cash in his hand. That's three great improvements for his three-story home.
Do you want a better and more cost-effective and efficient option for heating and cooling your home? Contact us and we'll design the perfect Mitsubishi ductless HVAC solution for you!