Throughout the area, there are a variety of condominiums. Some are in large buildings like the one below, some are in converted older homes or brownstones, and some look more like apartment buildings. No matter where they are located and how they are built, they share a common problem. Once you own part of a larger building, you are responsible for your own comfort, no matter what master system might serve the building.
Our homeowners were relying on electric heat and window a/c units to provide cooling. In a building like this one, if you live on the top floor, you will end up cold in the Winter and hot in the summer. Window units will have a hard time cutting the heat and humidity for the entire space. This meant that the owners ended up paying high heating and cooling bills all year long and needed to find a solution that was affordable, not only to install, but to operate without creating wild swings in energy costs every month.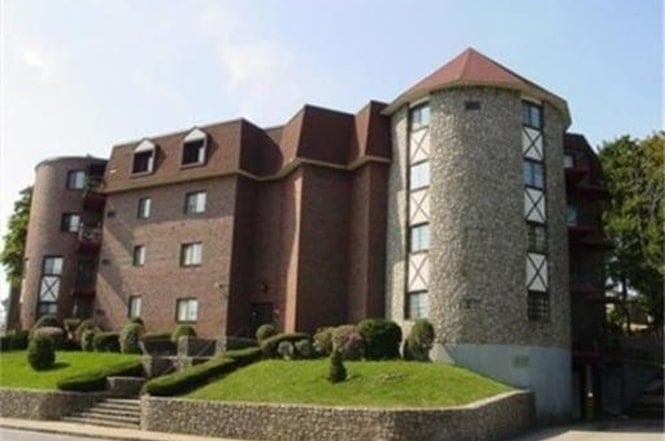 ---
Problem: The homeowners were relying on electric heat and window a/c units for comfort but were finding that their electric bills were high, and they weren't getting the comfort they needed.  
Solution: We installed ductless heating and cooling for this condo, giving them efficient heating and cooling year 'round. The owners also qualified for several rebates, helping to make this solution even more affordable. The owners had interviewed 10 contractors before settling on N.E.T.R., Inc. because of our experience with brick homes and condos.
---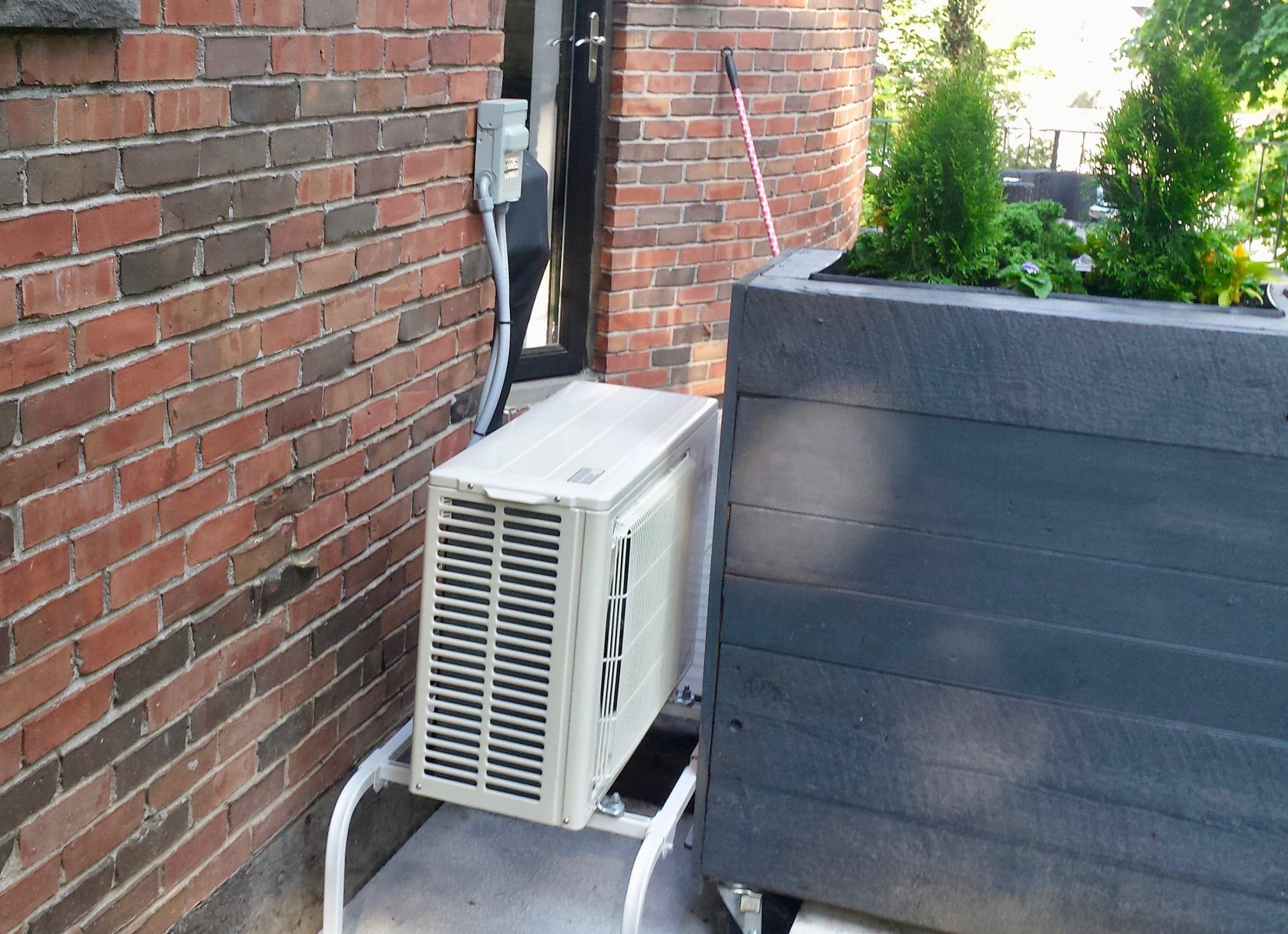 This Condo Had Problems with Heating and Cooling – We Solved Both with a Single Zone of Ductless HVAC 
We see this situation frequently — condo owners that need additional comfort for their own unit, looking for the most efficient way to achieve that goal. We've worked with homes of every age, style and outside finish, so we know how to make sure the units are as unobtrusive as possible.  In fact, our homeowners here had spoken with 10 HVAC companies before deciding on N.E.T.R., Inc., based on our outstanding reputation and experience in installing ductless systems.
We knew we could help them out by not only giving them a fuss-free, economical heating solution, but also provide them with much needed air conditioning to ensure comfort and enjoyment all year round.
Our Solution: We installed a Mitsubishi Electric Hyper Heat ductless system with an outdoor heat pump and an indoor wall unit. Ductless systems are designed to create a separate zone of heating and air conditioning that can supplement traditional systems, and easily replace window units for air conditioning. There are even remote options available that allow you to control the unit through an app on your phone, letting you adjust the heating or cooling in your home from any place on the globe, something that can also go a long way to reducing energy bills!
These Hyper Heat units maintain efficiency down to minus 13 degrees, unlike conventional heat pump systems, making them a great choice for whatever Old Man Winter dishes out. Mitsubishi Electric Hyper Heat is also a wall mount AC unit, getting rid of the need for inefficient window-based air conditioners to provide comfort 365 days a year, rain or shine.
Our North Andover-based comfort specialists love being able to solve the problems faced by condo owners like this one and design a system that will also save money. One of the most satisfying parts of the job is hearing from homeowners that their energy bills went down both in Winter and Summer, making the investment in the system a great investment in the long-term comfort and value of their home.
This Couple Was Also Able to Save Money with a Rebate of $2,150!
Because Mitsubishi ductless heating is energy efficient technology, Massachusetts provides the highest level of available rebates for these systems, since they are helping out the environment. Our homeowners got a $1,650 Mass CEC rebate and a $500 Mass Save rebate, giving them $2,150 in rebates, helping to make this installation even more affordable.
Additionally, when your ductless HVAC system is installed by one of Mitsubishi Electric's Elite contractors like N.E.T.R., Inc, the warranty on parts is extended to twelve years, giving you peace of mind as well as increased comfort in your home.
There are still rebates available, so if you are interested in this type of energy efficient equipment, be sure to ask your comfort specialist about what sort of rebates would apply.
To recap the key points of this particular home and our solution:
The homeowners now have a comfortable, quiet solution to heat and cool their Quincy condo.

No removal or replacement of equipment was necessary.

They saved $2,150 in rebates, and will save money every month in energy bills, due to the high efficiency of the new system, helping them upgrade their home to this long-term comfort solution.
A Great Investment
Ductless HVAC installations like this one is going to make sure this couple gets maximum comfort in their condo, every day of the year. They can still use their existing heating system, but there's no need to put in those noisy, inefficient window AC units anymore. Best of all, the unit will make their home completely comfortable with a quick touch of the remote control.
Click here to see the details on the 12 year warranties offered by Mitsubishi, making this a worry-free upgrade for homeowners like you!