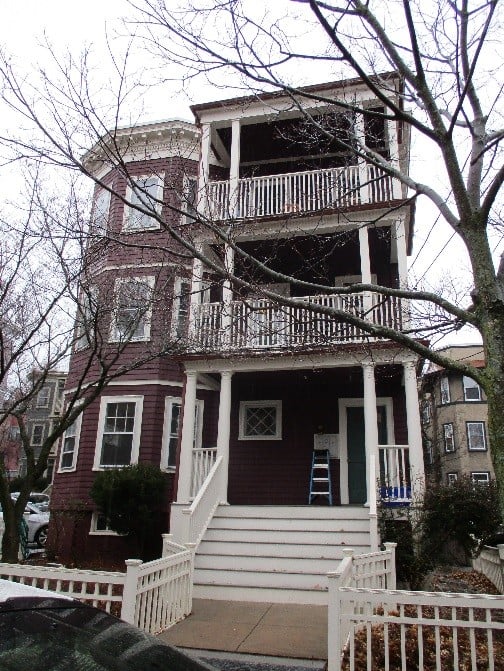 Multi-family homes can be hard to heat and cool, since typically, the home was originally designed with one HVAC system.
Our Cambridge homeowner was tired of dealing with hot and cold spots throughout the home and decided to make a big change.
---
Problem: A gas forced hot water system, built for a single-family home, did not provide the multi-family home with adequate heating.
Solution: Right away, we knew that a Mitsubishi ductless mini split multi-zoned system would be the perfect fit for this home.
---
The Installation
The residents of this multi-family home in Cambridge, MA were struggling to find comfortable places in between the hot and cold spots in their different units. This older home was heated by a gas forced hot water system, which was built to serve a single-family home, so when the house was converted into a multi-family home it left the owners with several hard-to-heat rooms.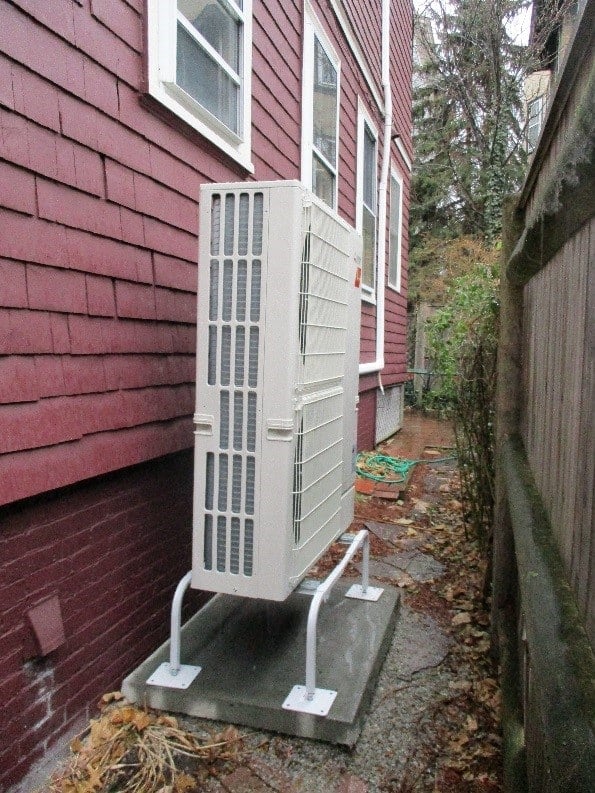 Many of the units had rooms that would never get warm enough, while others would leave them sweating in the middle of a blizzard. Worst of all, the system is controlled from a single location in the home, so the families were always left struggling over the thermostat.
Another problem was that the home was built long before central AC and ductwork was a standard feature, so each of the families was forced to resort to window AC units. This noisy, expensive solution was leaving our homeowners desperate for relief during the summer months.
The clunky window air conditioners left each unit of the home with hot and cold spots. In addition to their inefficiency, the bulky ACs must be installed every spring and removed again in the fall. The homeowners even sacrifice their beautiful windows just to try and find some relief from the blistering summer heat.
Not only that, but window ACs are inefficient for cooling such a large space and cost a fortune to run. So, these families were suffering from inadequate air conditioning in the summer and heating that left them with hot or cold spots throughout the home, all while racking up outrageous costs in energy bills every month.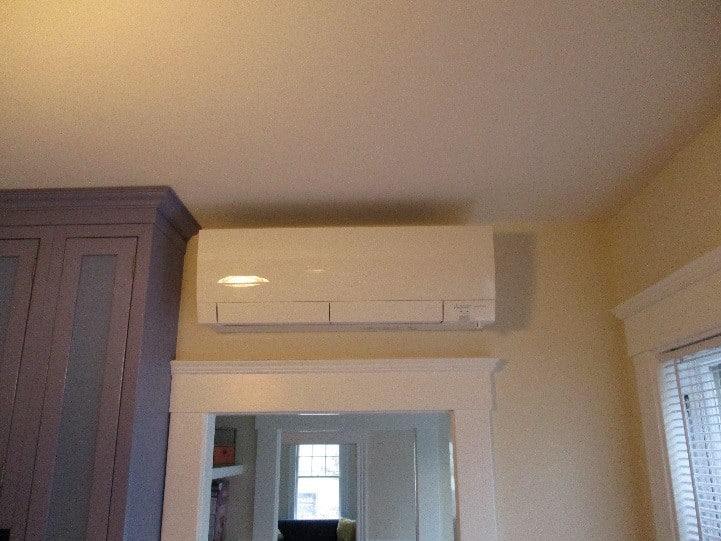 Finally, these families had enough, and they gave N.E.T.R., Inc. a call.
After researching possible solutions for their multi-family home, the owners found that N.E.T.R., Inc. is the #1 Elite Diamond Dealer for Mitsubishi ductless in Massachusetts. After reading our incredible reviews, they knew we could design a solution that would solve everyone's needs.
Right away, we knew that a Mitsubishi ductless mini split multi-zoned system would be the perfect fit for this home. The ductless AC system would allow us to install separate, individual heating and cooling units for each room so that everyone could have the comfort they deserve whenever they need it.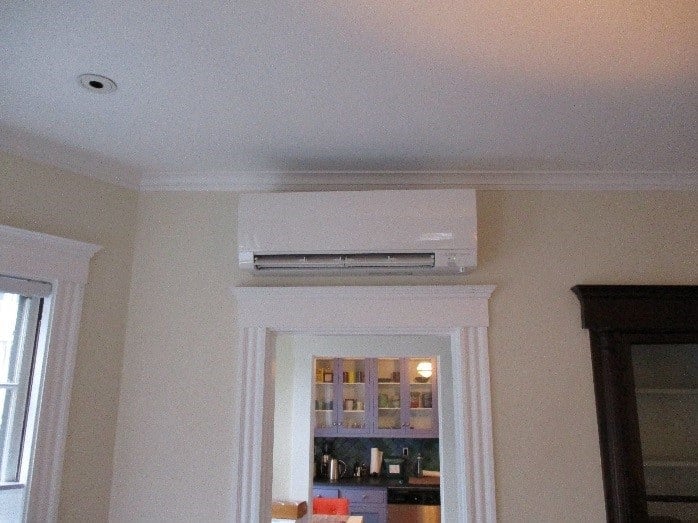 After seeing the home, we knew that a five-zone ductless split system with an outdoor condenser would be the perfect fix. We were able to install all five units without the need for invasive construction or removal of the old system. Because the indoor ductless ACs are connected to the outdoor unit via a thin tubing that can be easily run through the wall without any damage, we were able to preserve the aesthetics of this gorgeous home.
We installed a wall AC unit in the dining room, kitchen, and both bedrooms. Each of the wall units was mounted up on the wall, out of the way, so that it could distribute the air evenly throughout the room. We were able to find the ideal spot for each ductless AC for both efficiency and least visual impact. The outdoor condenser was installed on the exterior of the home, out of sight, so that it was easy to access for any maintenance but did not interfere their curb appeal.
The Benefits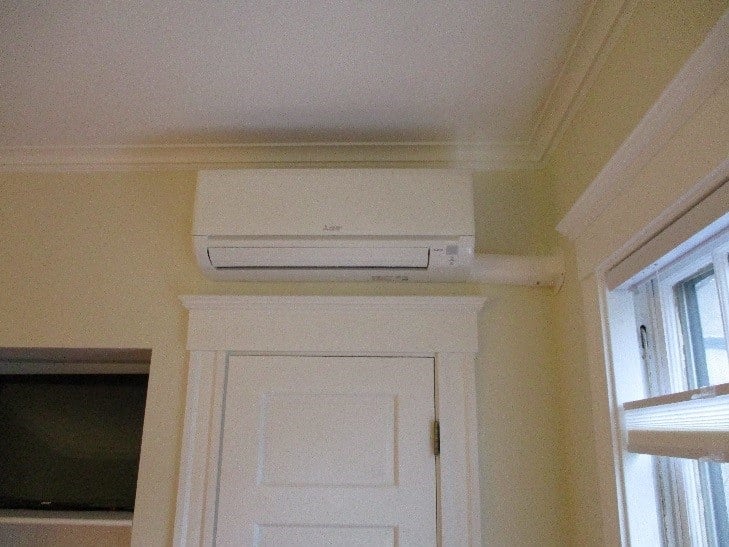 These new units provide state-of-the-art supplemental heating to this multi-family home using the Mitsubishi Hyper-Heating technology. This heat pump is one of the best home heating solutions on the market and has even been proven to function in temperatures as low as -13F! Because of its outstanding performance and efficiency, this upgrade to their previous gas FHW system will add long-term value to the home for years to come.
In addition to proving excellent heating in the winter, each of the Mitsubishi ductless mini split ACs functions as a world-class air conditioner. The system will monitor temperature and humidity in all five different zones and adjust accordingly to ensure every room stays comfortable.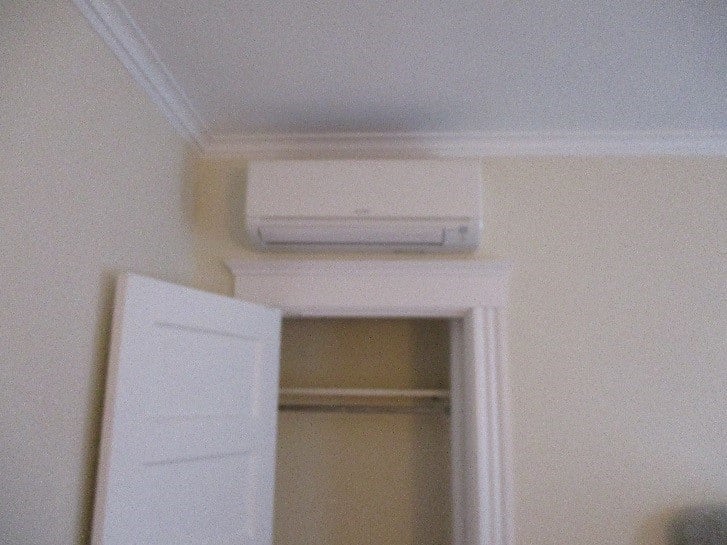 each of the ductless zones is controlled individually, so there will be no more fighting over the thermostat. Instead, the simple click of a button on the hand-held remote will keep each room precisely right, all year long. Now, the owners will no longer have to waste money heating and cooling rooms when they are not in use!
In addition to saving big on heating and cooling their home, this upgrade qualified our homeowners for some massive rebates. Because the Mitsubishi Electric ductless air conditioners with Hyper-Heating are vastly more efficient than the old window units and gas FHW system, this upgrade qualified for $525 from Mass Save and $2,000 from Mass CEC!  In total, these homeowners saved $2,525 just for adding a more energy-efficient, environmentally-friendly solution to their heating and cooling systems.
Is Ductless Right for You?
If you have a home that's suffering from hot and cold spots in the in summer and winter or you're tired of overpaying on energy bills to be uncomfortable in your own home, call N.E.T.R., Inc. today. We've years of experience working in the Boston and Cambridge areas installing Mitsubishi ductless systems in countless homes. We are happy to have one of our trained specialists work with you to design a system that will perfectly solve your heating and cooling problem.