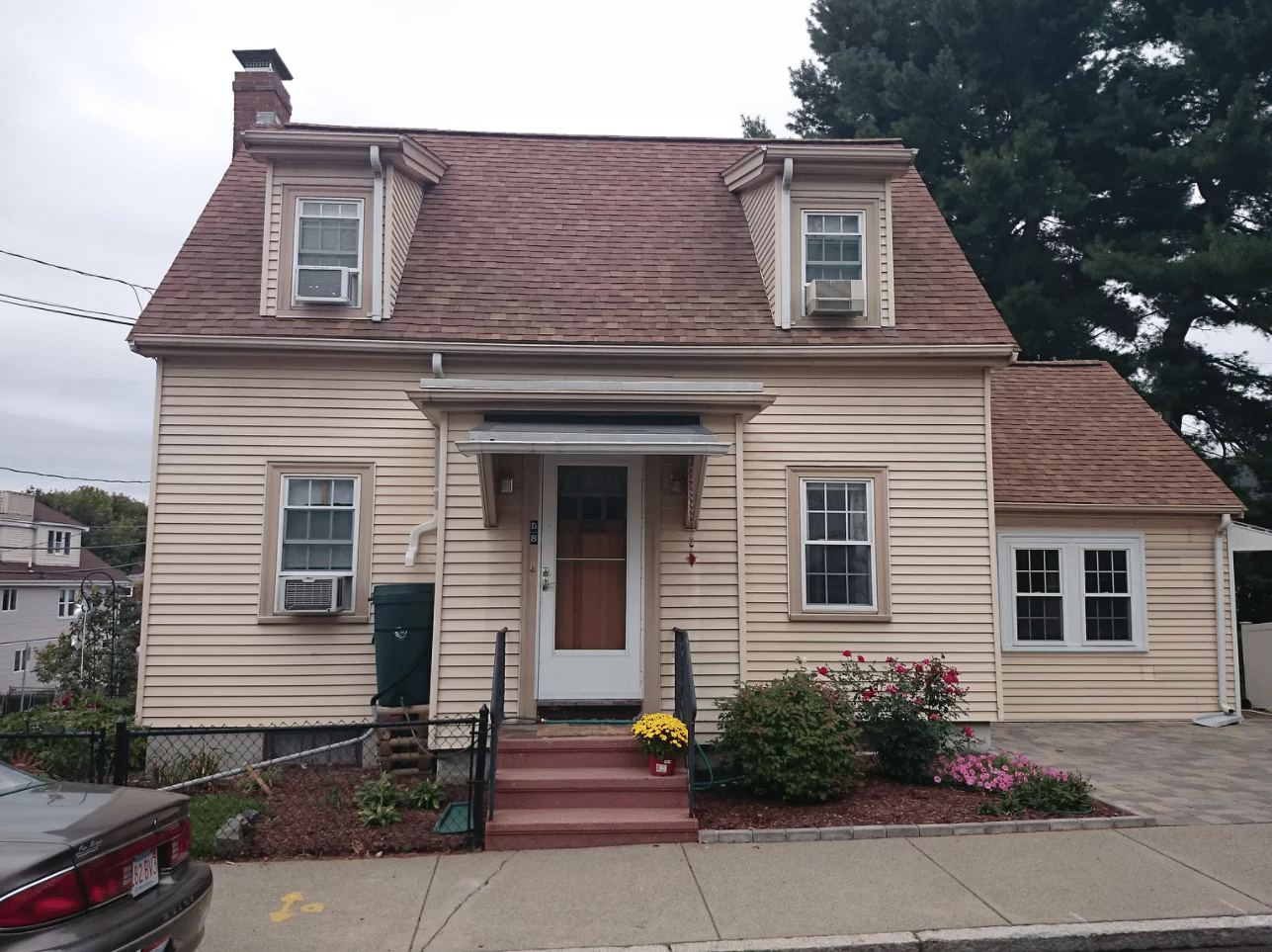 Many of the homes built in Brighton, MA, feature gas heating systems to get the owners through the harsh winters. However, gas heating is expensive, and the family was paying a fortune to keep their home comfortable during the winter months.
Additionally, homes in this area are often built without a central air conditioning system. During the increasingly hot summers in Massachusetts, this was a problem for these homeowners. They resorted to window AC units to keep their home comfortable, but this cooling method leads to numerous problems.
Window air conditioners are notoriously noisy and expensive to operate. The family also found that they were inefficient and left hot and cold spots throughout the house. When the family learned that window ACs are also a security threat, they knew the window ACs had to go. Many burglars have used window units as access points for homes like this one. This potential threat was the final straw. The homeowners knew they had to find an alternative to their heating and cooling problems.
---
Problem:
This lovely, Cape-style home in Brighton, MA, was heating with gas and cooling with window ACs. Their energy bills were through the roof, and they knew it was time for a change.
Solution: N.E.T.R., Inc. installed a two-zone ductless system to replace the window AC units and supplement their gas heating system. This installation will save the family on their energy bills all year long.
---
The Design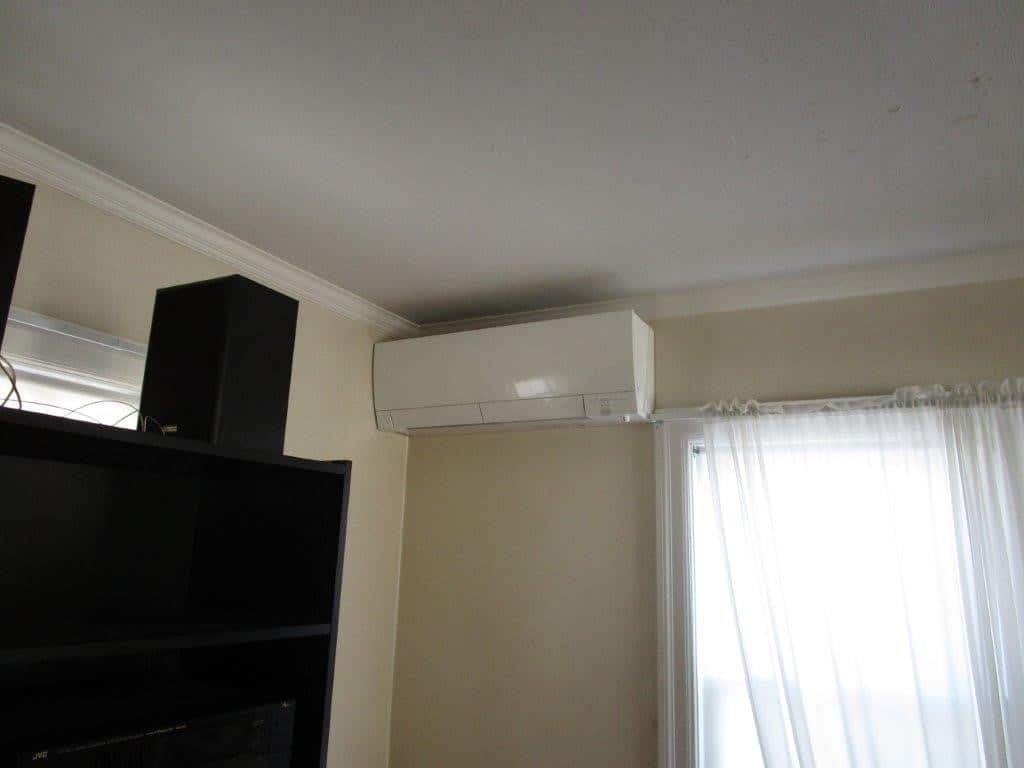 The owners began researching alternative right away. They finally found hundreds of five-star reviews for the Mitsubishi ductless heating and air conditioning systems installed in homes like theirs. They knew that this system would solve both of their problems, but they needed to find a contractor that they could trust.
N.E.T.R., Inc. proudly holds the #1 Elite Diamond Dealer status for Mitsubishi ductless in New England, which allows us to offer extended 12-year warranties to our customers. That, coupled with the extensive training required to maintain this status, convinced the family that N.E.T.R., Inc. was up to the task.
The homeowners gave N.E.T.R., Inc. a call, and James Smithell met with them to tour the home. After seeing the space, he proposed a two-zoned ductless system would be just what they needed.
He said that a single outdoor condenser unit would be enough to heat and cool the entire home and two indoor units installed in the living room and office. These AC units would be strategically placed to provide optimal airflow throughout the house.
The Installation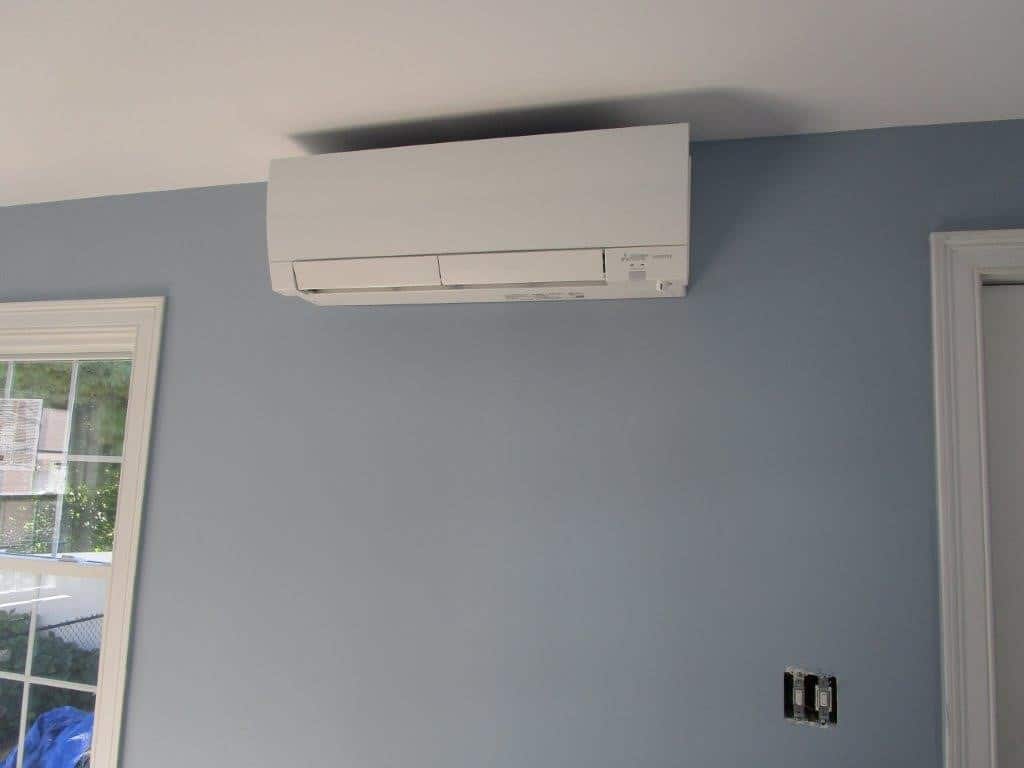 The first thing that James and his crew did for this installation was to pour a concrete pad for the outdoor heat pump and condenser. This heat pump is highly efficient and able to function correctly, even in Massachusetts' winters' extreme temperatures. The condenser is bolted to the pad using a metal stand, which protects it from being damaged or obstructed by snow.
Next, the team moved indoors and began prepping the walls for the Mitsubishi ductless AC units. Unlike traditional central air conditioning, ductless systems do not require ductwork in a home to provide treated air. Instead, a small hole is drilled into the wall behind the unit, and tubing is run to the outdoor condenser. This thin tubing is snaked through the walls like electrical wiring, so it does not require massive reconstruction of the home to install.
Additionally, the units can be placed almost anywhere in the home, unlike window ACs which must be mounted in a window. The ability to customize the placement of these AC units means that the crew can increase the system's efficiency by placing the units in optimal locations.
The Benefits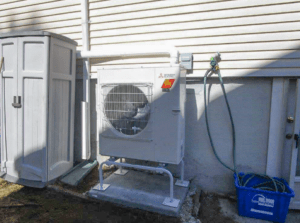 The primary motivation behind this family looking for supplemental heating for their home and air conditioning was lowering their monthly costs. They were immediately able to see a difference in their energy bills after this installation. The new ductless heating and AC units function with about the same energy as a light bulb so that the family can stay perfectly comfortable all year long.
This incredible ductless air conditioning system is so efficient that the state provides rebates to families that choose to improve their homes with these environmentally friendly options. These homeowners were able to qualify for $1,502 in rebates for upgrading their home's HVAC system. The Mass CEC program provided a $1,302, and Mass Save supplied a $200 rebate for this installation.
The family will love that their new units operate independently from one another. This design will allow them to save even more on their monthly bill because they can easily turn off a unit that is not being used. For example, if the office is only used during the weekdays, they can turn it off during the weekend and save money by not wasting energy heating or cooling a room that's not in use.
Now, the homeowners will be able to set the temperature in their home to the ideal temperature all year long. Both units will function as supplemental heating to their gas system and a replacement for the window ACs. The units are controlled by a remote instead of a centralized thermostat, allowing the family to set their comfort levels independently.
Additionally, the Mitsubishi ductless condenser unit is capable of powering up to five indoor air handlers, so if the family ever needs to add another AC unit in the bedroom or kitchen, N.E.T.R., Inc. can make it happen.
Is a Ductless System Right for You?
If you have been suffering this summer with an older home that was not built with central air conditioning, it's time to get the relief you deserve. You don't have to spend a fortune installing ductwork in your home or settling for window ACs; get a ductless system installed in your home and make your home feel like a home again.
At N.E.T.R., Inc., we specialize in designing a system that best fits your needs. Our highly trained technicians will meet with you and create a unique plan for your home. You don't have to keep overpaying for your comfort; contact us today.