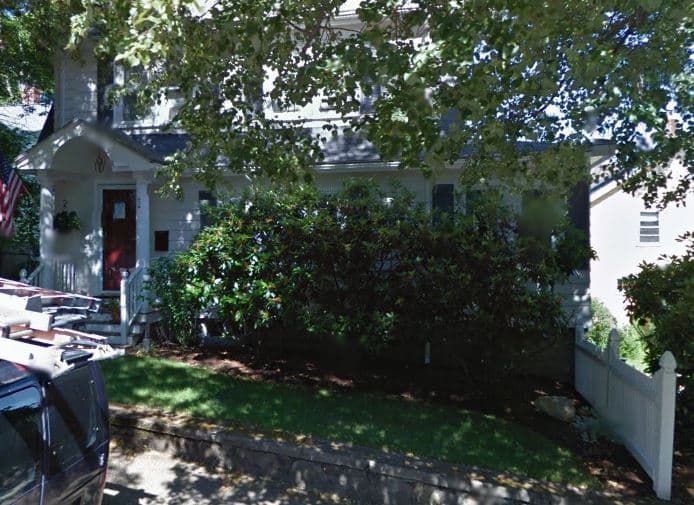 Radiator heat does hold some benefits. It can heat a room very quickly. And, unlike forced air it doesn't introduce pollen and other allergens into the home.
But, it's not perfect. The system often creates cold spots in each room. Often, entire rooms are colder than others.
Meanwhile, with no central air, our homeowners used window air conditioners in the summer. The units were loud and expensive to run. And, it was a hassle dragging them out of storage, cleaning and mounting them every spring.
Our homeowners came to N.E.T.R., Inc. looking for a way to improve their heating and cooling. But, they didn't want to give up their hot water system. They just wanted to improve the heat a little.
The answer was a ductless mini-split system. It would completely replace the efficient window air conditioners. And, it would work alongside the forced water heat in the cold weather.
Problem: A Dutch colonial home in Arlington, MA had hot and cold spots in the winter with radiator heat. The homeowners also used inefficient window air conditioners in the summer.
Solution: Installed a Mitsubishi Electric ductless mini-split system with air handlers in three rooms and an outdoor heat pump.
Ductless hvac creates zoned heating and cooling
A ductless mini-split system creates "zoned" heating and cooling. This is in contrast to the entire house being controlled by one thermostat. Instead, it treats each room or "zone" separately. This setup eliminated hot and cold spots. It also cuts costs on energy bills.
The process begins with an outdoor heat pump. That's the device that generates warmth or cooling. Inside units, or air handlers, circulate the air.
Narrow, plastic tubing connects the heat pump and air handlers. It runs through the walls, out of sight, and attaches to the back of each unit.
So far, this works similarly to a system of ducts and vents. But where it changes is in the units. Each one has a thermostat. That means each unit works independently of the others.
That's where the "zones" come in. It allows our homeowners to add cooling or extra warmth in the rooms that never seem to get treated well enough. And, you don't have to overdo it in the areas that are usually fine.
This system also saves money on utility bills. That's because it uses less energy to provide the climate control you want. When some units turn off before others, that's fewer resources the entire system needs.
On top of that, Mitsubishi Electric systems are Energy Star-certified. They meet federal standards showing they use less energy to provide the same service as comparable models.
And, that certification brings with it more potential savings. In the Bay State, two energy groups offer cash incentives for people to install energy-efficient appliances.
We made sure our homeowners applied for these rebates. And, they got them. One group, Mass Save, offered a $400 cash incentive. Meanwhile, the Massachusetts Clean Energy Center gave them $2,343. That adds up to nearly $2,800 off the cost of the home's new equipment.
Now, let's look at how that new zone system pairs with existing heat and replaces old, inefficient air conditioners.
Ductless cooling replaces window air conditioners
A significant benefit of a mini-split in an older home is that it offers the power of central air conditioning without ducts and vents. This is significant for homes such as this Dutch colonial, that don't have existing ductwork. Now, our homeowners can get the cooling they want without major construction on their house.
Hvac techs can usually retrofit a home with ductwork. But, that's a very expensive process. And, that's on top of paying for the air conditioner itself.
As a result, our homeowners put in window ac's every spring. But, those portable units aren't the most efficient option. They use more energy than other ac's. And, they don't cool as well.
They also waste a lot of energy, too. Since the units aren't sealed in place, a lot of cool air escapes through the window. What's more, they're loud, block out sunlight and need a lot of maintenance.
Fortunately, today there are better hvac solutions available.
With the mini-split system, each zone in the house gets the climate control it needs. And, our installers didn't have to charge hundreds of dollars more to design, build and install ductwork.
Instead, they just run the plastic tubing through the walls as if it were electrical wiring. And, since that piping connects to the back of the unit, our homeowners will never see it.
And, once installed the units themselves aren't very noticeable. They sit high on the wall, almost out of sight. They're also remarkably quiet. Even when they're running at full blast, the air handlers make virtually zero noise.
Ductless heating supplements radiators
You don't need to replace your old furnace or radiator for the Mitsubishi Electric system to be effective. It can still make a big difference working alongside the system you have. Adding the zoned effect helps create even temperatures and saves money, too.
The mini-split system uses less energy to generate heat than this home's forced hot water system. And, now our homeowners use their old system less often.
For years, they started using their heater in the late fall. It wasn't unbearably cold, but they didn't want to get a chill. Similarly, they'd keep it on into the spring.
Now, they use only the HVAC units for those transitional times. Since the mini-split is meant to supplement the heater, this system won't keep them warm all winter. But, it does the job until the temps get too low.
This way, they're using only the more efficient system. That's a few months of lower energy bills. Then, the mini-split picks up the slack in the winter. It also gets rid of cold spots and chilly rooms.
To do this, our homeowners use a lower setting for the radiators. Then, they put the thermostats on the air handlers to the temperature they want. The forced hot water provides most of the heat. Them the mini-split makes sure each room is evenly heated.
Do you want a better and more cost-effective and efficient option for heating and cooling your home? Contact us, and we'll design the perfect solution for you!