There are lots of two-family dwellings in and around Boston, like this home in Middleton, MA. We were called out to inspect the home for heating and air conditioning problems earlier in the summer of 2016.
With one family on the upper level and the other on the lower level of the home, a poorly designed, inefficient baseboard heating and central air conditioning system produced very different levels of temperature and comfort. This set-up left both families uncomfortable and unhappy.
That was why these homeowners in Middleton called N.E.T.R. Inc..
The family on the upper level needed a heating and cooling solution that enabled them to be comfortable — the upper level ended up being too cold in winter and too hot in the summer, never achieving the comfort they craved. They needed an air conditioning solution to cool their entire living space and end the hot and cold spots throughout their space.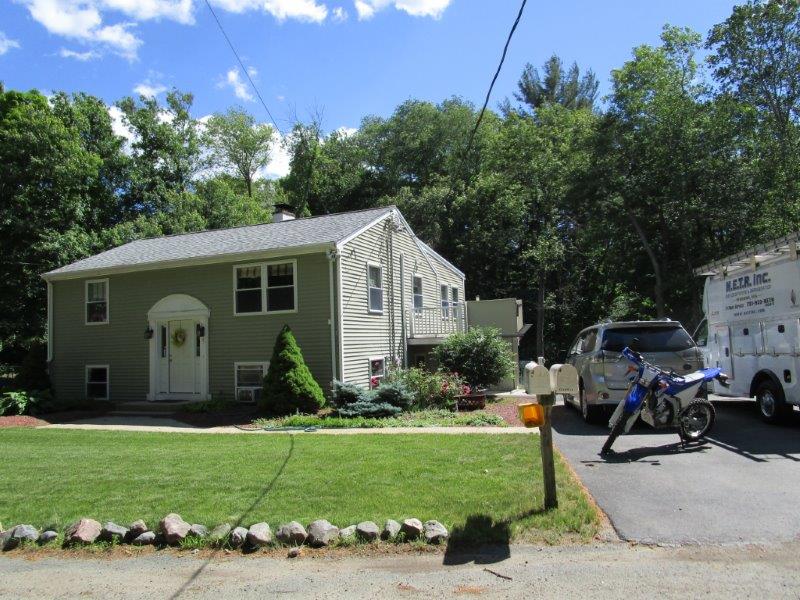 ---
Problem: The family occupying the upper level of this two-family home was too hot in the summer and too cold in the winter. The oil boiler and baseboard heat often left the furthest parts of the upstairs chilly and damp. For these reasons, it was important that the solution not result in unintended discomfort for the downstairs occupants.
Solution: We installed a pair of Mitsubishi Electric Hyper-Heating H2i indoor units powered by one outdoor unit. This is called a multi-zone ductless mini split system provides whisper-quiet air conditioning wherever it's needed. This eliminated their dependence on home heating oil and reduced their overall monthly energy costs.

---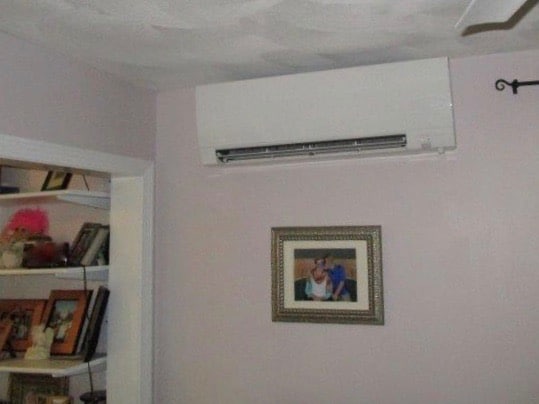 We love situations like this where we can even help the family who is not our client! The level of control our customer has enables the family downstairs freedom over the heating and cooling systems for their space, so everybody is happy.
This family was also able to qualify for a Mass Save rebate and they have a CEC application in process.
The rebates available on these systems, combined with 0% payment options, the time is right to see if a ductless mini split system is the perfect solution for your home.
The ductless units mount on the walls, out of the way, so that they can provide maximum air circulation without interfering with the room's aesthetic. The units blend into their surroundings and are whisper-quiet, so you won't even notice they're there. Interior designers often recommend ductless AC units because they do not require ductwork. This is a huge benefit, especially if you don't already have ducts and they must be either embedded in your interior walls or even worse, boxed in and run along a ceiling.
When you don't have ducts, you save 20% of your efficiency right out of the gate because most duct systems account for a loss of 20% of your system's output. That's $0.20 of every dollar you spend, leaking out of your ducts and into your walls. And that's an acceptable level of loss my most contractor's standards!
Here are N.E.T.R. Inc. we are big believers in ductless air conditioning systems, in fact, I staked my future on these leading edge home comfort solutions and I think you can rest assured that ductless is a good choice for your family too.
To recap the key points of this home:
The homeowners now have a comfortable, quiet solution to heat and cool their living area and bedroom on the upstairs unit in this two-family home, ensuring comfort for the family, every day of the year!
The energy bills will go down because of the energy efficient technology, and only needing to heat or cool the space in use. They will be able to adjust the temperature to suit them, rather than relying on coming to some sort of temperature agreement with the neighbors.
No removal or replacement of equipment was necessary.
The family was able to qualify for a $250 Cool Smart rebate, helping to defray the cost of the system.
A Great Investment
This kind of installation is going to help our homeowners with a few things. They still have their current system available to the to heat, so this ductless install will supplement their current oil boiler and hydronic baseboard heat system, but will allow them to have much more control over their comfort in their living space than ever before, with a touch of a remote control.
This air conditioning technology will also help save money on energy bills, being that it is an energy efficient solution. And many homeowners in similar circumstances can qualify for rebates like the $250 Cool Smart rebates our homeowners received!
The warranty on all qualifying systems installed after April 1, 2015 has recently been extended to 12 years! Click here to see the details.