Heating your home using oil is a common practice. You fill up, and you get your oil refilled when needed. With the price of oil always fluctuating, what can you do to try to maintain a budget? And what about getting some air conditioning in these hot and sticky summers?
Our Boxford homeowners were having just this problem. They were heating their home with oil and baseboard heating units throughout the house, but rooms would take a long time to heat up or cool down. In addition, because the house didn't have any ductwork, the homeowners had to rely on window air conditioning units to try to get some relief in the summer months (and longer into the fall as well!) They suspected there was a better way to heat and cool their home that might also take the bite out of the oil bills that always seem to come at the worst time.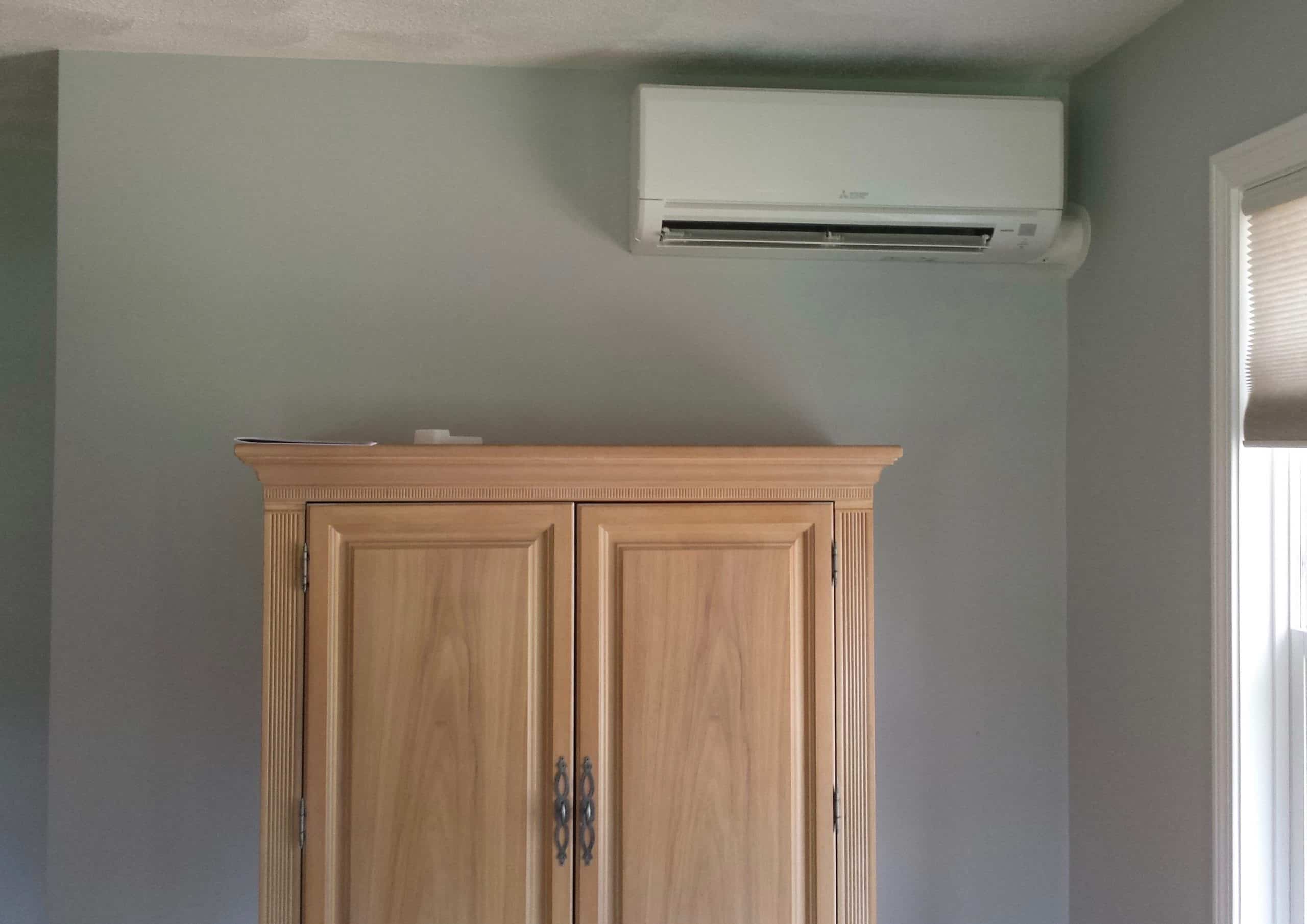 ---
Problem: The existing oil heating system was alright, but the homeowner wanted lower energy bills, and increased comfort in the summer.
Solution: An electric Mitsubishi Hyper-Heating heat pump system will allow efficient heating AND cooling, on demand, any day of the year. In addition, the ductless system has built-in fans to help circulate the air and ensure even distribution of hot or cool air throughout a room, increasing comfort throughout!
---
A Good Investment
The new Mitsubishi Electric Hyper-Heating heat pumps offer a style of heating that is not only energy efficient but offers ductless air conditioning to cool your home in the summer. This type of supplemental heating will also prevent the need to fill up on oil, and the concern of running out. Because of its energy efficiency this type of ductless mini split heating and cooling will help our family save money on energy bills and keep the home comfortable all year round.
Best of all, because of the high efficiency rating on this system, the homeowners qualified for Mass Save rebates of $2,593! This meant that they could save on the installation of the system as well as save on monthly energy bills, putting more money back in their pocket each month while upgrading the comfort of their home- an improvement that will pay them back over time.
The warranty on all qualifying systems installed after April 1, 2015 has recently been extended to 12 years! Click here to see the details. 

The Ideal Heating and Air Conditioning System for a Boxford, MA Home
The experts here at N.E.T.R. Inc. went out to check out the home and realized that they could create multiple zones of comfort that could deliver both heating and cooling on demand for our homeowners! The family wanted to make sure their kitchen and pool room remained comfortable, as well as their master bedroom and the kid's bedroom as well. Since they spend most of their days downstairs, making sure they had the main gathering area in any house- the kitchen- comfy was important. Just as important was to make sure the bedrooms were just the right temperature so that everyone got a restful night's sleep all year 'round.
Like many busy families, our homeowners want to be able to get the most out of their home, but don't want to dread going to bed because the upstairs is just too hot or too cold. Our experts were able to design a mini split heating and air conditioning system that used a single outdoor heat pump but could power four separate indoor wall mounted AC units, like the one on the left. This allowed a zone by zone customization of temperature and comfort as needed! This switch from oil heat to electric heating and cooling will help to keep the energy bill lower, and more predictable, even during the summer- something every growing family needs.