This lovely ranch home in Ipswich wasn't comfortable all year round for the owners. The couple began exploring ways to add both heating and cooling to their home, since the electric heat and pellet stove weren't perfect, and there was no air conditioning at all in the home.
As a result, they were getting uneven heating in the winter, and no cooling at all in the summer. Hauling pellets around all the time was getting to be a burden, so they called N.E.T.R., Inc. to explore their options to solve their heating and cooling issues, once and for all.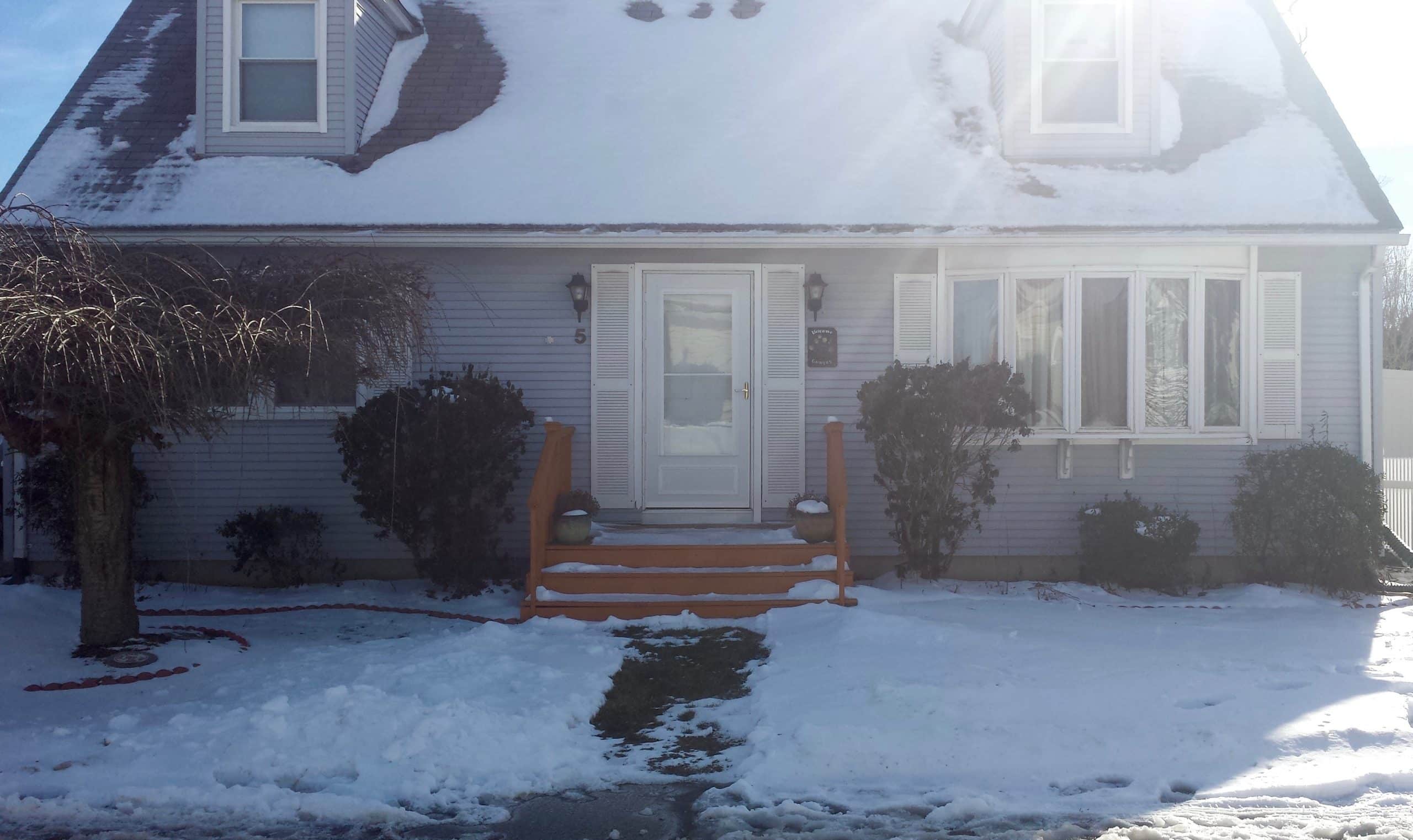 ---
Problem: The existing heating and cooling system was inefficient, lots of work to maintain, and didn't provide comfort to the whole home. The electric heat and pellet stove combination were costly and hauling pellets around was starting to become a drag.  In addition to this, the home had no air conditioning, so it was hot in the summer.
Solution: We installed ductless heating and cooling for this Boston area home, creating a whole home solution that provides ductless air conditioning with two Mitsubishi Hyper Heat Ductless units, ensuring comfort in the spring and summer, as well as providing efficient heat in the fall and winter — with increased efficiency.
---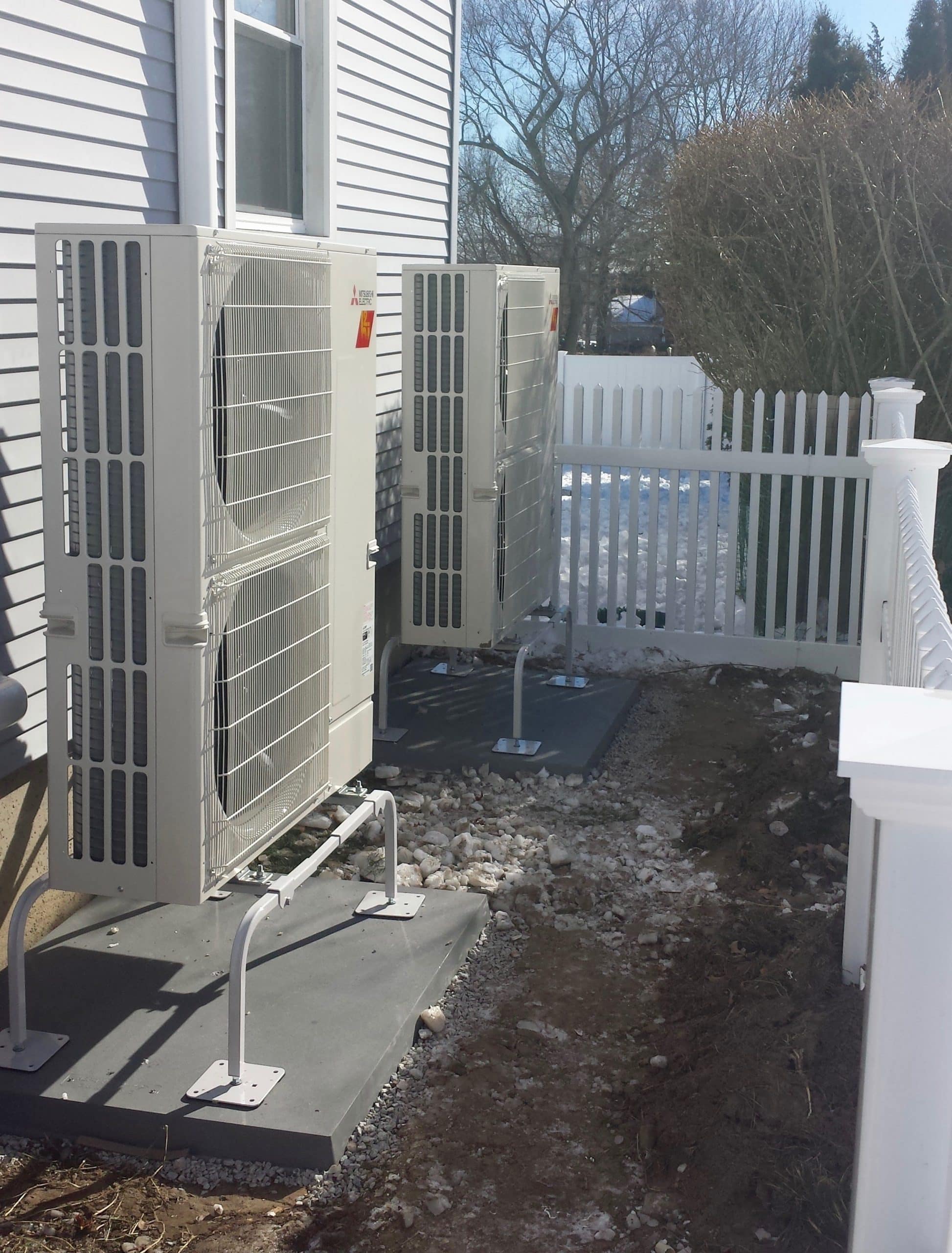 The problem this home had was with both heating and cooling in their Ipswich ranch cape-style home.
We see this situation frequently — homeowners will use pellet or wood stoves for heat, and love the charm, but worrying about pellet supply, storage, delivery, and hauling the pellets around gets to be simply too much.
We knew we could help them out by not only giving them a fuss-free heating solution, but also providing them with much needed air conditioning to ensure comfort and enjoyment of their charming home.
Our Solution: We installed two Mitsubishi Hyper Heat ductless systems that will allow for zoned heating and cooling for the whole home.
These units maintain efficiency down to -13 degrees, unlike conventional heat pump systems, making them a great choice for whatever old man winter dishes out.
Mitsubishi Hyper Heat is also a ductless air conditioning system, getting rid of the need for inefficient window based air conditioners to provide comfort 365 days a year, rain or shine.
Our Woburn-based comfort specialist was thrilled to design a system that would be able to supplement the existing system while enhancing comfort, and we were able to do this while increasing efficiency and reducing overall costs for the homeowner.
This couple was also able to save money with a rebate of $1,250!
Because Mitsubishi ductless heating is energy efficient technology, Massachusetts provides the highest level of available rebates for these systems, since they are helping out the environment.
Additionally, when your system is installed by one of Mitsubishi Electric's Elite contractors like N.E.T.R., Inc., the warranty on parts is extended to twelve years, giving you peace of mind as well as increased comfort in your home.
There are still rebates in the kitty, so if you are interested in this type of energy efficient equipment, be sure to ask your comfort specialist about what sort of rebates would apply.
To recap the key points of this particular home and our solution:
The homeowners now have a comfortable, quiet ductless solution to heat and cool their ranch cape-style home.

They no longer will be worried about storing and dragging pellets around to make sure they have enough heat, and they have dramatically increased the energy efficiency of their home.

No removal or replacement of equipment was necessary.

A $1,125.00 rebate was available to homeowners to help them upgrade their home to this long term comfort solution.
A Great Investment
Installations like this one is going to make sure this couple gets maximum comfort in their home, every day of the year. They can still use their existing pellet stove when they want, (no removal was necessary), but they no longer have to worry that they will be cold or uncomfortable if the pellets run out. They've also gained a whole home ductless air conditioning system to make the house completely comfortable.
This technology will also help save money on energy bills, with its efficiency and low maintenance, along with a 12 year extended warranty, giving homeowners peace of mind as well. The homeowner was also eligible for a $1,125.00 rebate, making this a wise upgrade and investment in the future of their home!
Click here to see the details on the 12 year warranties offered by Mitsubishi, making this a worry-free upgrade for homeowners like you! 
Learn more about Mass Save and CEC rebates.