Ranch homes became popular across the country a few decades ago. But the truth is, they're not exactly suited for all seasons. And, heating and cooling technology has improved a lot since many of them were built.
Our homeowners in Lincoln, MA found their ranch-style home feeling a little obsolete when it came to HVAC. A few of the rooms were always too cold in the winter. And, the house did not have central air conditioning.
It was time to upgrade the heating and cooling. The homeowners wanted a new system that would use less energy and save them money. They chose N.E.T.R., Inc. after reading our reviews. They saw how we rated outstanding when it comes to energy efficiency and cost-effective heating and cooling units.
---
Problem: A ranch-style home in Lincoln, MA had no central cooling and needed more heating in the family room and master bedroom.
Solution: Installed Mitsubishi wall mounted ductless air conditioner. The living room and master bedroom each got an indoor air conditioning unit, which attached to an outdoor condenser.
---
HVAC in a Ranch Home
Ranch homes first began popping up in the southwest part of the country. As a result, they're best in warmer climates. In cooler areas, they begin to have some problems.
A big one is heat loss. This occurs for a few reasons. First is the layout. A ranch is usually one story. As a result, it's more spread out than two- or three-story homes. This means it uses more foundation concrete than homes will smaller bases.
But foundation concrete does not insulate well. As a result, most of them were built on slabs that were not insulated. This creates a heat sink because concrete can absorb a lot of heat. It's an effect that can chill a home in the summer. That's great for the hotter southwest, but in New England, it's a problem in the summer.
Other aspects of a ranch allow it to lose heat. These homes often have many thermal passes. Chimneys, recessed lighting and plumbing chases amount to openings in the structure. Heat can escape through these.
In this case, the master bedroom and living room were often too cold. They had oil heat, which heats quicker than gas or electric. But, that even wasn't enough for this New England ranch.
And, it was an older home, built before central air was popular. The owners were using window units in the summer. But, they weren't really cutting it.
Our heating and cooling solution had to overcome many big challenges. We couldn't change the foundation, obviously. Nor did the homeowners want to do any major work. That would include running ductwork for central air.
Fortunately, we knew how to provide the extra heat and powerful cooling the homeowners wanted.
Wall Mounted Ductless Air Conditioner Solves the Problem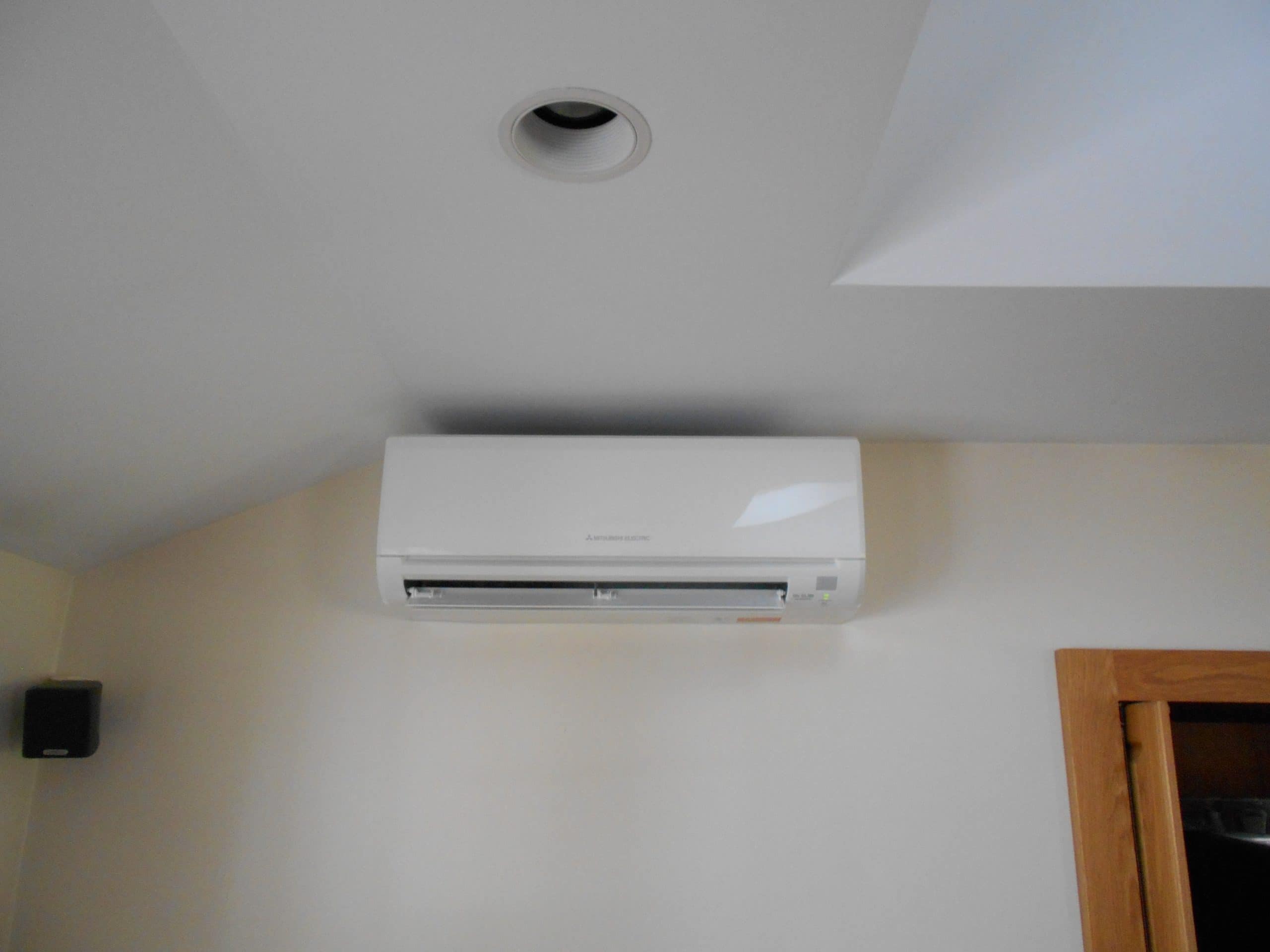 A wall mounted ductless air conditioner that also functioned as a split system heat pump was clearly the way to go in this case. This would allow us to add powerful heating and cooling exactly where they needed it. And, we could do so without a lot of extra work.
The trick to it is the ductless HVAC units. These take the place of old-fashioned duct work and vents. Where ducts are big and expensive to install, these units take up almost no room. And, connecting them to an outdoor unit is very simple.
Here's how it works: Hot or cool air comes from a heat pump outside the home. This is like how a central air conditioner condenser sits outside. However, that air travels through very skinny piping.
The piping is less than three inches wide. And, it's flexible. This is much different from metal ductwork that's at least a foot wide. With the piping, our installers don't have to take up a lot of space in the home to make a path for the air. Planning those paths and building the ducts cost a lot of money.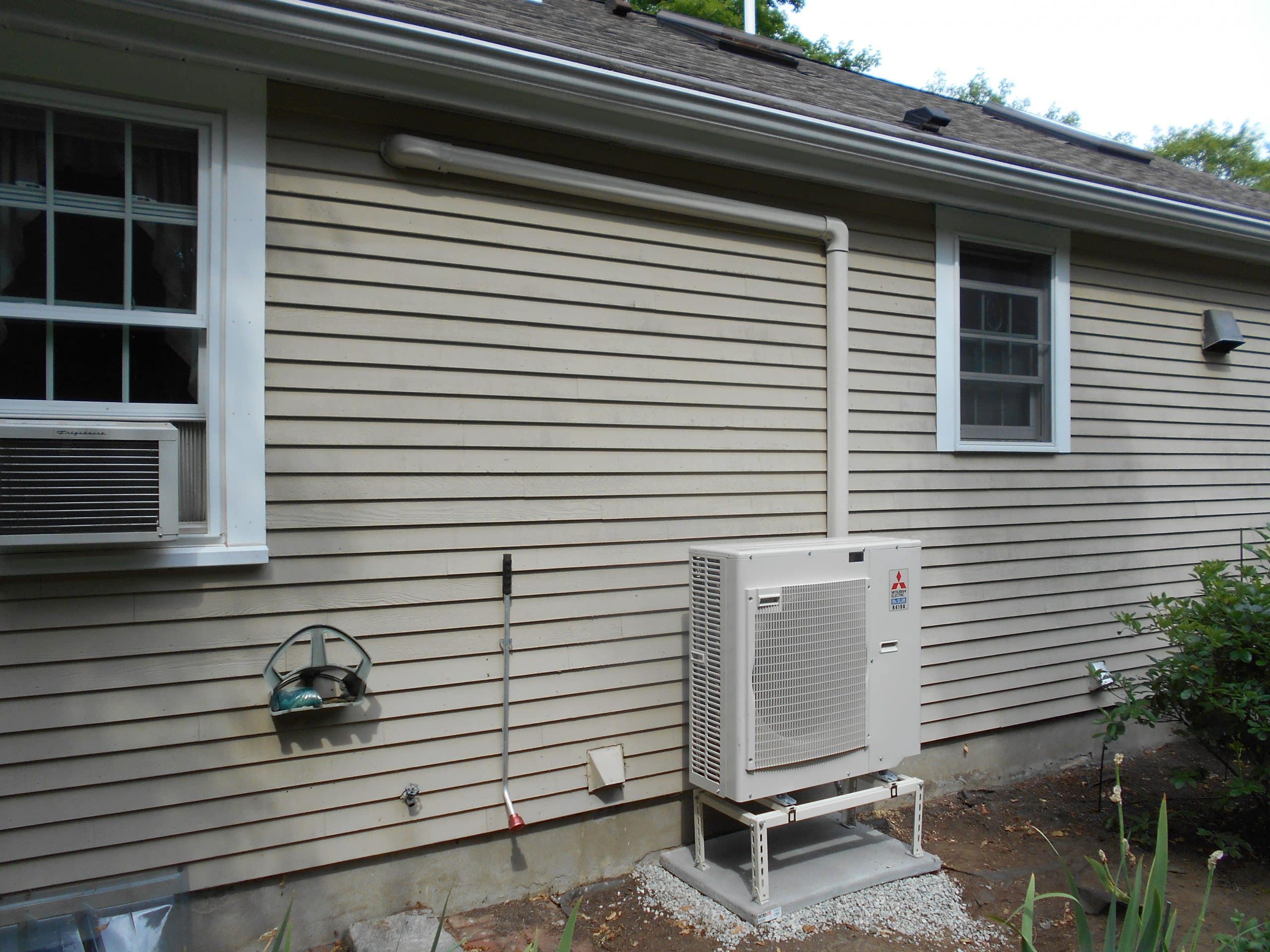 Ductless HVAC installation
For ductless HVAC installation, all we have to do is drill a small hole in the side of the home and run the piping from the heat pump. From there, they feed it through the walls. Finally, they bring the piping into a room through another small hole.
The piping attaches to the ductless unit. This is the device that actually distributes the hot or cool air. It mounts high on a wall and covers the hole for the piping. The units are whisper quiet. There's no sound like when a furnace kicks on or a radiator hisses.
Perhaps the biggest difference, sound-wise, comes in the summer. They're a huge change from the roar of the old window air conditioners the homeowners were using. Before this, it could actually be hard to hear a television in the living room or hold a conversation in the bedroom. Now, they don't even notice when it's on.
Of course, the sound isn't nearly as important as the savings. And, that was the big selling point for the ductless system. Now, the homeowners will get better heating and cooling — and spend less to get it.
Saving Money with Ductless HVAC
Our homeowner's new Mitsubishi ductless mini split AC system will save them money in a few ways. The biggest savings will come in the summer. That's because our homeowners are getting rid of their old window air conditioners.
Window units use much more energy than our ductless system. If you've ever used them, you're used to seeing your electric bill skyrocket in the warmer months. But, that won't happen now.
Thanks to better technology, the ductless units use much less energy to get the same amount of cool air. The new system is Energy Star-certified. It meets government standards proving it's more efficient than other, similar HVAC options.
In the winter, the savings won't be quite as big. That's because the house still uses oil heat through baseboards. But, now our homeowners won't have to use as much oil to heat the whole house. This is thanks to the zoned HVAC strategy the ductless units offer.
What this means is that each ductless unit handles a different area, or zone, in the home. And, each unit has its own thermostat. This way, our homeowners can set each zone to a different temperature if they want.
They may actually prefer one room cooler than another during part of the day. Now, they don't have to pay more money to heat it they whole time.
Or, they can set each thermostat to the same temperature. This still creates savings.
Remember, our homeowners wanted units in the living room and master bedroom because those rooms wouldn't get hot enough. Before, their options were to let them remain cold.
Or, they could crank up the heat even higher, until those rooms warmed up. When they did that, however, they'd end up overheating other parts of the house. And, they'd pay for more oil to do so.
The N.E.T.R., Inc. Difference
Now, it's different. When the living room is too cold, the ductless unit kicks on. Then, it turns back off once the room is warm enough. Then it turns back off. The one in the bedroom does the same.
If, say, the living room warms up before the bedroom, that unit turns off first. Now, the homeowners aren't using more of that expensive oil to keep heating the house just for the bedroom. Instead, that one unit stays on until the room is ready. But, it's using far less energy to do the job.
Now, our homeowners have even heating in their ranch for the first time. They also have whisper-quiet air conditioning in the summer. And they have lower energy bills. Their home may be a few decades old, but their HVAC system is totally up-to-date.
Do you want a better and more cost-effective heating and cooling option for your home? Contact us and we'll design the perfect Mitsubishi ductless HVAC solution for you!