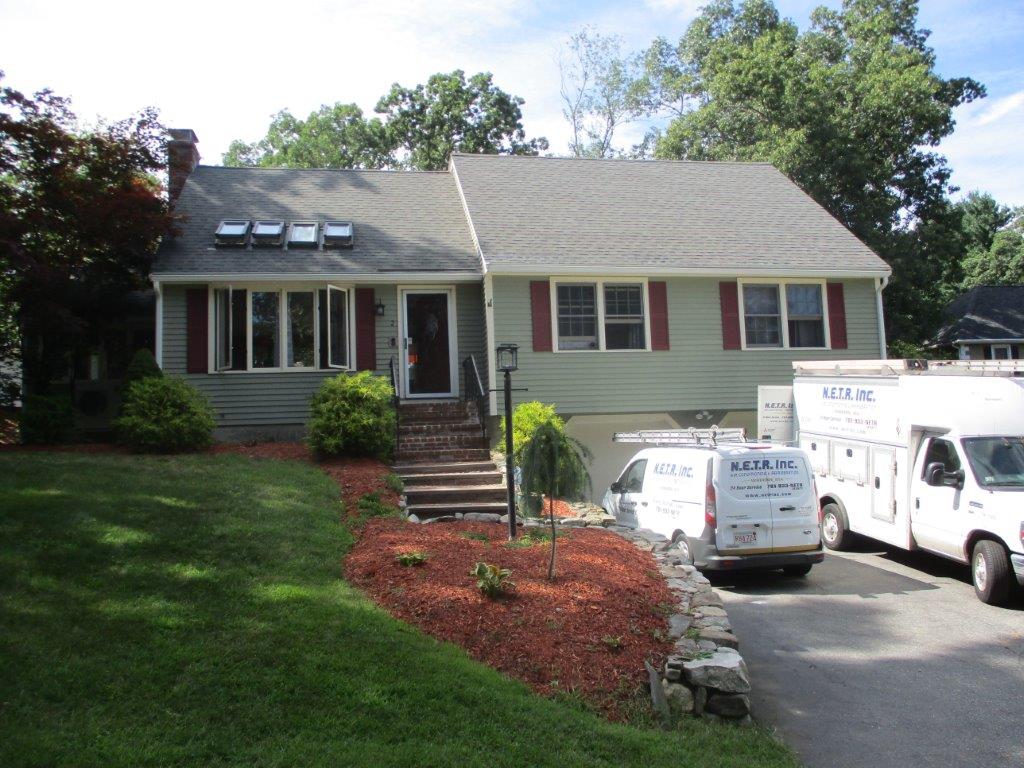 The owner of a ranch home in Methuen, MA wanted to upgrade his hvac system. He had oil heat but no air conditioning. In the winter, some rooms were colder than others. In the summer, the whole place was too hot. What he needed was a Mitsubishi ductless system.
Our homeowner had heard about these and wanted to learn more. He contacted N.E.T.R., Inc. after reading our excellent customer reviews. He also saw we are the number-one Elite Diamond Dealer in all of New England for Mitsubishi products.
True to our reputation, we quickly got to work on a system that would make his home feel better than ever.
---
Problem: An older ranch home in Methuen, MA had hot and cold spots in the winter and no air conditioning in the summer.
Solution: Installed a Mitsubishi ductless heat and cooling system. We put in an outdoor condenser unit and air handlers in the master bedroom, living room and basement.
---
Updating hvac in a ranch home
Ranch homes are a staple of the American suburbs. But, they were around before central air was common in homes. Because of that, it can be tough to add it later on. Our homeowners here were looking to upgrade their hvac for better warmth and finally some cooling.
Ranch homes became popular during the housing boom of the 50s and early 60s. They were affordable houses for people looking to move out of the city. Back then, however, there wasn't any central air conditioning in homes. At most, you'd find them in large buildings.
Instead, these relied on designs that used cross-ventilation in the summer. Basically, the layout allowed breezes to flow through the house. That may have done the trick 50 years ago. But, it's not enough today.
The median temperatures in Massachusetts have risen steadily since then. Now, summers are hotter than ever. And, people are just more used to ac everywhere they go.
Meanwhile, Methuen is close to the Merrimack River. That means more humidity which makes it feel even hotter.
At the same time, keeping a ranch warm has always been tricky. The air may flow well with the windows open. But, that's not always the case when they're closed.
Hot air tends to collect in weird places in a one-story home. And, that's made trickier with the bedrooms over the garage. Since the garage isn't treated, it's colder than the rest of the house. That means it's drawing warmth away from the rooms our homeowner wants to keep warm.
Creating zoned hvac with ductless cooling and heat
The solution for this house was to use Mitsubishi ductless cooling and heat to create zoned hvac. Originally, one thermostat controlled the whole house. Now, there's one in almost every room. This allows us to:
Create even temperatures across all the rooms in the house

Allow our homeowner to customize his climate control

Add air conditioning to the entire home
We're able to do this thanks to the air handlers that circulate the air. Instead of vents or radiators, the Mitsubishi Electric system uses units in each room to distribute warmth or cold air. Each one has a built-in thermostat.
That's a big difference from one thermostat handling the whole house. With a central setup, the thermostat is typically in the living room. Then, you get uneven temps.
If the bedrooms are colder than other spots, they never get enough hot air. The system shuts off once the living room is warm enough.
Now, each room is treated separately. Each air handler turns on and shuts off as they're needed. If the bedrooms need more treatment, those units stay on longer. And, the opposite happens in the summertime.
The system is really easy to install, too. In this home, we put units in the master bedroom, living room and finished basement. Then, we installed a condenser unit outside.
The units and condenser connect thanks to thin, flexible plastic tubing. The air flows through the tubes instead of ductwork. This way, we just run that through the walls without having to do any major work on the house.
Then, we mount each unit high up on the walls. This keeps them mostly out of sight. That's true even in the living room. Even though the best spot was over the television, it follows the shape of the TV and mantle to blend in.
Our homeowner finally has ac in the summer. And, in the winter, every room is the right temperature. He leaves his old furnace on a lower overall temperature, and the new system picks up the slack and evens out each zone.
Rebates and lower bills with a Mitsubishi system
Now, our homeowner's new Mitsubishi system does more than just provide even climate control. It also offers energy-efficient hvac. That means it uses less power than other methods. And, using less power means paying less on utility bills.
First of all, the outdoor condenser uses an exchange process. That happens instead of burning fuel for warmth or cooling the air for ac. In the summer, it extracts the warmth from the home and sends the cooled air back in.
The condenser extracts what little warmth there is outside in the winter, amplifies it, and sends it into the house. There's a good bit of science behind how this happens. But, the long and short of it is that the pump only needs a little bit of power to get it started.
Next, the units use inverter technology to save energy. You figure old systems could only be on or off. Instead, Mitsubishi air handlers have different speeds.
Most of the time, they're working in a low-energy power saver mode. This does just enough to maintain the temperature. If the room needs more treatment, it kicks up a notch.
All that has another benefit: Money back. Like plenty of places now, the utility companies in Massachusetts offer rebates for people who install energy-efficient appliances. They do so through the organization Mass Save.
We made sure our homeowner applied for this. They gave him a $300 rebate. Even better was the Massachusetts Clean Energy Center. They came through with an additional $2,110. That means he got almost $2,500 off the price!
That's a huge bonus on his new investment. Now, he has better climate control than ever before. And, he's paying less than he did with his old system.
Are you looking to improve the heat and add air conditioning to your ranch home? Contact us, and we'll design a system that's perfect for your home and budget.