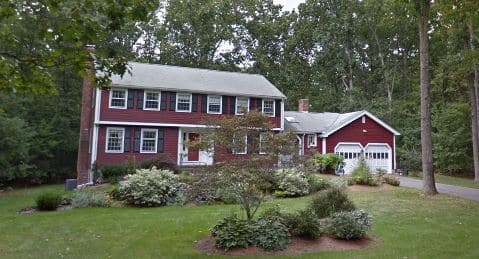 Our homeowner wanted to make his sunroom comfortable year-round. The additional room was too cold in the winter and sometimes too hot in the summer. Adding ductless heating and air conditioning changed all that.
For a long time, it was difficult to get a decent hvac setup for a room like this. That's because these rooms are more like enclosed patios. A space like this is outside the actual house with new walls built around it.
As a result, the heating and cooling system handling the rest of the home doesn't reach it. Our homeowner was only able to enjoy his for a few months out of the year.
It's a shame, especially in a charming, rustic area like Andover. Nestled near Bald Hill and the Indian Ridge Reservation, it seems like just about every backyard is a window to nature.
Adding climate control would make it much easier for our homeowner to enjoy the scenery. After researching, he realized that ductless heating and air conditioning system would do just that.
He chose N.E.T.R., Inc. over other hvac companies after reading our excellent customer reviews. And, he saw that we were the top Elite Diamond Dealer for them in the New England for Mitsubishi mini-splits.
---
Problem: The sunroom in a colonial home in Andover, MA had no heating or cooling.
Solution: Installed a single-zone Mitsubishi mini-split.
---
How ductless heat and air conditioning works
Ductless heat and air conditioning work similarly to a central air conditioner. In both cases, an outdoor component generates treated air. Then, the system distributes that air throughout the house. However, how each one does that is different.
With ductless, the process starts with an outdoor heat pump. It removes heat from the air in the summer. In the winter, it attracts what little heat there is outside and magnifies it.
This process relies on naturally-occurring heat exchanges to do most of the work. By contrast, traditional heating and cooling methods use electricity or natural resources to generate the heat or cool the air.
But, the most significant difference is how a ductless system circulates the air. From the heat pump, the air travels through plastic tubing that fits in between the studs of a wall. Then, it enters a room through an indoor unit, or air handler.
The indoor unit takes the place of ducts and vents. Our installers snake the tubing through walls like electrical wire. Then, we just attach the tubing to the air handlers, which are mounted high up on a wall.
Using zoned hvac for a sunroom
Ductless is especially beneficial for an addition to a home. That's because it's less expensive than expanding an existing central unit. It's also much easier to install.
We mentioned how the air enters a room through an air handler. Each indoor unit has its own thermostat. That means you can set each air handler to a different temperature. You can't do that with a central system.
Instead, the system creates a "multi-zone" system. Each one handles a different room, or zone, in the house. In this case, there's just one zone. To treat it, we just needed to install one indoor unit.
The next best option would have been to add more ductwork to the existing system inside. Then, we'd have to build out a spot for a vent leading outside the home and into the enclosed patio.
Designing, fabricating and installing the ductwork is very expensive. It would also require a lot of work. Even then, our homeowner wouldn't get the results he wanted.
That's because the thermostat in the living room would still control the enclosed patio. But, there's a big difference: The rest of the house is insulated. The new patio is not.
This arrangement would lead to uneven heating and cooling. In the winter, the sunroom would never get warm enough. The thermostat inside would reach the desired temperature and shut off the system before it adequately treated that space. Then, the opposite would occur in the summer.
With the mini-split, our homeowner sets the thermostat on the air handler to whatever he pleases. Then, it turns on and off as needed to reach that temperature. It's independent of the rest of the house.
Cash rebates for installing ductless in a sunroom
Ductless heat and air conditioning offer a lot of benefits for an enclosed patio. But, they're still a significant investment. Fortunately, we were able to help our homeowner cut down on that cost.
Today, many groups advocate for people to use energy-efficient appliances. Doing so is better for the environment because they use fewer resources than less-efficient models. And, to help convince people to make the switch, those groups offer cash incentives.
That's something hvac companies have on their radar. And, we make sure to pass along the information to our clients. This way, they can get the solutions they want for less money.
In this case, we suggested our homeowner contact two groups that serve Essex County. Both came through with rebates.
The first was Mass Save, a collaborative of natural gas and electricity companies in Massachusetts. They offered a $300 rebate for each indoor unit. Even better, the Massachusetts Clean Energy Center gave our homeowner a $695 incentive.
As a result, the new system's price dropped by nearly $1,000. Now, our homeowner improved the hvac in his home for even less money than they expected.
And, he can expand the system if he wants to later. By installing additional indoor units in more rooms, he can supplement the existing heating and cooling systems. Doing so adds a little extra climate control to the rest of the house.
It's especially useful for hot and cold spots, or for the months when the weather isn't at it hottest or coldest.
But, that's an option for later. For now, our homeowner is enjoying his enclosed patio all year long.
Do you want a better and more cost-effective and efficient option for heating and cooling your home? Contact us, and we'll design the perfect solution for you!