Older homes like this Victorian in Dorchester often suffer from uneven heating and cooling, if they even have air conditioning. Many of these Victorian charmers have been turned into condos, which means a heating system designed for a whole house must meet the very different needs of separate tenants and owners throughout the home.
Installing ductwork for a central heat and air would require work that could have a detrimental impact on the charm and character of a wonderful home like this, not to mention disrupt all the owners of separate units throughout the home. While traditional radiator heating systems are often relied on to keep homes like these comfortable, these systems rarely meet the needs of every owner on every floor.
The fantastic home pictured below contains three condos, and our owners live in the third-floor unit. Like most older homes, the third floor often ends up being stifling hot in summer and cold in the winter, and these older homes often do not contain as much insulation as needed to mitigate these problems. Our homeowners were relying on noisy window air conditioning units to try to remain comfortable in the hot and humid summers, especially in their living room and bedroom. Not only did they have a hard time keeping up with the heat, they are expensive to run, and end up marring the beauty of this home from the outside as well as the inside, taking up window space that can bring natural light and a great view into their home. 
Our homeowners were looking for a solution to make their living room and bedroom more comfortable, and hopefully save money on energy bills in the process. After all, energy bills and maintenance costs for older homes are the reason why many of these Victorians throughout Dorchester have been converted to condos in the first place.
---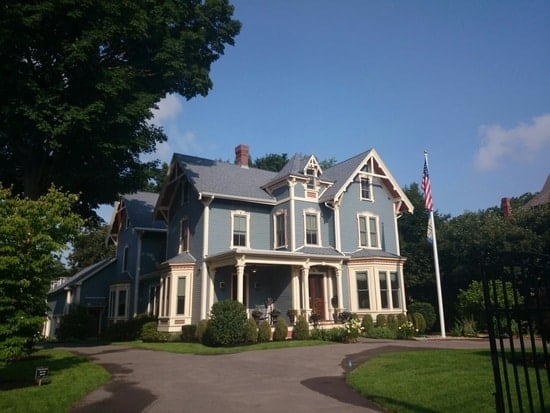 Problem: The homeowners owned a top floor condo in this classic Victorian and needed more customized heating and cooling than provided by the whole home system, and they wanted to replace the noisy and inefficient window units they were relying on to try to keep cool.
Solution: Installed a Mitsubishi Hyper Heat ductless HVAC unit to supplement the existing heating system and provide comfortable cooling all summer long, allowing efficient and quiet heating and cooling on demand, at the touch of a button.
---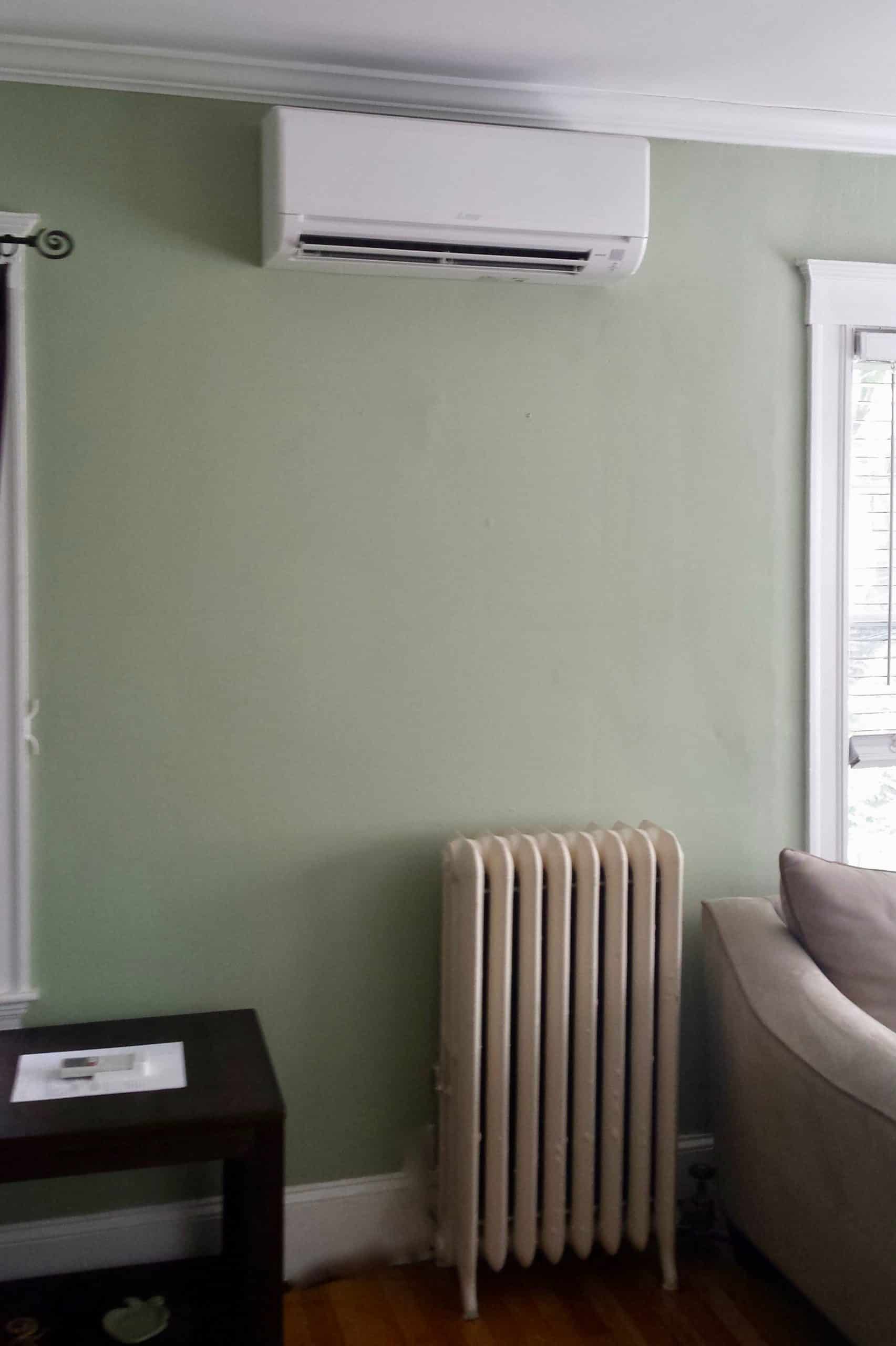 The problem this homeowner had was getting adequate comfort for their third-floor condo in a converted Victorian. The heating and cooling needs are different on every floor, and our homeowners wanted more control over their own comfort for their third-floor unit.
The radiator heat provided to each unit might work well on some floors, but up on the third floor, it wasn't quite enough in the winter, and relying solely on window units for comfort and controlling humidity in the summers wasn't working well.
As condo owners, replacing the heating and cooling solutions for the entire building to ensure their comfort just wasn't possible. Instead, a solution like Mitsubishi Electric's Hyper Heat ductless heat pump can provide the comfort they need, to their unit, without inconveniencing any of the other owners.
Ductless heat and air involves hanging a discreet wall unit somewhere within the space needing that extra level of comfort and does not require bulky ductwork to get the cooled or heated air to the right spots in the space.
These ductless mini splits are controlled by a handheld remote and can deliver heating and cooling at the touch of a button. By installing a ductless heat and air system that will work even when it's – 13F outside and provide efficient cooling even on the hottest days of summer, the homeowners now have pinpoint, quiet comfort control available for their condo.
So just to recap the key points of this home:
The home owners now have a comfortable, quiet solution to heat and cool their third-floor condo in this historic Victorian home.

Their energy bills will go down because of the energy efficient technology, that will provide cost effective heating and cooling every day of the year.

No removal or replacement of equipment was necessary. This ductless HVAC unit will supplement existing heat and provide that added boost when needed.
---

---
A Great Investment
This kind of ductless heating and cooling installation is going to help them with a few things. They can still use their current system to heat, so this ductless install will only supplement their current system to make the condo completely comfortable. No removal of an old system or equipment was necessary, avoiding additional labor and construction. This system also creates an additional zone of controlled heating and cooling, ensuring maximum comfort at the touch of a button, any day of the year.
Because ductless HVAC is also energy-efficient technology, many homeowners also qualify for rebates through the Mass Save and CEC program, so don't forget to ask about possible rebates if you are looking for a similar solution for your home.
The warranty on all qualifying systems installed after April 1, 2015 has recently been extended to 12 years! Click here to see the details.
---