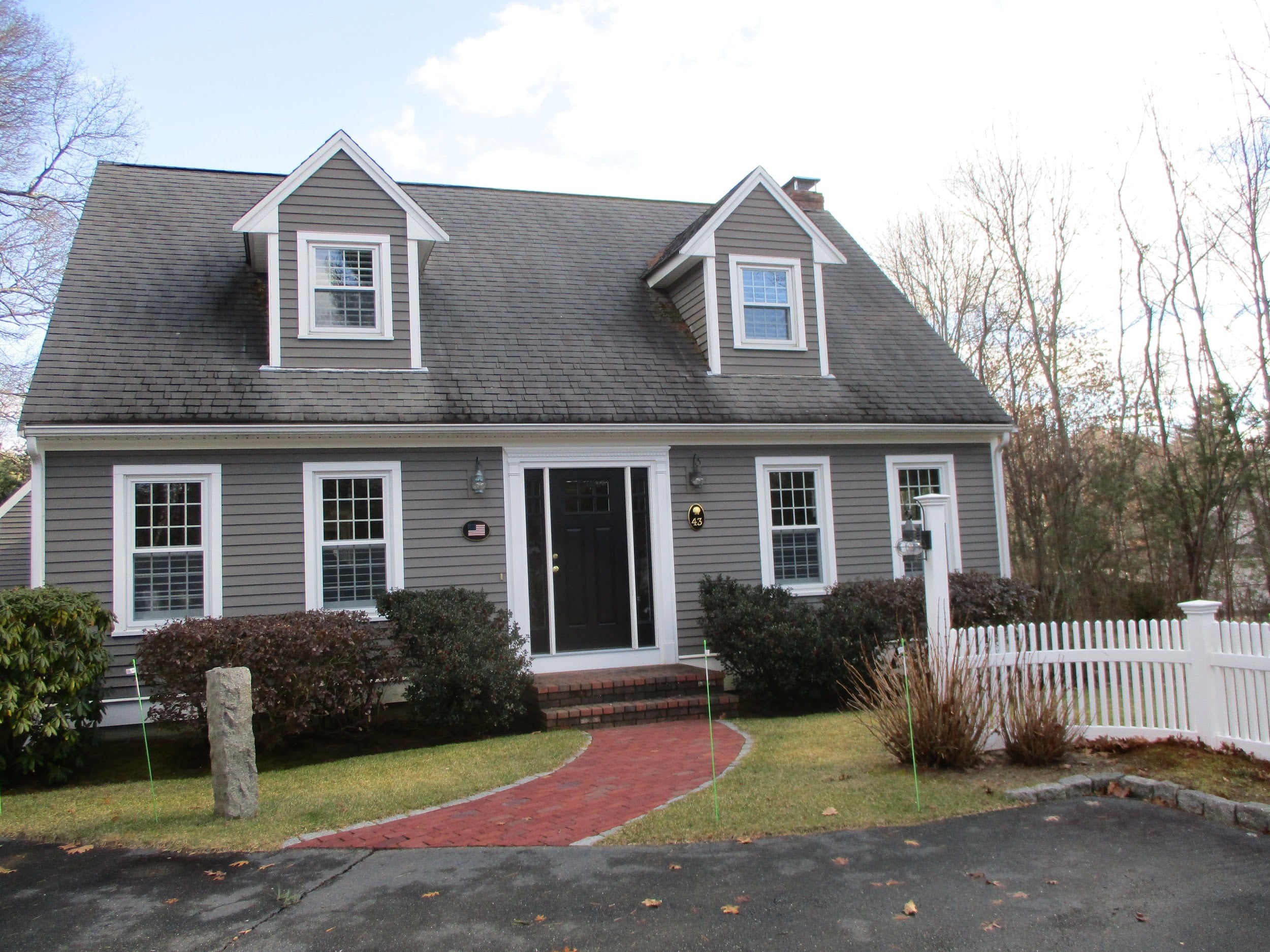 The owners of this adorable cape style home in Duxbury, MA were growing tired of the constant struggle of cooling the house during the summer. The home had no central air conditioning, and they were forced to rely on window air conditioning units to try and keep their house comfortable in the summer months.
Not only are window ACs frustrating to install every spring and remove every fall, but they are also noisy and cost a fortune to run! This family was tired of overpaying on their energy bills and knew it was time for a better solution.
---
Problem: Cape-style home in Duxbury had no central cooling system and the owners used noisy and ineffective window AC units to keep their home comfortable during the summer months.
Solution: N.E.T.R., Inc. installed a Mitsubishi ductless air conditioner to cool the home quietly and efficiently. One outdoor condenser and two indoor units were installed.
---
The Installation
After researching their options, these homeowners found N.E.T.R., Inc. They read our outstanding reviews from previous customers in the Boston area and knew that we would be able to design the perfect system for their home.
N.E.T.R., Inc. has been named the #1 Mitsubishi Electric Diamond Elite Dealer in Boston, MA and serviced many homes just like this one, so our experts were able to quickly and effectively solve this family's air conditioning problems.
After the initial inspection, our project manager, Chip, determined that the home would need one outdoor unit to be installed, as well as an indoor wall cassette in the living room and the second-floor spare bedroom. These two indoor ductless air conditioning units would be placed to provide maximum cooling for the room, without getting in the way.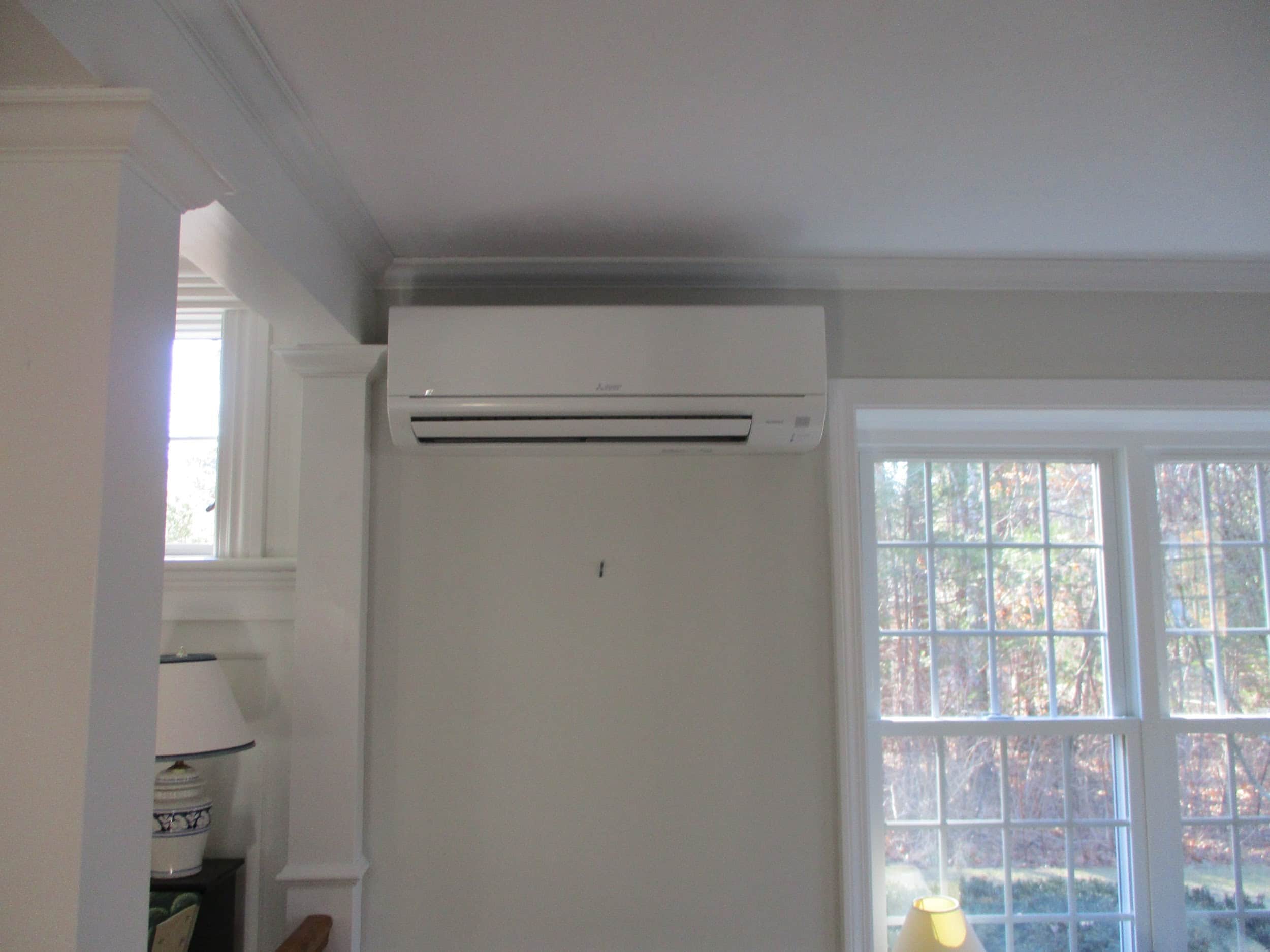 The new ductless ACs will be able to cool the rooms more effectively than the window units, eliminating hot and cold spots. These Mitsubishi Electric ductless air conditioner are excellent for providing maximum comfort because of their ability to monitor temperature and humidity. Not only will the family be able to enjoy a cool room during the summer, but they'll no longer have to deal with the sticky feeling of a humid room that window ACs often leave behind.
Both of the indoor units will function separately from one another, as well. This independence will allow the family to keep the living room nice and cool at the touch of a button, without causing the upstairs bedroom to get too cold. The ductless air conditioning units can be turned off if not in use, so these homeowners will not have to waste energy cooling a room they don't use. This ability to function separately from one another is one of the many ways that Mitsubishi ductless air conditioners are some of the most efficient systems available on the residential market today!
The Benefits
One of the main reasons this family chose to upgrade to a ductless air conditioning system was the savings they would see over time by eliminating the inefficient window ACs they had been using. The new ductless cooling system is quiet, efficient, and highly effective at cooling any space.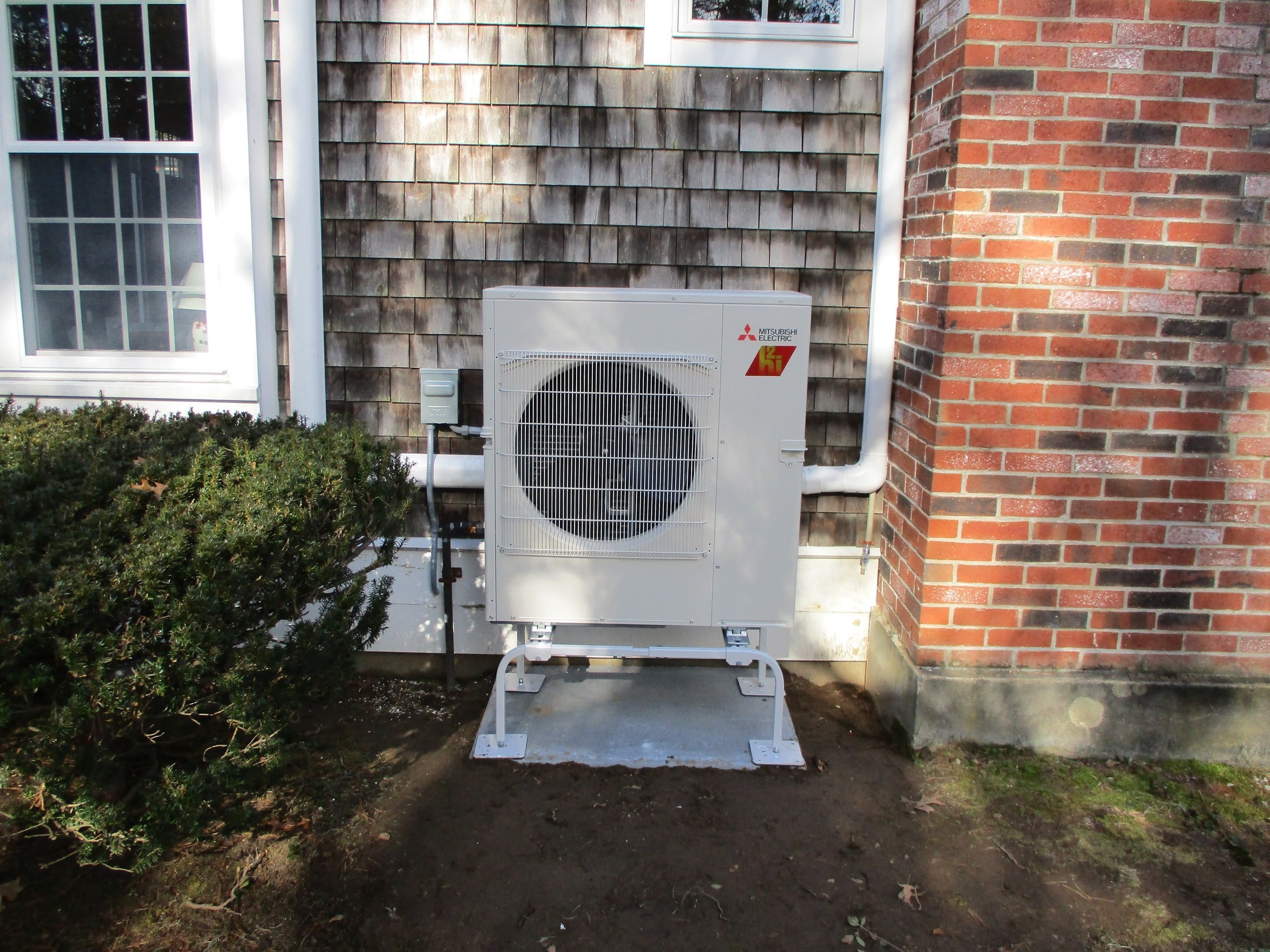 The energy efficiency of these units even qualifies homeowners who upgrade outdated systems for rebates from both Mass Save and Mass CEC. This family was able to be eligible for a total of $1042 in savings, just for switching to a more environmentally friendly system!
In addition to the upfront savings, they'll see a drop in their energy bills during the summer that will continue to save them money for years to come.
Another great benefit to ductless air conditioning systems is that the units can easily double as capable heat pumps in the winter months. So, if the temperatures get too low this winter and they need an extra touch of warmth, the units they already have installed can help keep them comfortable all year round.
In the future, if the homeowners decide they need additional heating or cooling in the kitchen or master bedroom, the system is made to be easily added onto in the future. All they'll need to do is give N.E.T.R., Inc. a call and we'll be able to quickly give them a heating and cooling solution in any room of their home.
In Need of an Upgrade?
Are you tired of dealing with an outdated air conditioner that just doesn't cut through the heat?  Alternatively, maybe you're sick of wrestling with noisy window ACs all summer long that run up your energy bill and still leave you with hot and cold spots throughout the home. If so, give N.E.T.R., Inc. a call!
Our experts have handled hundreds of installs in Boston, MA and the surrounding areas and we'll be able to work side by side with you to design the perfect system for your home. Contact us today and start loving your home again.