Woburn, MA, is located near Horn Pond, which is the head waters of the Mystic River. It can be humid in the summer, but many of the homes in the area don't have central heating and air conditioning, and rely on window units. The problem with window units is they are expensive to run, noisy, and they're inefficient, which means expensive energy bills. Additionally, window ACs must be installed and uninstalled seasonally. Our homeowners were ready for a simple fix for their air conditioning problems.
A permanent solution with a ductless mini split system was just what these homeowners needed. Getting rid of the window units would make the home safer, and they would finally be able to have their windows back, rather than look at the ugly window air conditioners half the year.
The family wanted to achieve comfort throughout the living areas and in the bedrooms. They called N.E.T.R., Inc. and we knew Mitsubishi ductless could provide them with the comfort they sought while keeping energy bills under control. Ductless units, installed up on the walls, would get them out of the way. The Mitsubishi ductless ACs circulate cool air throughout a room and provide maximum comfort on demand. This upgrade put an end to the seasonal "install/remove the window unit" blues.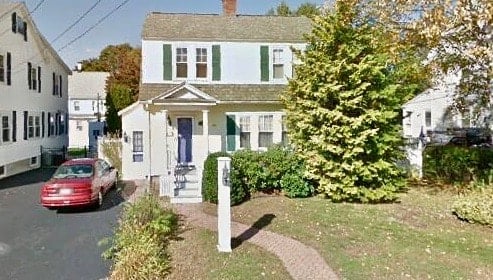 ---
Problem: Unsightly, inefficient, noisy window units were expensive to run and a pain to install and remove twice a year. The family was ready for a permanent solution that would cool their home at a reasonable cost without the hassle of window units. 
Solution: A four zone Mitsubishi ductless mini split system powered by one outdoor condenser and four indoor wall units will cool the living room and each bedroom. These indoor AC units provide perfect air conditioning throughout the home, adjustable on demand. The wall AC units can also provide a heat boost in winter, making this home extra comfortable every day of the year.
---
Colonial Style Homes Can Have Modern Comfort
Colonial style homes were first built in the 1700's in New England. Since then they have become one of the most popular style of homes in the US. Colonials offer a classic aesthetic, but they can be difficult to heat and cool. Even without ductwork and central AC, the temperature and humidity in the home is often uneven. Window ACs are an expensive, inefficient solution, as well. The style of home was developed in the 1700's, but even with modern heating and air conditioning it can be difficult to achieve even air circulation throughout a split-level home. By adding zones of comfort with a ductless system, these homeowners will end up being comfortable wherever they are in their home.  In fact, our homeowners were so happy with N.E.T.R., Inc. and the Mitsubishi Electric ductless system that they referred two friends to us. Now, we are helping them solve their heating and air conditioning problems as well!
The flexibility of ductless is great- and the efficiency as a heating and cooling solution also means that it's cost effective way to add value to your home. In fact, the Mass Save program allowed these homeowners to receive a $250 rebate for adding a more efficient cooling system to their home, helping to make this great upgrade even more affordable.
Increasing the Value of this Home
The owners of this home in Woburn have done a lot to increase the value of their home by choosing some of the best heating and air conditioning technology available to the residential market. They also have gotten rid of the ugly window air conditioning units that are a pain to install and store, but they effectively take a window out of commission for many months of the year!  If you live in a great area like Woburn, don't you want to see it through your windows? Get rid of those ugly window units by switching to a ductless mini split system that will bring many benefits to your home.
The warranty on all qualifying systems installed after April 1, 2015 has recently been extended to 12 years! Click here to see the details.                                            
Efficiency Means Savings- and Rebates!
One of the best parts of ductless systems is their efficiency. By choosing to update your home with energy-efficient technology like our homeowners did here in Woburn, you can potentially qualify for rebates under the Mass Save and Mass Clean Energy Center (Mass CEC) program CEC programs. These rebates help to make the initial installation a more affordable. These homeowners qualified for $250 in Cool Smart rebates under the Mass Save program, and you could easily save this amount or more.
Our homeowners have gotten a heating and air conditioning system that will make their whole home comfortable, especially in the summer. We also know that many people installing ductless for cooling are surprised that the system can also lower their heating bills as well! We will look forward to hearing how this family does this upcoming winter, which is forecasted to be colder and snowier than last year. We expect they will be pleasantly surprised at the benefits!