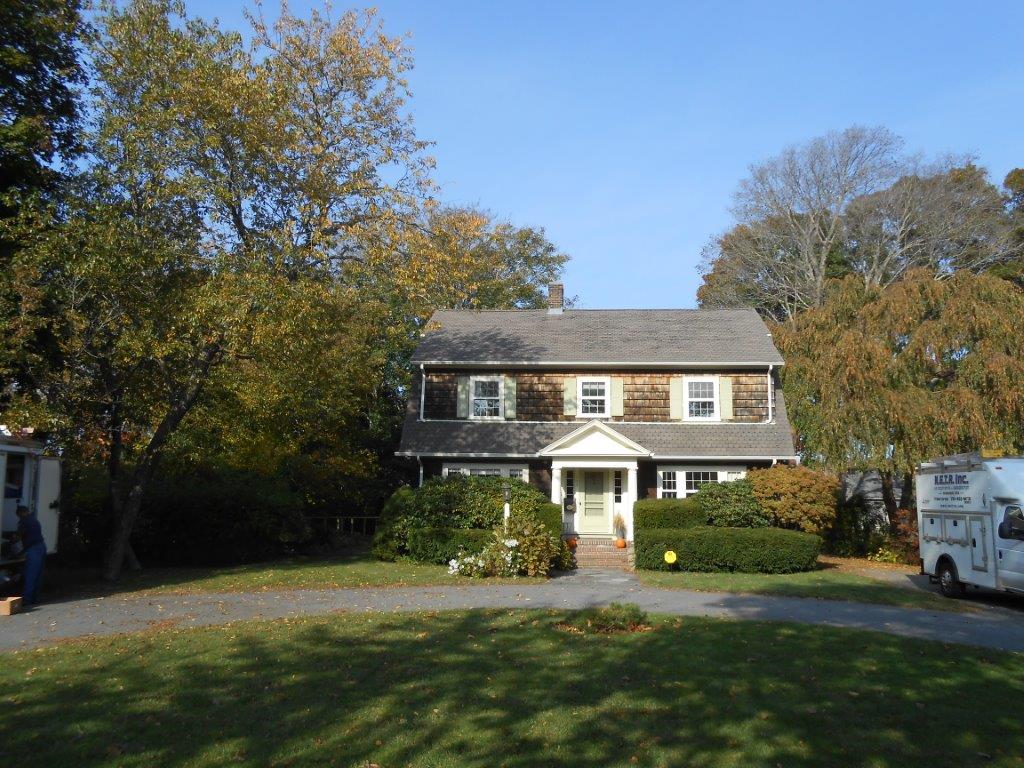 Homes like this picturesque colonial home in Falmouth, MA are what people think of when they think of New England homes- cedar shake siding, mullioned windows- it looks ready for a postcard!  But older homes like this one sometimes aren't as comfortable as they could be. The owners of this home loved their home on Cape Cod, but it just wasn't as comfortable as their home in Newton. The Falmouth home is heated by oil steam-radiators and was relying on window air conditioners for comfort in the summer. The window units were loud and noisy, as well as inefficient- they cost an arm and a leg to run all summer long and often couldn't keep up with the heat and humidity. In addition, the homeowners were hoping to be at their Falmouth home more often during the off-season, but it tended to be a little cold, and took a long time to warm up once they turned on the steam heat.
---
Problem: The owners of this lovely colonial style home in Falmouth on Cape Cod wanted better cooling than they were getting from window air conditioners, and wanted additional comfort in colder weather.
Solution: Six zones of ductless heating and air conditioning will keep this Falmouth home perfectly comfortable all year long, while reducing energy costs, leaving the homeowners happy and satisfied!
---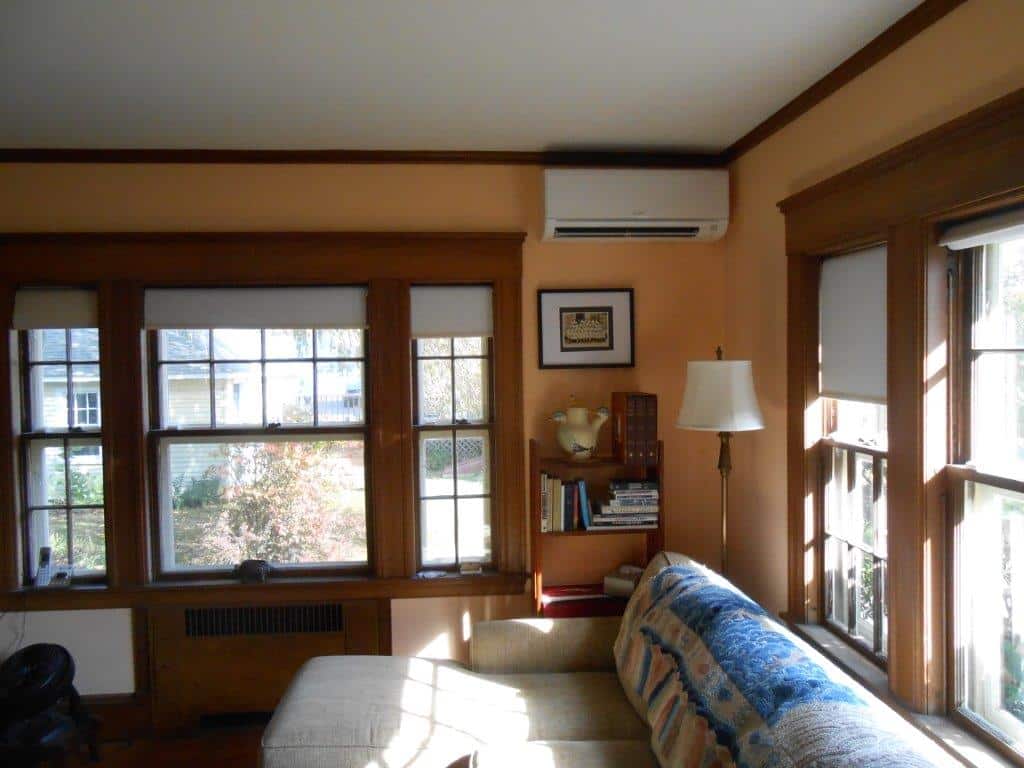 Beautiful homes like this one are an investment for the owners, and our homeowners wanted to make sure their Cape home was as comfortable as their city home, so they could really get the use out of it, all year long. They gave us a call here at N.E.T.R., Inc. to see what we could recommend and they were intrigued by Mitsubishi Ductless, especially since it has such a great reputation for being a cost-effective solution for adding comfort to older homes like this one.
When we came out to see the home, we knew several things were going to be important- the first was to provide comfort throughout the home, and the second was to install the units so they would preserve the beauty of the home, inside and out. In order to provide our homeowners with the comfort they craved, while also being cost-effective in install and operate, we suggested 6 indoor, wall mounted units that could provide both heating and cooling exactly where they needed it most.
We also knew that the units needed to be installed in such a way to make the home comfortable, but also preserve the beauty of the home at the same time.  In order to do this, we essentially divided the house in half, and installed three indoor, wall mounted units as pictured above, to serve the living room, master bedroom and office, and another three units to an outdoor unit to ensure comfort for the TV room and two additional bedrooms. This meant that there were no ugly lines visible inside, making the units unobtrusive as they delivered maximum comfort, on demand.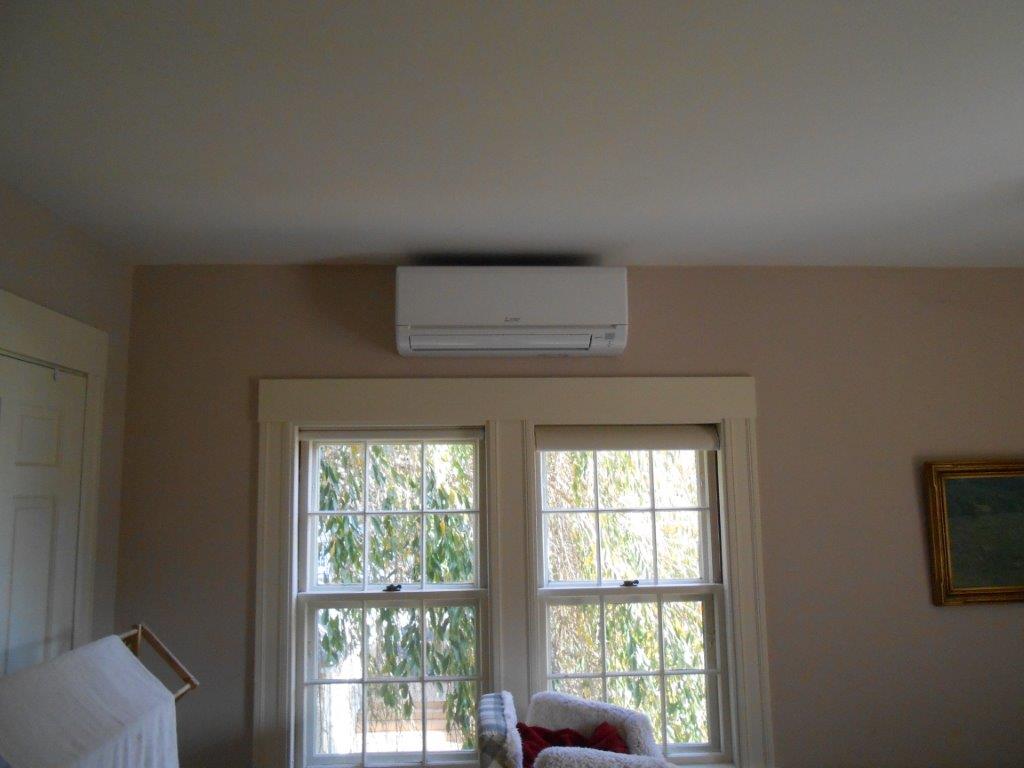 The best part about Mitsubishi ductless for homes like this one is that ductless provides both heating and cooling solutions in one unit. The units provide world-class air conditioning in the summer and can provide that additional supplemental heating wherever you need it, all by just adjusting the temperature from a convenient remote control!
Mitsubishi Electric ductless uses inverter technology, which allows it to use just the energy it needs to keep a room perfectly comfortable, adding heat or cooling as needed, rather than having an all on/all off approach many standard heating and cooling systems use, leading to wide temperature swings. In addition, ductless wall units monitor both temperature and humidity in a room, ensuring you'll get perfect comfort, while dispersing the hot or cool air evenly through a space, eliminating the hot and cold spot problems you can get with traditional radiators or window air conditioners.
In fact, Mitsubishi ductless is so energy efficient that it qualifies for rebates from the Mass Save and Mass CEC programs. Our homeowners were able to qualify for a Mass CEC rebate of $2,500 and a Mass SAVE rebate of $500, leading to a total of $3,000 in savings on this installation!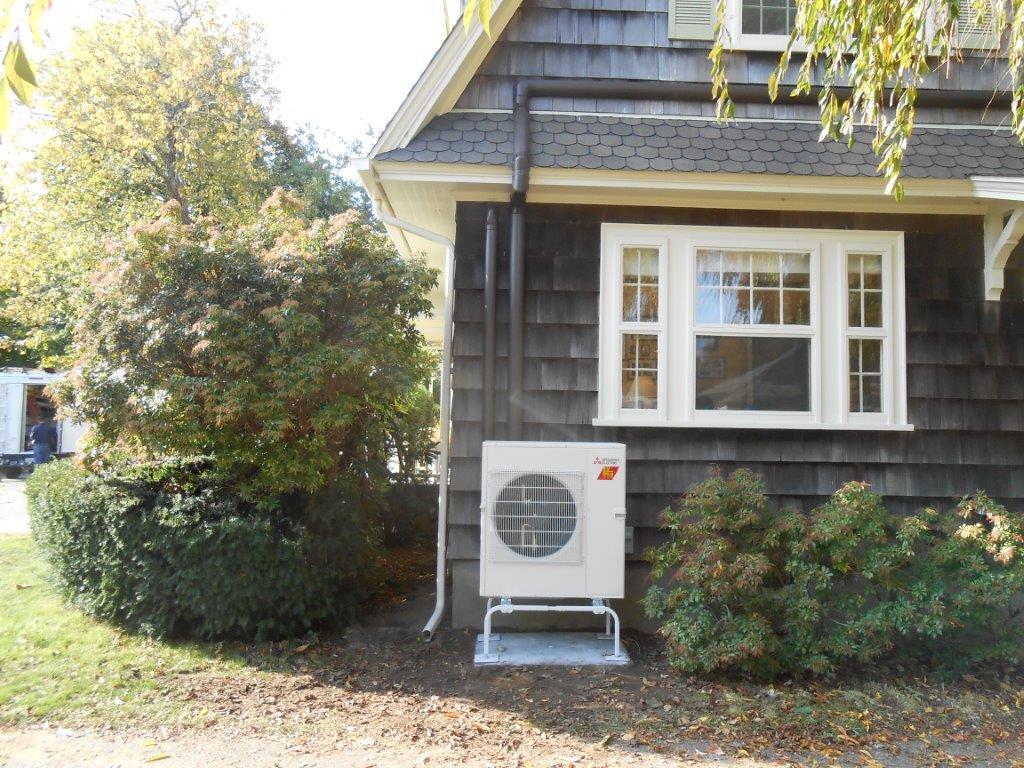 Best of all, each of the 6 Mitsubishi ductless units installed can be operated independently, creating separate zones of comfort. This means that on a cold Spring weekend, the homeowners can adjust the temperature to add a little extra heat to the master bedroom before their toes ever touch the floor from the convenient remote control, with no need to turn on the heating system for the whole house. Likewise, during the day, the homeowner can add cooling as needed to the office or TV room, without affecting the comfort elsewhere in the home- and you can even turn off the units when areas aren't in use, leading to additional big energy savings!
Our homeowners were so happy, they wrote us and said:
"Well first, the installation guys are machines! Wow. They really have their job down. The whole installation is really impressive. The brown outside lines (hoses?) can't even be detected against the house, and the compressors(?) are extremely discrete. And I was actually shocked at how unobtrusive the inside units are in each room (not like the ones at our Newton house). Somehow you just don't even notice them.
And…they work GREAT. Fast response, quiet. We are just tickled. You guys are the best. This whole installation is a game changer…BRING ON THE HUMIDITY! We've got the big guns now to tackle all that.
The only problem, for me, are the remotes — in spite of the all information, they're still tricky to figure out. (But that's why I keep Michael around, right? He's a software developer; he writes that kind of stuff.) So 2 thumbs up (4, actually). Happy we are.
A hundred thanks, my friend. Take care of yourself, and we'll keep an eye on you and that well-stocked lake of yours with Google Earth. haw"
We're so glad the homeowners got the comfort they wanted, and we know they will also be pleased with their energy bills, especially during the summer, having replaced all those noisy and efficient window units. And with a little more practice and help, those remotes will be easy to use as well.  
If you have a home on the Cape that needs additional comfort, give us a call here at N.E.T.R., Inc.. You can give up the chore of installing window units by adding Mitsubishi ductless to your home! We can help you get the comfort you need, while saving you money on energy bills at the same time-something that every homeowner can appreciate!