Saugus, MA, was established in 1629, and its history can be seen from the Saugus Iron Works National Historic Site to the Victorian-style homes like this one. Historic homes are often hard to heat and cool, since they were constructed well before central heat and air. As a result, our homeowners were relying on window air conditioning units to try to keep the home cool.
Window air conditioners aren't very efficient, they're often loud and noisy, and they are a pain to install and put away seasonally. Especially in homes like this one, old wooden sash windows make seating a window air conditioner and placing insulation around it difficult. The inefficiency of these window units end up costing homeowners a lot of money in warmer weather just trying to keep each room with a window AC at a reasonable temperature. Our homeowners were looking for a more cost-effective way to heat and cool this home and maximize the comfort throughout. They couldn't wait to end the seasonal pain of being shackled to window units and their noise that were making the living room, office and bedroom less than peaceful.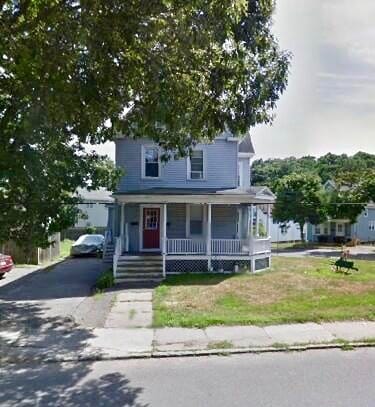 ---
Problem: The homeowners were looking for a more cost-effective way to heat and cool their home throughout. The window air conditioners were noisy, inefficient and a pain to install and uninstall twice a year. They wanted more comfort especially in the living room, office and bedroom.
Solution: We were able to create three heating and cooling zones using Mitsubishi Electric Hyper-Heating ductless units to cover the living room, office, and bedroom. The ductless system will ensure comfort throughout the year with pinpoint control just where they wanted it most.
---
A Great Investment
This kind of installation is going to help our homeowners with a few things. They will no longer have the yearly install/uninstall issues with window air conditioners-and when we get a late season warm spell, they will still be comfortable. All year they'll be able to adjust the temperature with the remote control easily between heat or air conditioning as needed! No more guessing when it's time to put away the window AC unit for the season!
This technology will also help save money on energy bills, being that it is an energy efficient solution. Our homeowners qualified for a $250 Mass Save rebate, because of the efficiency of the Mitsubishi Electric ductless units.
These units also are a permanent upgrade to the home, adding long-term value. In addition, the Hyper-Heating heat pump system is flexible, so if they ever decide they want to add another indoor unit to another area, like a finished basement, that's easily doable at an affordable cost!
The warranty on all qualifying systems installed after April 1, 2015 has recently been extended to 12 years! Click here to see the details. 

The ideal air conditioning solution for a Massachusetts Home
Our experience with homes like this one in Saugus, MA, is unparalleled in the Boston area. In order the get adequate cooling in the summer, window air conditioners just don't seem to cut it anymore. These units are noisy, and they're power hungry, really running up the energy bills!
After a thorough review of the home, we knew that we could achieve maximum comfort, upstairs and downstairs by constructing a three-zone system with Mitsubishi Electric Hyper-Heating. These energy-efficient heat pumps work as both air conditioners and heaters, giving full-year comfort to every room where they are installed. This efficient ductless system works well down to temperatures below -13 degrees to deliver heat on demand. By creating three zones, all our homeowners need to do is touch a button on the remote control, and each room can be set to the optimal temperature. No more cranking the heat to achieve comfort in only some rooms, or fighting about who left the bedroom door open, letting out the cold air.
Our homeowners have maximum comfort throughout their home, in every season. We expect that they will also see great savings in the winter energy bills, as they can now add a little extra heat just where they need it, rather than heating the whole house just to achieve comfort in the rooms used most often. Many of our homeowners rave about the amount of money they save in the winter, and we expect our Saugus homeowners will get the same great results!