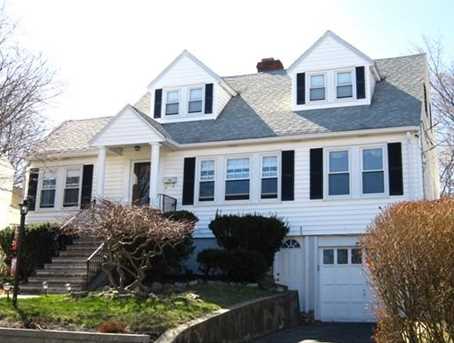 Waltham, Massachusetts, has a rich history as a major contributor to the American Industrial Revolution, and it's home to both Brandeis University and Bentley University. Colonial homes like this one were built before ductwork and central heat and air were the norm, so many of these homes have been relying on window AC units to try to keep cool during our hot and humid summers. 
Our homeowners were looking to keep their first-floor home office cool, as well as their bedroom. Like many folks in the area, the home office has become a space where our homeowners were spending most of their time, including telecommuting some days. When the office was hot and uncomfortable, the homeowners really noticed that their productivity suffered. The window ACs didn't do a great job of circulating air around the room, and they also blocked up a window and chewed up sunlight for half the year!
The family also wanted to be able to sleep better at night, but the bedroom was always too warm in the summer and too cold in the winter. They were looking for an energy-efficient solution that would end the yearly battle with window AC units and be cost-effective- why spend all the money you save on commuting on energy bills instead?
---
Problem: The homeowners needed additional comfort for their master bedroom and home office- the window AC units weren't cutting it, and they were miserable. They wanted to make sure they got a reliable, cost-effective solution that would help them sleep at night and work better during the day!
Solution: Two zones of Mitsubishi ductless mini split AC units now provide world class air conditioning, ensuring our homeowners in Waltham won't be kept up nights worrying about their energy bills. They can now work efficiently at home and sleep like a baby in perfect comfort throughout the first floor of their home.
---
Our homeowners gave us a call at N.E.T.R., Inc. based on our great online reviews and experience. As Elite Diamond Dealers for Mitsubishi ductless, we have the expertise and experience installing ductless throughout the greater Boston area in homes of every type. With installations ranging from a single ductless AC to cool off a sunroom, to installing a whole home solution to provide zoned comfort in every room, the family know we'd be able to design an air conditioning solution for their home. We knew that a two-zone Mitsubishi ductless system for the office and bedroom would provide the homeowners with the comfort they needed most at a price they could afford.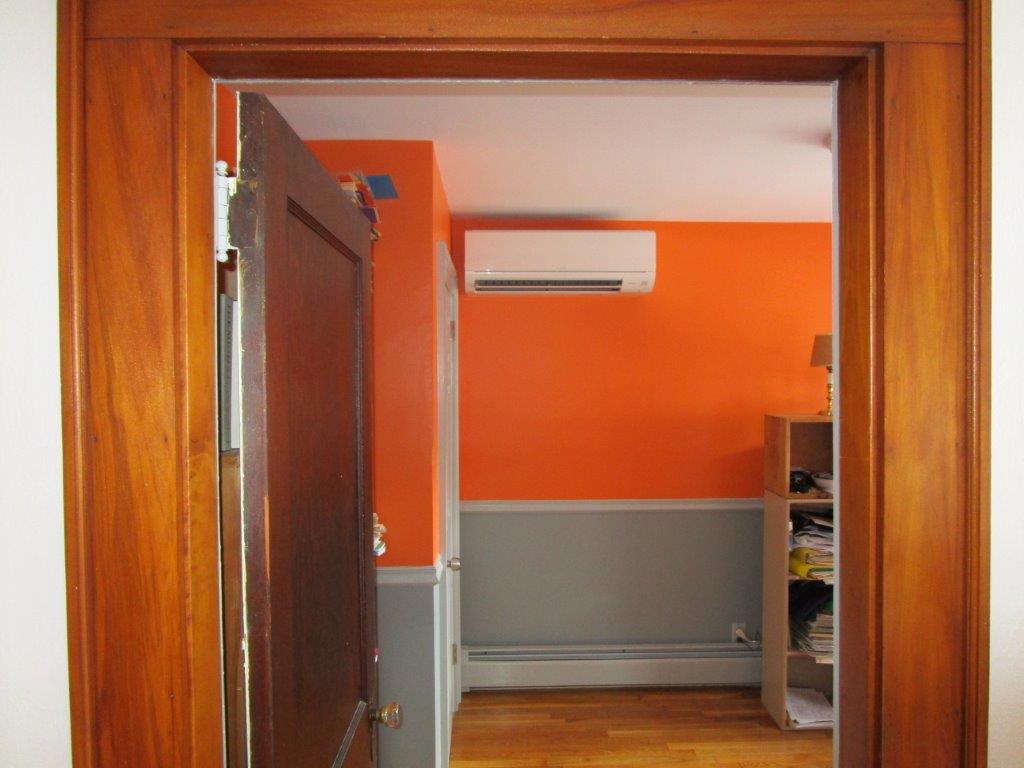 Mitsubishi ductless units have an outdoor heat pump unit that connects to indoor ductless AC unit that sit up on the wall, out of the way. The ACs are controlled separately by a remote control, allowing you to adjust the temperature just where you need it. The units work both as air conditioners and as heaters and are some of the most efficient and cost-effective solutions on the market. Their energy efficiency is so great that our homeowners qualified for a Mass Save rebate of $250 and a Mass CEC rebate of $1,489.00 for a net rebate of $1,739, helping make the installation of these two ductless AC units and increased comfort even more affordable!
The ductless system will allow this family to have the comfort they crave, especially during the summer, while also giving them the option of adding supplemental heat when they need it. Rather than firing up the heating system for the whole home, the homeowners can now just add a touch of heat at the touch of a button on chilly spring or fall days. They can even use it to take the chill off the bedroom on the coldest days of the year. Best of all, they can enjoy world-class heating and air conditioning with lower energy costs than they were paying running their window units all the time.
As a result, we were able to provide this family with a two-zoned solution, giving them the comfort they needed while saving them money on the installation, as well as on energy bills every single month. Plus, there's no more wrestling with window units twice a year!
Mitsubishi ductless mini splits are a solution that gives modern comfort to older, charming colonial homes like this one, and we know we can provide you with a similar solution, whether you live in Waltham or anywhere in the Boston area — we have the experience and expertise to help you achieve the comfort you need. Give us a call today and let us help you get the comfort you crave at a surprisingly affordable price.