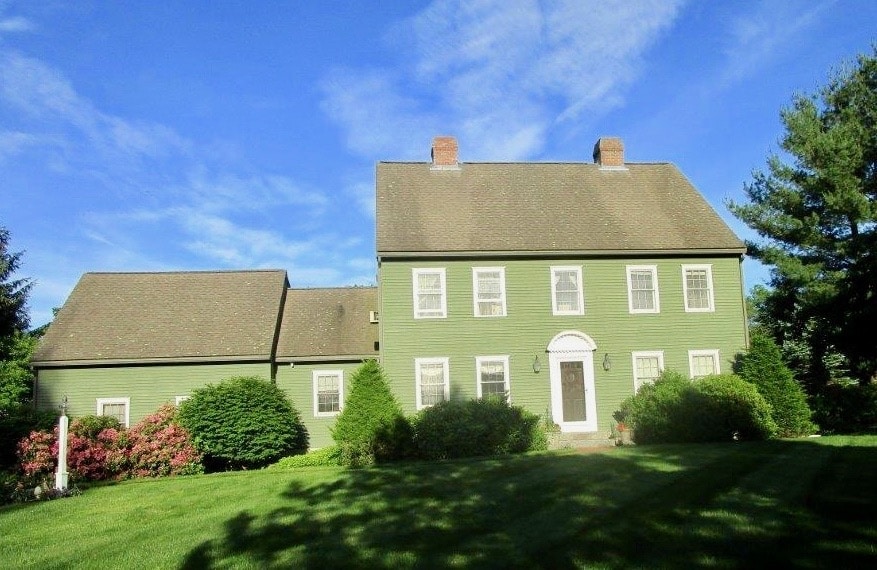 This wonderful colonial home in Newbury faced a problem like many homes in the area. They had a great forced hot water/gas heating system, but no ductwork or central AC system. As a result, they had to rely on noisy and inefficient window air conditioners to try to stay cool in the hot weather. Often the units couldn't keep the family comfortable. On top of that, installing, removing, and storing window units twice a year is a task no one enjoys. The homeowners began researching other options to bring comfort to their home, without breaking the bank.
When they gave us a call here at N.E.T.R., Inc., we knew that a ductless system would be a great solution. These ductless air conditioning systems wouldn't require heavy construction in the home, and we could give the family the cooling comfort they craved, just where they needed it. They chose us due to our outstanding reviews and experience in Boston and the surrounding areas on homes just like theirs.
---
Problem: This lovely colonial home in Newbury had gas heat but no air conditioning. They were relying on window AC units to try to beat the heat in the summer, but the high energy expense and noisy operation were too much for the family!
Solution: We added two zones of Mitsubishi ductless air conditioning to the living room and master bedroom to ensure perfect comfort and lower energy bills.
---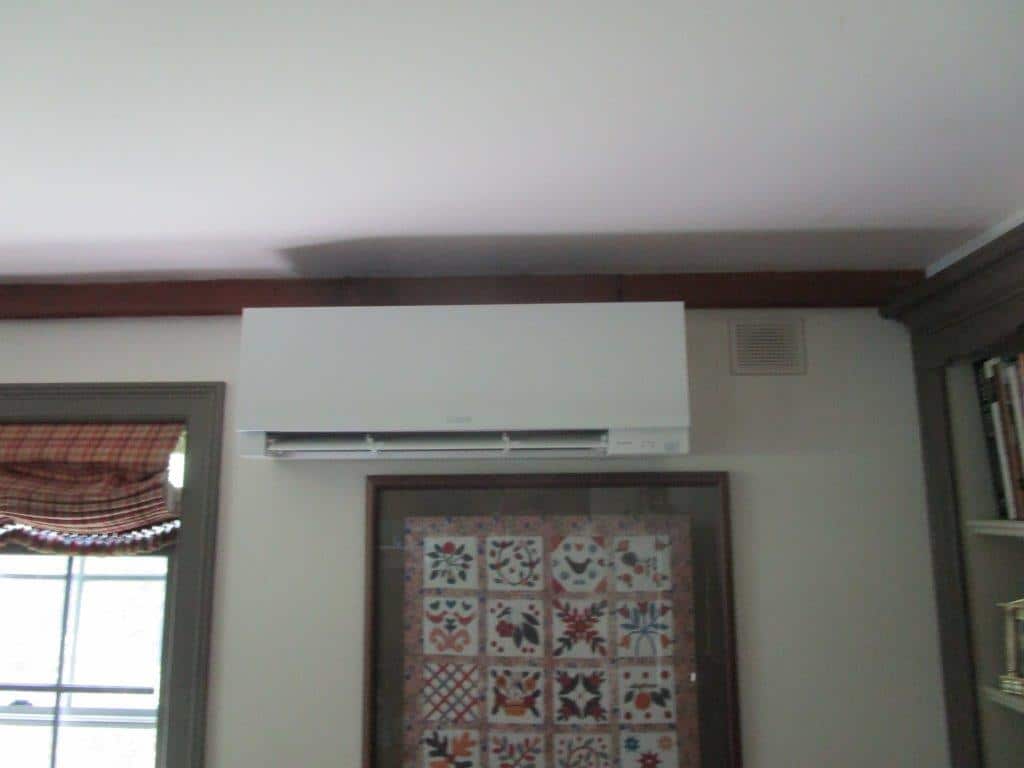 When we came out to Newbury, we sat down and talked with the homeowners about the best way to give them the comfort and relief they wanted. They needed an energy efficient system that would meet their cooling needs without breaking the bank.  N.E.T.R., Inc. advised the owners to choose a two-zone system of Mitsubishi Electric ductless air conditioning that would be meet their needs perfectly.
Mitsubishi ductless systems double as energy-efficient heat pumps that operate as quiet as a whisper. This whisper-quiet technology makes them a perfect solution especially for master bedrooms like the one in this home. Operating at only 19 decibels of noise, these units are so quiet, we've even installed them in music studios! That's a recipe for a good night's sleep!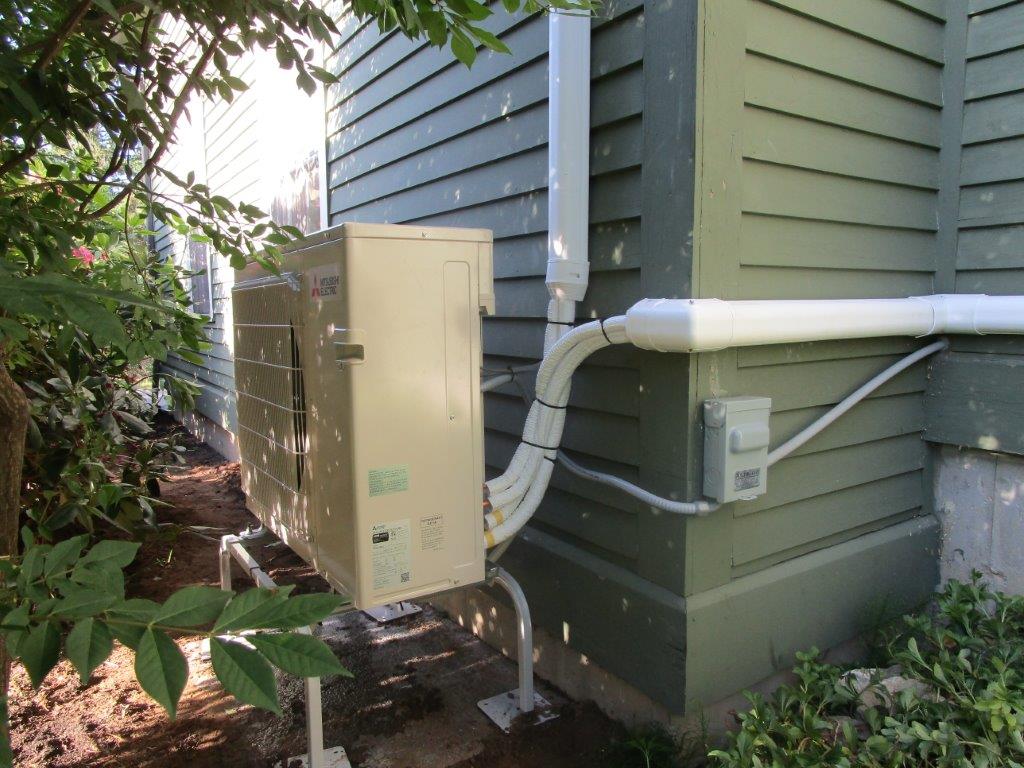 Unlike window air conditioners, the ductless wall ACs are mounted on the wall, out of the way, and distribute cool air throughout a room. Because they can be installed on the wall, N.E.T.R., Inc. was able to place the ACs wall units in optimal locations to ensure there aren't any hot or cold spots. These ductless ACs also control the humidity, making sure you never have that sticky feeling in the heat.
In addition to the master bedroom, the family chose to add an additional unit to the living room as well. These units are controlled by a remote, making it easy to adjust the temperature in the room any time during the day or night. This will help the living room be a place where the family can gather and be comfortable, whether they're watching a movie or the game on Sunday, or just relaxing after a tough day at work.
Ductless Benefits
This installation saves the homeowners money in multiple ways. By creating two zones of comfort, the ductless air conditioning units operate independently and will make those two areas of the home comfortable when in use but can be easily turned off when not needed. When the ductless ACs are turned on, they rapidly cool down a space, meaning you can get the comfort you want on demand without wasting energy cooling a room that is not in use.
When in operation, these units are so efficient they keep your energy bills low. In fact, their efficiency is so great, that many homeowners qualify for rebates through the Mass Save program to help make installation more affordable- give us a call and see if you qualify!
The outdoor Mitsubishi AC condenser units are easy to place out of the way, making sure nothing gets in the way of your comfort while maintaining the beauty of your home, as you can see from the pictures!
Even better, systems like this one are expandable. This means the family can enjoy the efficient, cooling comfort in the master bedroom and living room now and they can add additional indoor units down the line, if they decide they want air conditioning in other parts of their home.
For energy-efficient, quiet cooling for your home, you really can't choose a better solution that Mitsubishi ductless to replace those old, bulky, and expensive window air conditioners. Give us a call and let us help you get the comfort you need to rest easy without worry about energy bills!