Arlington is adjacent to Cambridge and Charlestown and features many charming cape style homes like this one. Many of these homes were built without central air conditioning, and homeowners have been forced to rely on window units for years. However, window AC units are inefficient, which makes them very expensive to run, and they are noisy as well. I once even heard my mother say, "Close the door! Don't let that expensive cold air out!" Now, there are better options for greater comfort with less noise and that cost much less to run.
Our homeowners in Arlington were tired of the seasonal install required for window air conditioners, followed by the need to remove and store them every winter. It always seems you've put the units away just before the last surprise heat wave hits! It was time to take care of that problem once and for all. The owners wanted to replace the ugly window AC units that were an eye-sore on the otherwise picture-perfect exterior. In addition, they wanted to get a little better heating and cooling for this home.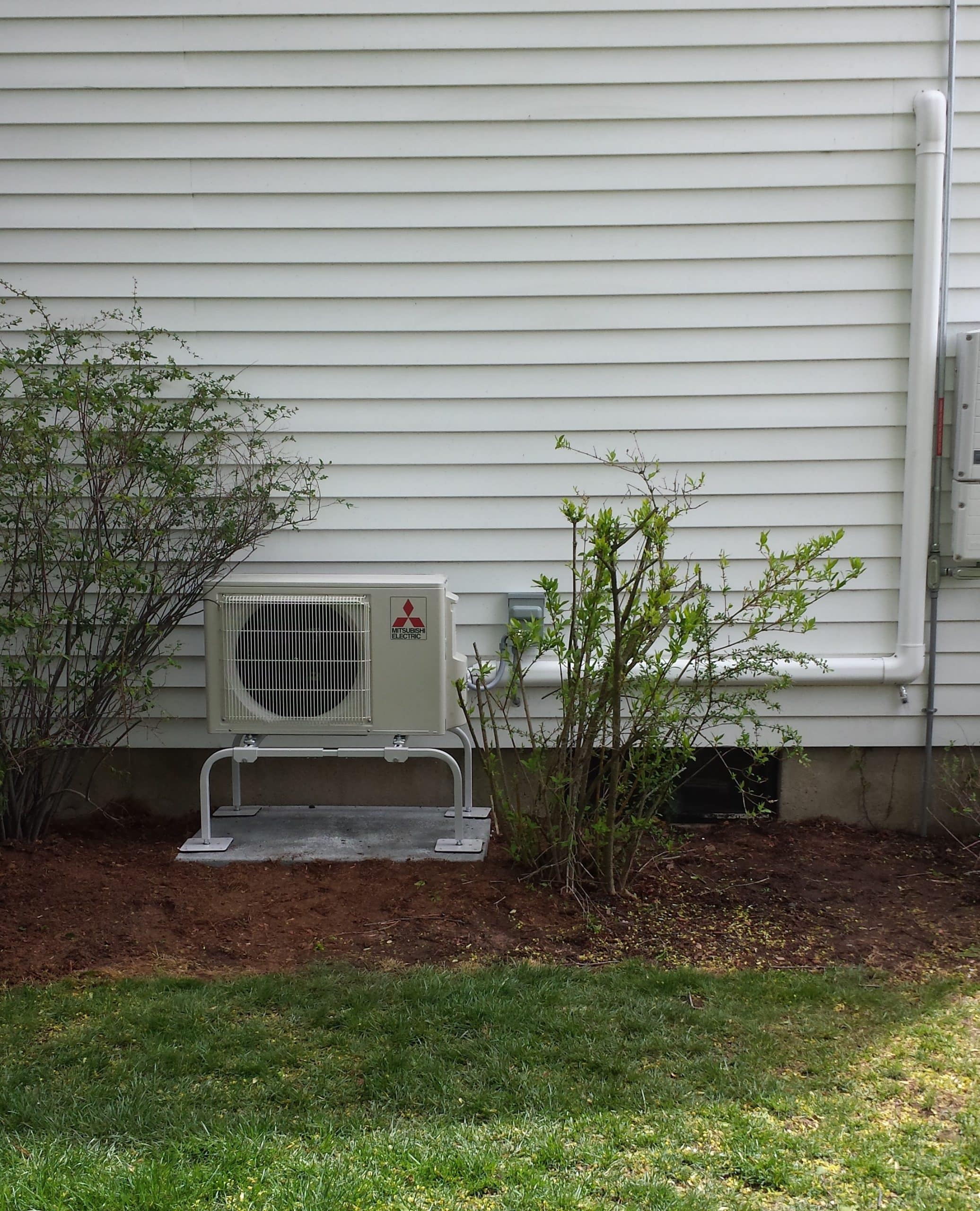 ---
Problem: Window units are inefficient, noisy, and expensive to run. This home had rooms that were hot and sticky in the summer and they were looking for a better, more cost-effective solution.
Solution: N.E.T.R., Inc. installed a single zone ductless system to provide excellent cooling and allow for an efficient heating boost during the winter. This Cape home will now be comfortable on hottest and coldest days of the year.
---
A Great Investment
This kind of installation will help the family in this charming home in Arlington with all their heating and cooling needs. They replaced the old, ugly window AC unit with a permanent, integrated solution that won't require the hassle of installing and uninstalling those heavy ACs twice a year and they get their windows back!
The family can still use their current system to heat the home, but the ductless unit will provide that extra heat boost when needed on cold days. This system will make their home as comfortable as can be all year long.
The real advantage is the efficient Hyper-Heating heat pump technology that will save them money on energy bills, especially in the winter. Many of our customers report a marked drop in heating bills, even when they installed a ductless system primarily for cooling in the summer. Mitsubishi's Hyper-Heating technology is so efficient, it qualifies for many government sponsored energy efficient upgrades. This home was able to qualify for both Mass Save and Mass CEC rebates, totaling $1,120, making this comfort upgrade a great long-term investment in their home, while saving money on energy bills every month!
The warranty on all qualifying systems installed after April 1, 2015 have been extended to 12 years! Click here to see the details. 

The ideal air conditioning solution for a picture-perfect Cape
Our homeowners contacted N.E.T.R., Inc. because they knew we specialized in working with Mitsubishi Electric ductless systems which are known for their reliability, quality, and energy efficiency.
N.E.T.R., Inc. installed an outdoor heat pump condenser and one indoor wall-mounted AC unit to bring comfort to the first floor. In the future, if the family decides to add additional indoor units, the ductless heat pumps systems are designed to allows for expansion at a later date.
The outdoor unit, on the left, is small and unobtrusive and the piping blends into the home's exterior wall. The indoor units are easily mounted out of the way and deliver custom comfort right where you need it most in addition to distributing the cool air more efficiently than the window ACs.
This family was eligible for two separate rebates- a Mass CEC rebate of $620 and a Mass Save rebate of $500, totaling $1,120, making this home improvement affordable in addition to the energy savings it will deliver every day of the year!