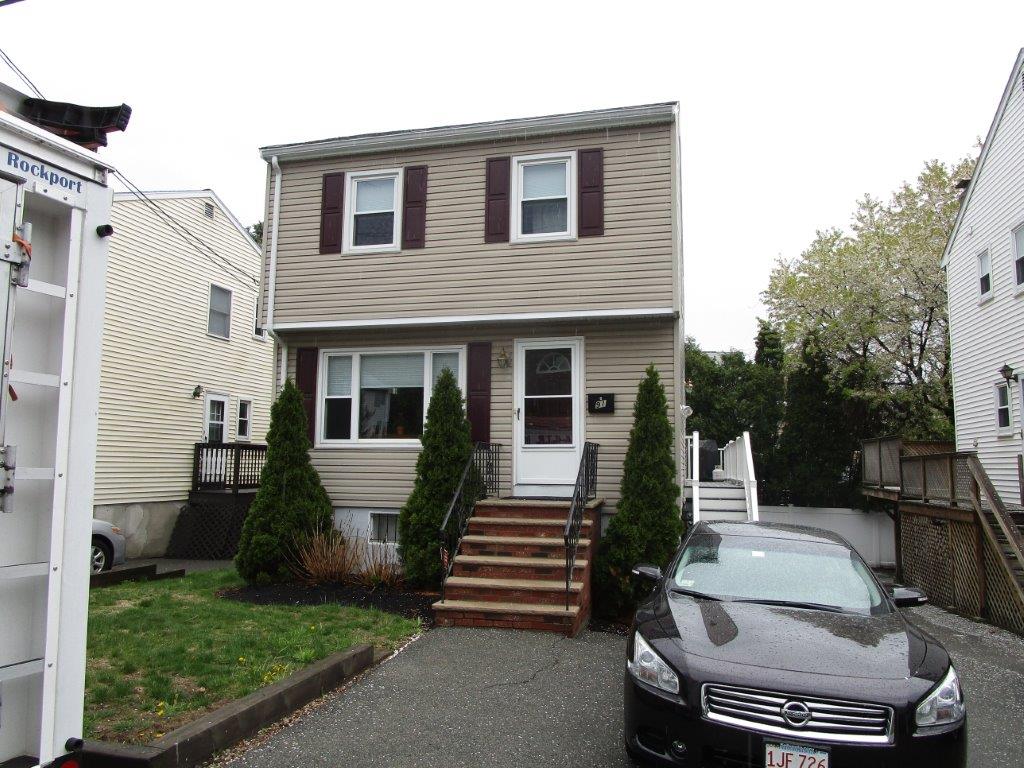 Climate control is important for a home office. Working from home is great, but there are plenty of possible distractions. Dealing with a room that's too hot or too cold shouldn't be one of them.
A homeowner in Revere, MA was ready to upgrade his air conditioning for this reason. He uses the spare bedroom in his colonial home for work. With no central air, the room got pretty hot in the summer. It was time to remedy that.
But, this homeowner wasn't just looking for a quick fix. He wanted something efficient, cost-effective and low-maintenance. After all, working from home means there's no one else to take care of the air conditioning if something goes wrong — or to pay for it.
Before he even called N.E.T.R., Inc., our homeowner knew what he wanted. Ductless HVAC units would provide the efficient custom cooling he wanted. In fact, he already had Mitsubishi ductless units in other areas of his home.
This time, he reached out to N.E.T.R., Inc. thanks to our great reputation. The homeowner read all our five-star reviews for installation. And, he saw that we are the #1 Elite Diamond Dealer for Mitsubishi Electric products in New England. We didn't let him down.
---
Problem: A spare bedroom/office had no air conditioning. The room would get too hot in the summer.
Solution: Installed a Mitsubishi ductless HVAC unit with an outdoor heat pump.
---
Ductless HVAC in a Colonial Home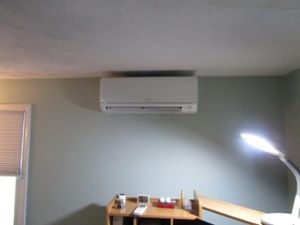 Ductless units offer all the power of central air. But, you don't have to worry about the heavy-duty, costly installation that comes with duct work. And, you can choose to treat your whole home or just one part of it.
Like central air, a ductless system starts with an outdoor unit. In this case, we installed a new heat pump condenser on the outside of the home near the bedroom. It's actually close the pump handling other parts of the house.
From there, the cool air from the heat pump travels into the house through small, flexible piping. This is a big difference from old HVAC systems.
Ducts and vents are usually at least a foot wide. This makes it difficult to retrofit them in a house. It's also very expensive. However, the piping for ductless HVAC is less than five inches thick and can bend around corners.
This means we just need to drill a small hole outside the home and another in the room we're treating. The flexible piping runs easily through the walls. It fits in between the studs and can be snaked through. We don't need to tear apart any walls or build anything new to fit it in.
This makes ductless HVAC useful for colonials. Many of these houses were built well before central air conditioning was popular in homes. Some were around before air conditioning was even an option.
As a result, many times central air is very hard to retrofit. Installers have to get creative when planning out duct work. This usually means giving up closet space or attics for all the equipment. Sometimes, installers have to build out new pathways near ceiling and along walls to make room.
With ductless HVAC, however, that's not a problem. Since the piping is small and easy to run, our installers can fit it just about anywhere it's needed.
Zoned Cooling with Ductless Units
We mentioned drilling a small hole in the room that's being treated. Fortunately, the hole is covered by the ductless unit itself.
The unit is a plain, rectangular box that hangs high up on the wall. It's what circulates the cool air through the room. It's also a big part of creating zoned HVAC in the home.
Using ductless units allows you to treat different rooms or areas in your home as separate zones. Then, you can heat and cool each one by itself.
This is because each unit has its own thermostat. Usually, central air conditioning uses one central thermostat. When it gets to the temperature you want, the system shuts off. When it gets too hot, it turns back on.
But, that doesn't mean every part of the house is the same temperature. This is because the thermostat only gives a reading for the area where it's located. When this happens, you get uneven cooling.
This occurs when the system shuts off before another area of the house gets cool enough. Or, a room that stays cool gets too cold. This is because the air conditioning stays on while the rest of the home catches up.
It's common, then, for upstairs rooms to be hotter than basements or first floors. If the thermostat is downstairs, the system turns off before the bedrooms cool down.
With ductless units, this isn't a problem. The new unit we put in the bedroom/office has its own thermostat. Now, our homeowner can set just that room to the temperature he wants.
If the rest of the house cools down before this room, that's fine. This unit will keep working until it's got the right temperature.
And, that efficiency does more than make a home more comfortable. It also saves the homeowner money.
Saving Money with Mitsubishi Ductless Units
A big draw of ductless HVAC is saving money each month. These systems use less energy than central air or window air conditioners. Therefore, they have less of an impact on your energy bills.
One way these systems do this is by being energy efficient. Mitsubishi ductless units are Energy Star-certified. They pass government standards showing they use less energy than comparable systems.
Next, setting each unit by itself helps save energy. As we discussed, not every unit needs to be working if just one area needs to be cooled. The longer they're turned off, the less money it takes to keep the house cool.
There's also upfront savings. Today, energy providers often provide incentives for homeowners to install better equipment that uses less energy. This usually comes in the form of cash rebates.
Using ductless HVAC units instead of duct work or window units made this homeowner eligible for a money-back offer. We directed him to Mass Save, an organization of New England energy providers that promote energy efficiency. They offered a $100 rebate for this installation.
Now, our homeowner can work in comfort in the warmer months. And, he'll save money doing so.
Do you want a better and more cost-effective and efficient option for heating and cooling your home? Contact us and we'll design the perfect Mitsubishi ductless HVAC solution for you!