In areas like Charlestown, adjacent to Downtown Boston, there are a variety of homes full of history. The historic nature of these homes, located within a few minutes walk of Bunker Hill, means that they do not have the heating and cooling you might expect in a new home. Often, "retrofitting" these buildings for more modern conveniences can be an overwhelming task. Installing ductwork is not always a great option, and homeowners typically don't want any changes made to the exterior of the building.
Our homeowner also had other parameters to consider. They were adding solar panels and wanted to use the power generated by the panels for heating, cooling and filtration. That's a lot of things to consider and balance when looking for the best possible heating and cooling system, but our experts at N.E.T.R., Inc. knew just what we could do to make all of the homeowner's wishes come true.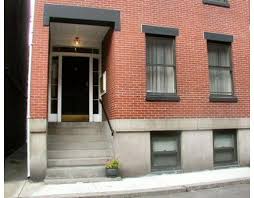 ---
Problem: The homeowners were looking for a cost-effective way to heat and cool their home using solar power and maximizing efficiency in a historic home. They needed to provide heating and cooling to four bedrooms, an office, a living room and kitchen, and do so without overwhelming the power generated from the solar panels being installed.
Solution: We were able to create a seven-zone heating and cooling system using Mitsubishi Hyper Heat ductless units to cover the kitchen, living room, and 4 bedrooms, including the Master suite, ensuring comfort throughout the year.
---
A Great Investment
This kind of installation is going to help our family by providing all the comfort of a new home while maintaining the charm and esthetics of owning a historic home. With seven zones of customizable heating and cooling running on solar power, the family will have personalized comfort in every room with close to zero expenditures for energy on a monthly basis! It will be close to free to operate! They are able to make their historic home as comfortable as any brand-new home without the ugly look of bulky window units that make any home look like an industrial building. The house will be completely comfortable in the key areas where it's needed most.
The energy-efficient nature of this ductless technology also allows it run whisper quiet on minimum energy, which is why this family qualified for such a big rebate of $2,550 through the MASS SAVE program!  Our family was able to save significant money on a long-term upgrade to their home that will pay them now in comfort, and long term in increasing the value of their home in a prime neighborhood!
A key added benefit here is the reliability of the ductless mini split systems! The warranty on all qualifying systems installed after April 1, 2015 has been extended to 12 years! Click here to see the details. 

The Ideal Air Conditioning Solution for a Historic Massachusetts Home
After a thorough review of the home, we knew that we could achieve maximum comfort throughout by installing a Mitsubishi Electric  Hyper Heat system. This ductless heat pump will provide heat on demand even when external temperatures are down to -13 degrees! It also provides energy efficient cooling in the summer, making this a perfect year-round solution for our homeowners.
The efficiency factor in this home was equally important, as the system needed to be able to run on power generated by the solar panels. The Hyper Heat units are so energy-efficient, we knew this would not be a problem. What we did need to manage was how to locate the units to maximize comfort throughout the home.
We were able to run all the necessary lines together through internal walls from the basement to the attic and install branch boxes, enabling us to install seven different zones of heating and cooling in this home. We put units in each of the four bedrooms, the kitchen, the office and the living room! We are able to place the equipment so it met all of the specifications of the homeowner while still providing maximum comfort.
In addition, we were able to create seven separate zones of comfort with each unit, meaning the homeowners can adjust the temperature in each room to their exact comfort level, including turning it off when not in use. This means they will save money by not having to heat or cool portions of the home not in use, and each room can be set to the optimal temperature.  There's no more need to crank the heat to achieve comfort in only some rooms, or fighting about who left the bedroom door open, letting out the cold air.
On top of it, because of the energy efficiency of ductless systems, our homeowners qualified for a rebate of $2,550.00 through the Mass Save program, enabling our homeowners to save money in making this upgrade to their home, while they also maximize their month to month energy costs at the same time!