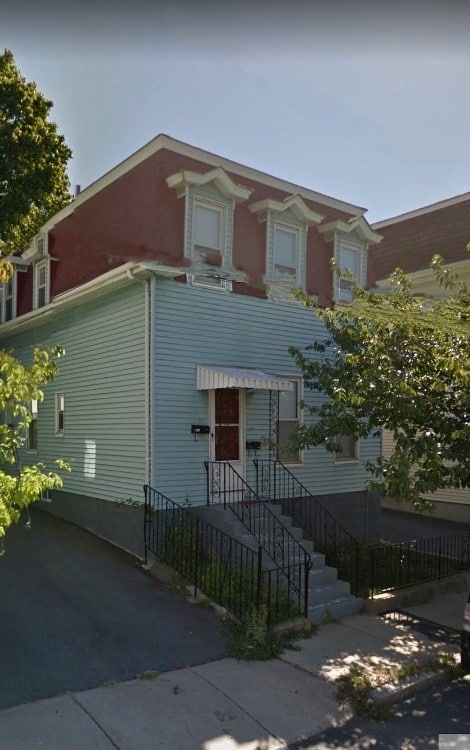 This two-family home in Somerville was being renovated by the owners, to get it ready for new tenants. There are two units, one on each floor, and each were faced with similar problems. The home was heated by steam radiators, and had no air conditioning at all- only relying on window air conditioners for any relief of summer heat, which unlike ductless HVAC, are an inefficient way to cool an entire home. The owners wanted to make sure their new tenants would be comfortable throughout, but they were also interested in an easy-to-operate, cost-effective system that would keep energy bills low for the owner and tenants, no matter the season.
Ductless Heating Solutions from N.E.T.R., Inc.
The owners gave us a call here at N.E.T.R., Inc. to find a solution that would ensure that everyone would be comfortable throughout, and wanted to have zoned heat installed, to allow the tenants to better control their comfort needs while also controlling costs, by not heating or cooling areas of the home that weren't in use.
---
Problem: The owners of this two family home in Somerville, MA were renovating it to get it ready for rent. They wanted to ensure their new tenants would have the comfort they wanted, year-round and were looking for a comfort upgrade that would be efficient and keep operating costs low in the Winter and Summer.
Solution: The owners added two zones of Mitsubishi Electric Hyper-Heating ductless to the second floor unit, in the Kitchen and Bedroom, and three zones in the downstairs units, in the living room and two bedrooms. This will ensure that the new tenants in both units will have state of the art comfort year-round, while keeping energy bills low, keeping both the owner and the renters happy!
---
Mitsubishi Electric Ductless Delivers
When we came out to look at the home, we knew that a Mitsubishi ductless HVAC system would be able to provide the heating and cooling solutions to keep the tenants comfortable, and would also provide the ability to have each unit have independent control over their own energy usage, making allocating costs much easier for everyone.
Many homes in Somerville and throughout the greater Boston, MA area were originally single family homes that have been converted to condos, apartments and multi-family use over time. However, because the home once ran on a single heating system, often with steam radiators, it can be difficult for each tenant in each unit to have the independent control over their heating and cooling needs, and secondarily, over the energy bills!  That can cause headaches for landlords and tenants alike.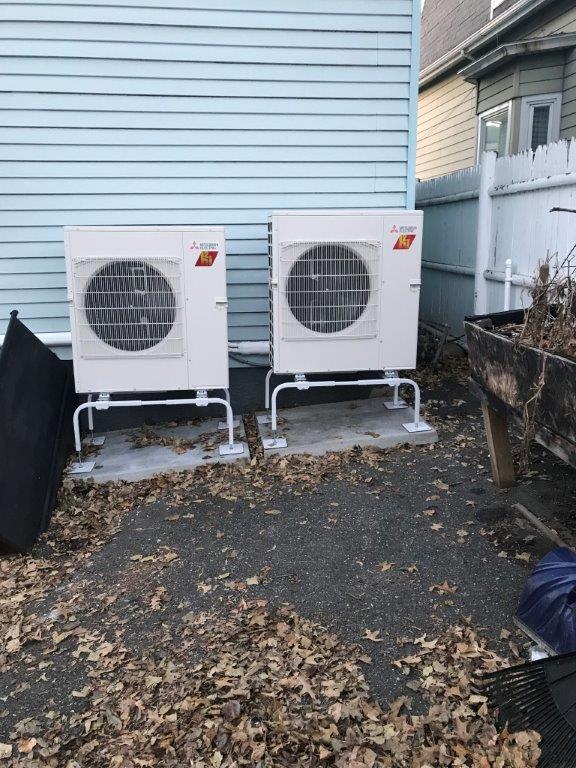 When we were designing a system that would keep each unit comfortable, we were able to put each unit on its own independent outdoor heat pump unit, meaning each tenant could then be billed separately for their own energy usage, as well as have the control they will want over their own comfort.
We put two Mitsubishi Hyper-Heating ductless units on the second floor, in the kitchen and bedroom. We then put three units in the first floor unit, in the living room and each of the two bedrooms.
This means that each tenant will be able to control the temperature and comfort level in their bedrooms and common space independently. If someone needs a little extra heat, a quick adjustment on the remote control will give an instant hot start, delivering warm air right away. Likewise in the summer, Mitsubishi ductless units deliver state of the art cooling comfort while keeping energy bills low, and eliminating all the hassles from trying to cool an apartment with window air conditioners, ranging from the hassle of installing them properly to their noise and general inefficiency!
By creating separate zones of comfort in both apartments, each tenant will be able to adjust the comfort level in their unit without affecting the tenant in the other unit, something that can create headaches for the neighbors and the landlord alike in traditionally-heated multifamily homes. And the fact that all this comfort is delivered with whisper-quiet efficiency will mean everyone will also have the peaceful quiet they want- and the only complaints will be if the upstairs tenant decides to get a drum set!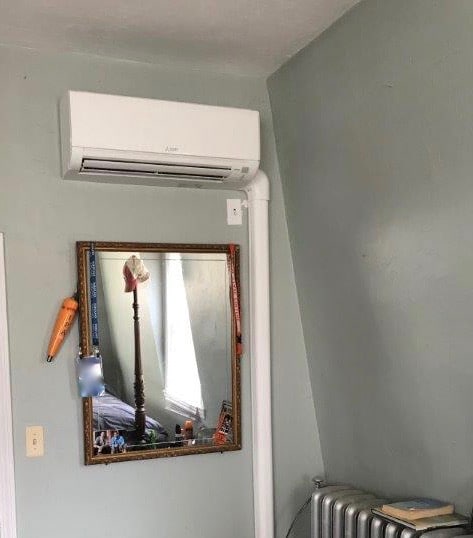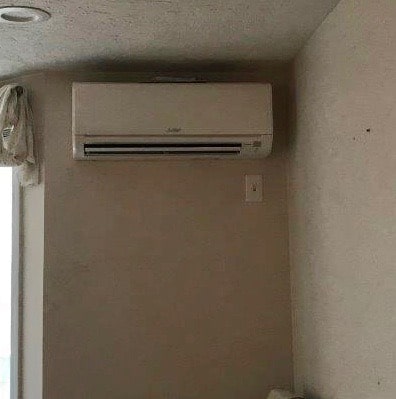 Ductless HVAC is Attractive, Efficient, and Effective
As you can see from the pictures of the installation, we make every effort to install the units with a minimal amount of exposed piping, to make sure the units are attractive, as well as mounted up, out of the way, and where they are best positioned to distribute the hot and cool air evenly throughout the unit. Each ductless heating and cooling unit can be controlled from a hand-held remote, or you can add a wall thermostat, or even a cloud-based remote control, if you choose, making these systems very flexible to meet a variety of needs.
The owners of this property chose Mitsubishi Hyper-Heating ductless also for its efficiency. In fact, these units qualify for rebates from the Government due to their low energy usage, and this owner qualified for a Mass Save Rebate of $300 and a Mass CEC rebate of $1,302, giving them a total savings of $1,602 on this significant upgrade of comfort to both rental units.
Providing Energy Efficient HVAC in Boston, MA & Surrounding Areas
If you are the owner of rental properties in Somerville or elsewhere in the Boston, MA area, Mitsubishi ductless systems are a great way to add additional comfort- and value- to your rental property. Give us a call here at N.E.T.R., Inc. and let us help design an energy and cost efficient solution for your property!