If there's anyone who knows a thing or two about HVAC systems besides contractors, it's real estate agents. They have seen everything from aged oil heat to the most modern systems on the market. The age and status of an HVAC system can be a hard topic in negotiations when it comes to selling a home.  So, when a real estate agent is planning to upgrade their home, they are going to make sure when they choose a solution that adds long-term value.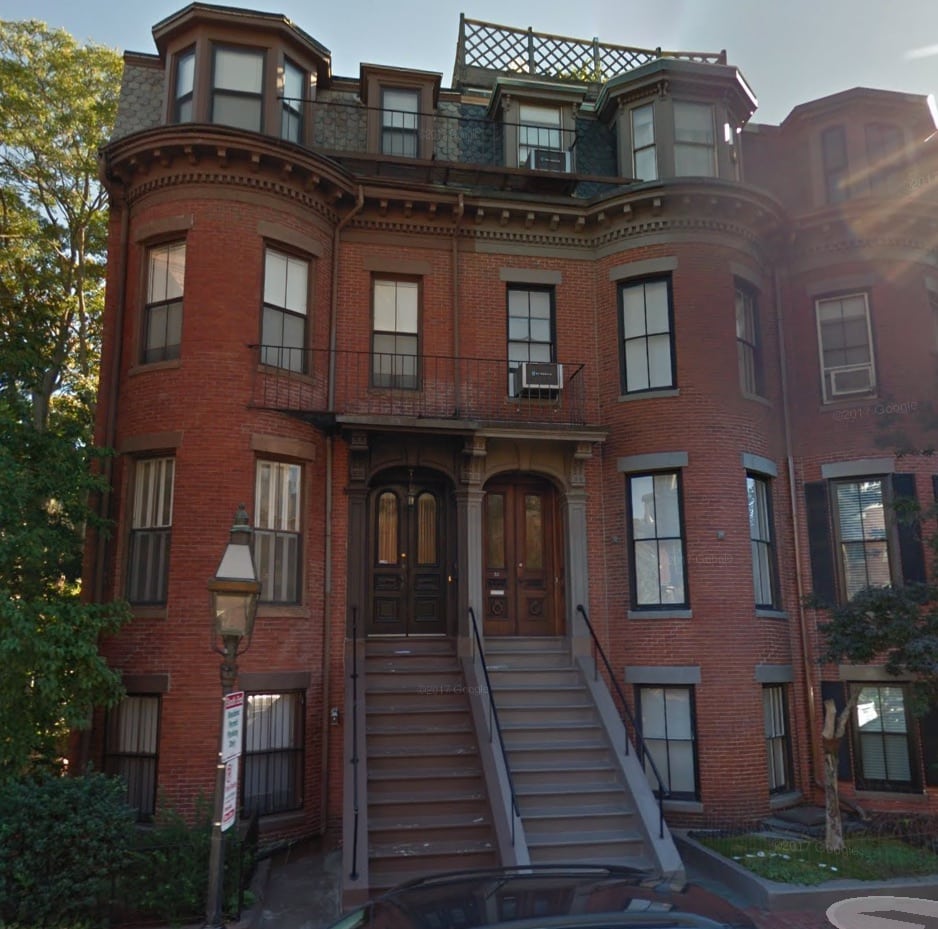 When the homeowner of this beautiful brownstone in South Boston called us, she needed a personalized heating and cooling solution.  Her home was not equipped with air conditioning and the heating system was on a central thermostat throughout the multi-family building.  She had no individual control over how hot her unit got in cold weather.  Even with cost-effective gas heat, she was left to the mercy of the other occupants and it was getting too hot for her to bear.  She knew it was time to solve the problem for good, and gave us a call here at N.E.T.R., Inc.
---
Problem: An owner of a unit in a multi-family, South Boston, Brownstone didn't have any air conditioning and the common heat for the building was always leaving her too hot or cold for her comfort. She wanted to have a cost-effective heating and cooling solution to get the year-round comfort she craved.
Solution: A single Mitsubishi Ductless unit gave her control over the thermostat at last, so she can keep her unit the proper temperature every day of the year.
---
Our experience with Brownstones throughout Boston helped us determine a quick, effective solution for this homeowner. We knew we could get her the heating and cooling she desired with a single Mitsubishi Hyper-Heating ductless unit.  We needed to install an outdoor condenser unit on the roof and run the piping carefully into her unit.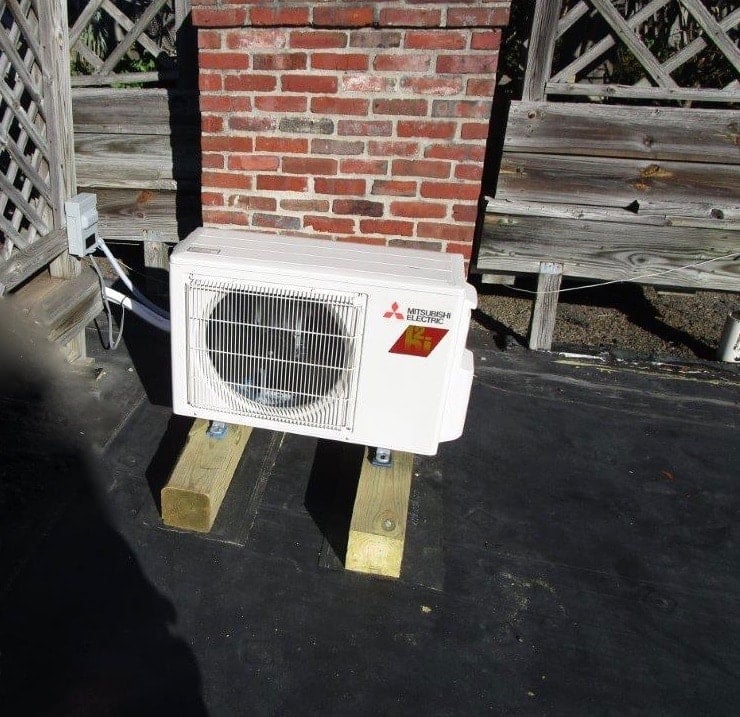 Mitsubishi ductless heat pumps use inverter technology and work efficiently to add heat inside the home, even when it's -13F outside!  These ductless heat pumps double as efficient air conditioning systems in the warmer weather, monitoring humidity and providing even air distribution that you cannot get with standard window AC units. These heating and cooling units do an excellent job distributing warm or cool air throughout the room, and ensure there are no hot or cold spots, which are a common problem even with central heating and air systems.
Ductless Savings
Because the Mitsubishi ductless ACs are energy-efficient, there are several rebate programs run by the Commonwealth of Massachusetts to help encourage people to upgrade from older systems.  This owner qualified for a Mass Save rebate of $500 and a Mass CEC rebate of $625, for savings of $1,125 with this installation!  Those kinds of savings helped to make this long-term investment in her home even more affordable.
Our homeowner gained control over her own thermostat for the first time in years!  Now, she'll be able to get the cooling comfort she wants, even at the height of the summer!  When it does start to get cold this fall, she'll be able to add a touch of heat whenever she wants it.  Her unit can be warm and toasty, even if the whole building hasn't turned on the heat yet.  These units are  extremely quiet to run, so her new comfort won't disturb the neighbors- it might even make them a bit jealous if they come over for a visit!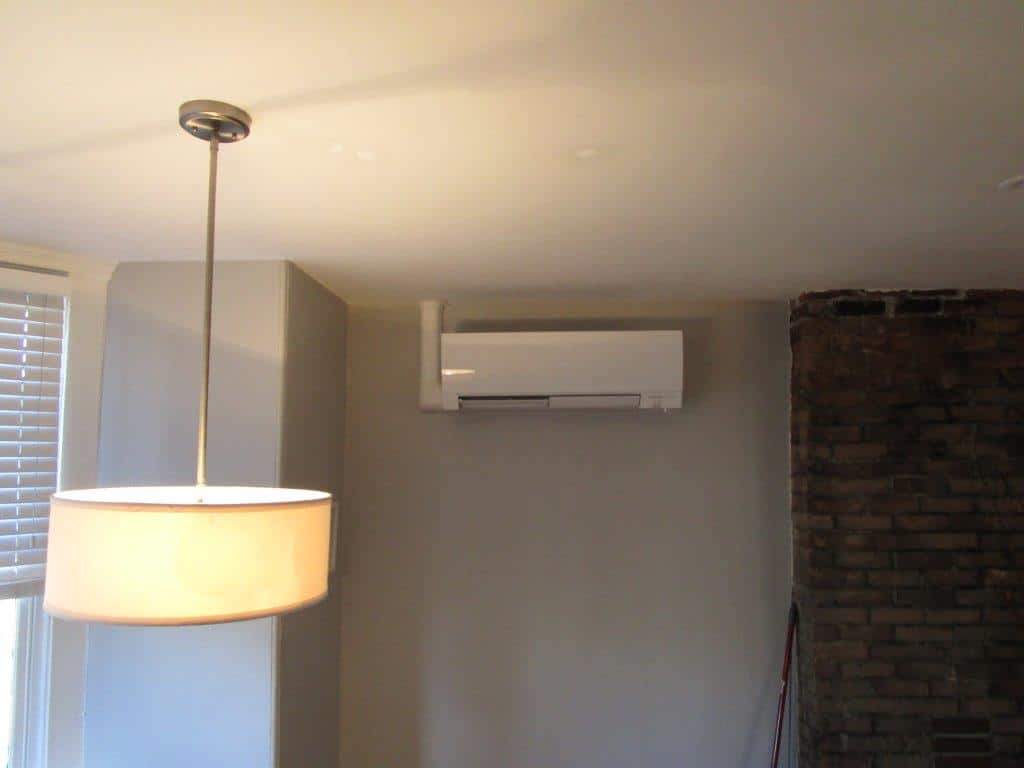 Here at N.E.T.R., Inc., we pride ourselves in making sure all our customers get state of the art comfort, and because of our status as an Elite Diamond Dealer for Mitsubishi Electric, we can offer a full 12-year parts and labor warranty.
If you have a home in Boston and are looking for an upgrade to your existing HVAC system, or supplemental heating and cooling, then give us a call here at N.E.T.R., Inc..  We're happy to talk to design a system for your home that will give you the comfort you crave all year long.