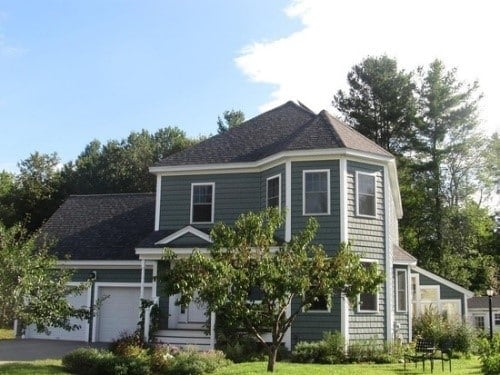 This family in Townsend, MA, owns a beautiful Colonial home that they had built themselves. As home was being planned, the homeowners were concerned with creating an energy efficient, eco-friendly environment so that they could save on energy bills and feel good about the investment they made.
One of the ways they had done this was by installing an electric heating unit. These units are controlled by a thermostat and function very well on single-level homes. However, this house was built with a lower level, and the family room was always cold because of the lack of air circulation.
The homeowners did not want to resort to using space heaters, which are inefficient, expensive to run, not eco-friendly, and can be a serious fire hazard if not continuously monitored. After struggling to keep their family room warm, they finally decided it was time to find a more permanent solution.
---
Problem:The electric heat in this Colonial home kept some of the home at the perfect temperature — apart from the lower-level family room, which stayed consistently cold in the winter. Space heaters were inefficient, expensive, and unsafe, so the family needed a permanent solution.
Solution: N.E.T.R., Inc. designed a single-zoned Mitsubishi ductless Hyper-Heating heat pump system that would supplement their existing system and keep the family room efficiently toasty warm.
---
The Installation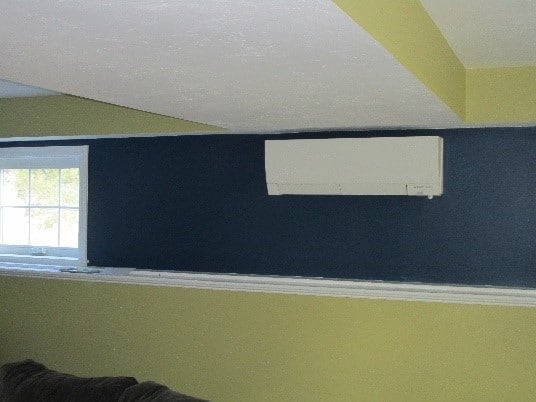 After spending the winter frustrated by the uneven heating in their home, these homeowners decided to research potential solutions. In their investigation, they came across N.E.T.R., Inc. and our fantastic customer reviews from people just like them who had found relief through Mitsubishi ductless systems. They discovered that N.E.T.R., Inc. is the #1 Elite Diamond Dealer for Mitsubishi ductless in the Boston area, so they knew that we would be able to design a system to fit their needs.
The project manager for this install was Paul Varonakis. He met with the family and discussed the uneven temperature problems they faced with their energy efficient, electric heating system. Right away, Paul knew that a single-zone Mitsubishi ductless heat pump system with Hyper-Heating technology would be the perfect fit for this home.
Because the rest of the home was well-heated and did not need supplemental units installed, Paul and his team were able to complete this project quickly. Ductless heating and cooling systems do not require major construction since the thin piping that runs the air from the outdoor condenser to the indoor wall unit can fit through the walls like electrical wiring. This feature was a significant benefit to the family, who did not want something that would interfere with the aesthetic of their beautiful home.
The outdoor condenser with Mitsubishi Hyper-Heating heat pump was placed on the rear of the home where it would be out of sight, and only eight feet of piping was run to connect it to the indoor unit. The heat pump on this Mitsubishi ductless unit has been proven to function in temperatures as low as -13F, so the family would never have to worry about being uncomfortably cold in their family room again.
The indoor unit was mounted on the wall, out of the way, so that it wouldn't interfere with the visual appeal of the room. The placement of this unit also allowed it to circulate the air in the room with optimal efficiency, which was essential to the homeowners.
The Benefits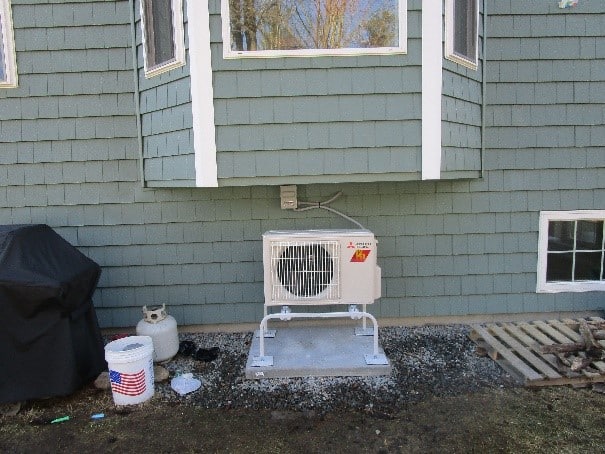 This family was thrilled with their new Mitsubishi ductless heat pump system because it solved their heating problem and provided a multitude of additional benefits that they can enjoy year-round!
Mitsubishi ductless air conditioning and heat pump systems are some of the most energy efficient heating and cooling systems on the market. This benefit was important to our environmentally conscious homeowners, who wanted to ensure they were doing what was best for them and the planet. Because these units are so energy efficient, the owners were able to qualify for rebates and savings just for using an eco-friendly option!
All in all, this family saved $650 by cashing in a $150 Mass Save rebate and $500 Mass CEC rebate. These savings made their supplemental heating upgrade even more affordable — in addition to the savings they'll see on their monthly energy bills.
Another benefit to the Mitsubishi Electric ductless system is that all the units double as both ductless air conditioning and ductless heat pumps. Now, if the owners find that their family room stays a little too warm in the summer, they already have everything they need to supplement their central air system with the Mitsubishi ductless AC. With the press of a button, they can have instant cooling relief in the family room, without having to turn down the temperature in the other areas of the home.
One of our favorite features of the Mitsubishi ductless AC units is that they function so quietly, you'll forget they are even running! We've also installed these ACs in recording studios because they operate at a whisper-quiet level.
Now, this family will be able to sit back and enjoy their family room all year long and feel good about the system they've installed since it will help save them money and protect the environment. Another great benefit to these ductless heating and cooling systems is that they are easy to expand on later. So, if they ever need additional heating or cooling in their home, relief is just a phone call away.
In Need of an Upgrade?
Are you tired of dealing with hot and cold spots in your home? Do you hate the task of installing and removing window ACs every year or worry about the safety of the space heaters you need to stay warm all winter? If so, it's time to call N.E.T.R., Inc.
Our experts will work side by side with you to design the perfect system for your home. We have years of experience serving Boston and the surrounding areas, and we'll even help you apply for available rebates and savings.
Contact N.E.T.R., Inc. today and get the relief you deserve.