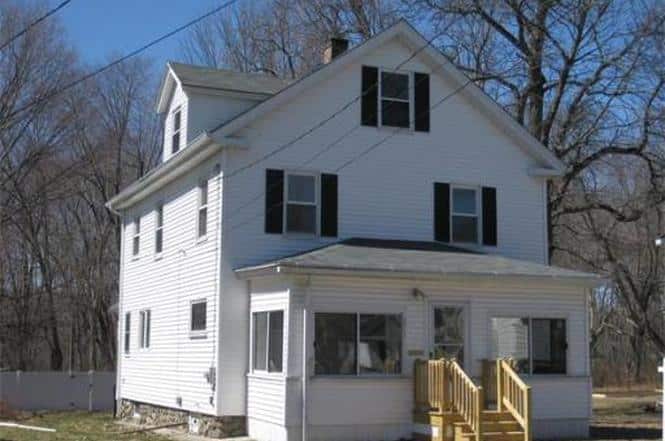 At some point, every home will need an HVAC upgrade. An older system is breaking down, or there are just better options out there. With this colonial in Concord MA, the heating and cooling system wasn't broken, it just wasn't the best.
This family had oil heat, but that wasn't enough. This house had quite a few rooms that never quite warmed up properly.
And, it was an older home with no central air. Our homeowners relied on old window air conditioners to keep cool in the summer, which also never quite did the job.
It was time for an upgrade. The family chose N.E.T.R., Inc. based on our outstanding reviews, and, we lived up to our reputation.
---
Problem: A colonial home in Concord MA had uneven heating and no central air.
Solution: Installed Mitsubishi ductless HVAC units in the living room, dining room, master bedroom and child's bedroom connected to an outdoor condenser.
---
Upgrading HVAC in a Colonial Home
Colonial homes are common in New England. It's an area of the country with plenty of history.
This particular home didn't date back to the 1700s. But, it was a few decades old. As such, it left a lot to be desired when it came to comfort, particularly zoned heating and cooling.
Many of the rooms didn't heat up quite enough. That was almost unusual because the home had oil heat. Oil burns hotter than, say, gas or electric. But, there were a few other factors at play here.
For one thing, the house had a large attic with windows. Attics like this draw and trap heat easily. That's because, quite simply, hot air rises.
As the oil burner heats the home, that heat moves upwards. And, it keeps going until it reaches the attic. Once there, it's trapped. Instead of heating the bedrooms, the hot air collects in the top of the house instead.
Downstairs was another HVAC problem: an enclosed porch. These are popular because they add more living space to the home. But, they are rarely equipped with heating vents.
This means there's no way to heat them directly. So, they remain a little colder than the rest of the house. But, heat naturally moves toward cold. In this case, that heat is coming from the oil burner.
All the forced air pumped into the first floor moves toward the coldest spot: the porch. But, since the porch isn't heated itself, it never quite gets as warm as other areas. So, it keeps drawing heat.
As for the summertime, the problem is much simpler: The house was built before homes had central air. Installing central air now would easily cost a few thousand dollars. And, today there are better options out there.
Increased Comfort with Ductless HVAC Systems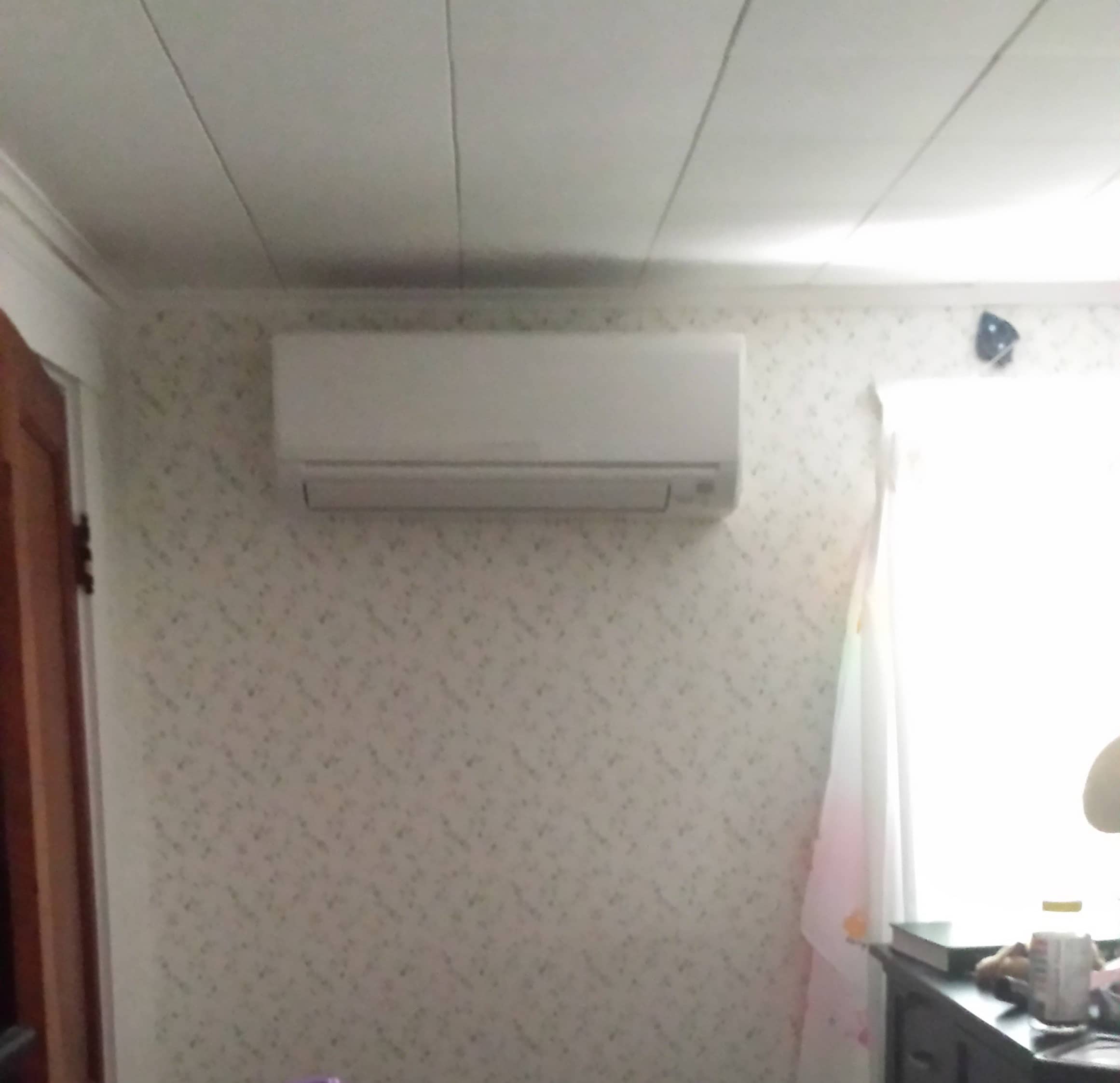 Adding a ductless HVAC system was clearly the way to go for this colonial. With ductless heating and cooling units, we can provide both heat and cool air. We don't need to rework any ducts or vents. And, the family can set different parts of the house to different temperatures.
Here's how a zoned ductless HVAC system with ductless units works: First, hot or cool air is generated from a heat pump outside. That treated air then travels through small, flexible tubing. Finally, it arrives at a ductless unit that's installed high on a wall in a room inside the home.
As a result, the system is very easy to install and customize. For starters, that tubing is less than two inches wide. Since it's skinny and bendable, our installers can run it through the walls like electric wires. We don't need to map out new vents or hope the existing ductwork is in the best place.
This means we can place our ductless units in the best places possible. Downstairs, we figured out where to put the units so the porch would get some heat. But, it wouldn't draw as much from the rest of the home.
And, each unit has its own thermostat. Each unit heats or cools a different area, or zone, in the house. Since our homeowners can set each one to a different temperature, they can boost the oil heat in the summer. And, in the summer they can push more cool air to the areas that need it the most.
Saving Money with Ductless Home Heating Systems
Using ductless units to create zoned HVAC is more than just convenient. It also saves our homeowners lot of money. That's because they use less energy than other systems. And, using less energy means paying less money
The savings start outside with ductless home heating systems. A heat pump works in the cold weather by taking heat from outside, making it warmer, and spreading it through the house. In the summer, it takes hot air from the home and cools it off.
This is very different from forced air systems like gas, electric and oil. These create their own heat — and use a lot of energy to do so.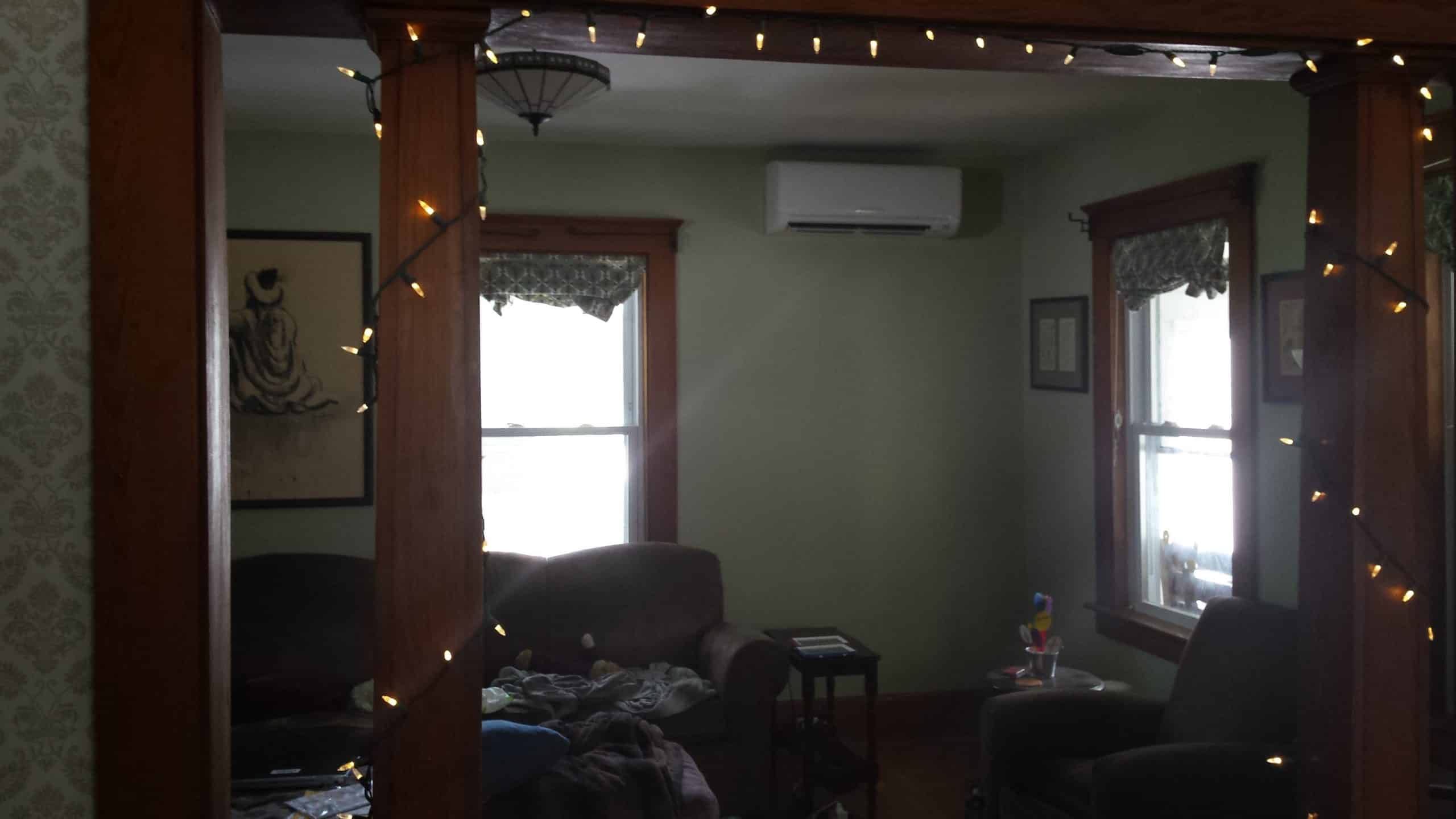 Inside, each unit has its own thermostat. This means they don't all have to work as much as a single system. If one zone of the house takes longer to heat up in the winter, just that unit kicks on. The other units stay off.
And, the ductless units are working along with the oil burner. Now, the family can wait a few weeks more each year before turning on the more expensive oil heat. The ductless units and heat pump will keep them warm without the central heating before winter really hits.
Finally, there's the summer. Now, the family doesn't have to bother dragging out old window air conditioners to keep cool. And, they also don't have to pay to run them.
Why Do Ductless Heat Pump Systems Cost Less?
As we mentioned, a ductless heat pump system costs less because it uses less energy than central HVAC systems. And, window air units use even more energy. They're older and less efficient. Each summer, the family's electric bill would skyrocket.
Now, however, they can stay cool without those high energy bills. And, they can set the climate control exactly how they want it, room by room.
Do you want a better and more cost-effective and efficient option for heating and cooling your home? Contact us and we'll design the perfect Mitsubishi ductless HVAC solution for you!