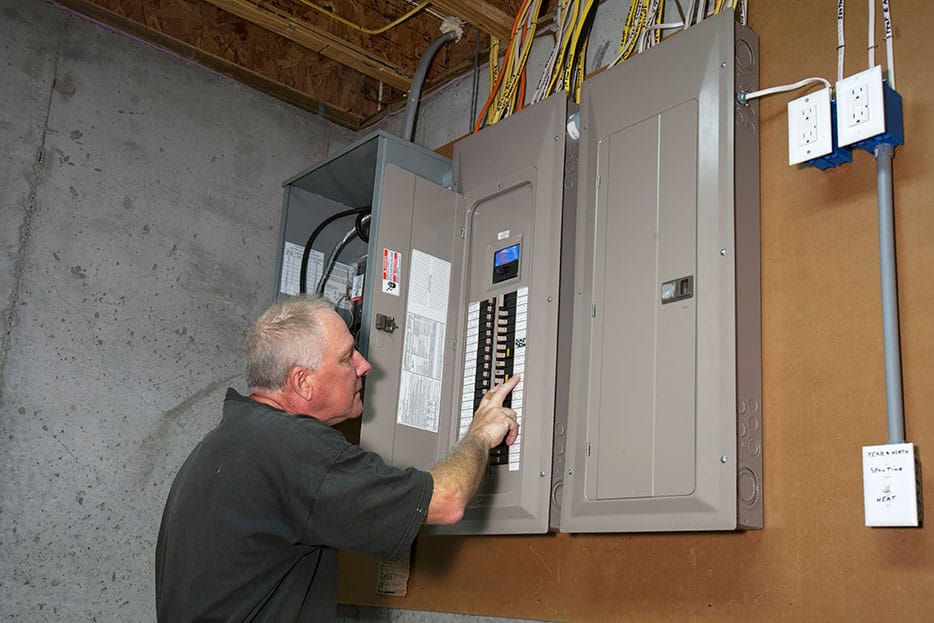 Replacing old electrical panels can greatly improve the safety, reliability, and efficiency of your power system. Here's how N.E.T.R., Inc.'s qualified and licensed electricians can help you replace your outdated fused panels or older outdated panels that are now considered a fire hazard by electrical code to better serve and protect your home or business.
Why Replace Your Electrical Panel?
Your electrical panel works like a main switchboard for your building. It distributes incoming electricity through circuits that have been wired to power your lights, appliances, and outlets. In the past, these panels used plastic fuses to interrupt the electrical circuit in the event of a power overload.
Fuses are designed to melt when too much electricity flows through them, which breaks the circuit. Unfortunately, they're also prone to fires and must be replaced every time a fuse blows. Damage inside your electrical panel puts your home or business at risk, but newer panels use circuit breaker technology.
These are switches that automatically toggle off to interrupt the circuit when a power surge occurs. Instead of having to replace a melted fuse and having your electricity out of commission until then, you only have to flip your breaker switch back on to restore power to the circuit.
This has several benefits for commercial and residential property owners, like:
Easier Troubleshooting
When a fuse blows, it can be difficult to determine which circuit is overloaded and causing the problem. This is because all the circuits in your structure are controlled by the same fuse box, which makes troubleshooting harder. Circuit breakers work differently by controlling each circuit independently. When one breaker trips, you can easily identify which circuit is causing the issue.
Enhanced Fire Protection
Because circuit breakers are designed to trip when they sense an overload on the circuit instead of quite literally melting like a fuse does, this provides your wiring better protection from overheating and catching fire.
Increased Property Value
Electrical panel replacement can also increase the value of your property. Buildings with outdated fuse boxes are generally less desirable than those with modern circuit breakers because buyers know they'll need to replace the panel themselves soon after their purchase. Most mortgage lenders and property insurers also mandate the replacement of fuse panels before finalizing a loan or providing insurance coverage.
How Much Does an Electrical Panel Replacement Cost?
Budget is an important consideration for many home and business owners who need to replace their electrical panel. There are several factors that can affect the cost of this, like:
The age and condition of your home's current electrical system. If your existing system is outdated or in poor condition, it may need to be completely replaced, which is generally a more expensive service.
The features you choose. If your new panel has special features or additional circuits, this will be costlier than a basic model.
The complexity of the installation. If your building has a complex electrical system, it may take longer to replace your panel, which can result in additional labor costs.
While the cost of hiring a professional electrician may seem counterintuitive if you're on a budget, replacing your electrical panel isn't a DIY job. Not only is there a significant risk of fire and electrocution, but you could also cause serious damage to your property.
Working with our trusted team of professional Massachusetts licensed electricians can ensure your project is completed safely and affordably.
N.E.T.R., Inc. – Your Massachusetts Electrical Panel Replacement Specialists
As a leading provider of electrical services in Massachusetts, N.E.T.R., Inc. has the experience and expertise to handle all of your electrical needs. We understand the importance of having a safe and efficient electrical system for your home or business. Our qualified and licensed electricians are dedicated to providing our customers with the best possible service.
We can help you:
Replace your old fused panels with circuit breakers quickly and safely
Replace outdated panels that are now considered fire hazards by electrical code
Reduce the risk of fire and electric shock
Save time, money, and energy managing your home's power
Avoid costly future maintenance and repairs
At N.E.T.R., Inc., we'll make sure the job is done right the first time. We'll also work around your schedule to find a time that's convenient and non-disruptive for you. Contact us today to learn more or to request a quote for residential or commercial electrical panel replacement. Call now by dialing (781) 933-6387.
Serving the following areas:
Metro Boston
Metro West
North Shore
South Shore
Southern New Hampshire
Browse Our Other Electrical Services