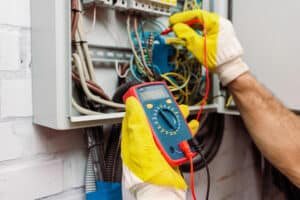 Your electrical system is one of the most important parts of your home or business. It's what keeps your lights on, your appliances running, and your family or employees safe.
Unfortunately, it also carries a lot of risk if there's a problem. According to the National Institutes of Health (NIH), there are about 1,000 electrical fatalities per year in the United States. Non-fatal electrical injuries exceed 30,000 annually. That's why it's so important to be proactive about making sure your commercial or residential electrical system is safe, efficient, and up to code.
At N.E.T.R., Inc., we can help you do just that with our comprehensive electrical system safety inspections.
What To Expect During Your Electrical System Inspection
During an electrical system safety inspection, a qualified electrician will ensure that all aspects of your system are working correctly and that there are no obvious safety hazards. This typically includes a thorough visual inspection of the system's wiring, junction boxes, outlets, fixtures, circuit breakers, fuses, and any other related electrical components.
Special equipment may also be used to test for voltage, resistance, power draw, improper grounding, and power overloads. After the inspection is complete, your technician will provide you with a report of their findings, including any safety issues that need to be addressed immediately.
Top Electrical System Issues Found During Inspections
Let's take a look at some of the most common issues with commercial and residential electric systems:
Outdated Wiring
Outdated wiring is an issue our technicians see frequently, especially in Colonial Massachusetts. Structures that are more than 40 years old are likely to have knob-and-tube or aluminum wiring, both of which can pose serious safety risks.
Aluminum wiring is prone to overheating and melting, and knob-and-tube wiring is especially dangerous because it's not grounded. This means there's no way to dissipate an electrical current if a short circuit occurs, creating a significant fire hazard.
Poorly-Sized Circuit Breakers
We also often find poorly sized circuit breakers, which can be problematic if there's a power surge. Circuit breakers are designed to trip and shut off power in the event of an overload. These are safer than fuses, but they must be sized correctly for the building.
If a circuit breaker is too small for the amount of electricity flowing through it, the breaker could fail to trip, resulting in fires or other damage to your electrical system.
Lack of GFCI Receptacles
Ground fault circuit interrupters (GFCI) are required for structures in many areas, but they're often missing from older Massachusetts' buildings since they were only recently invented in the 60s.
These receptacles protect against shock by sensing imbalances in the electrical current flowing through them and shutting off power when there's too much. When these aren't present, the risk of electrical shock and fires, particularly in areas with water like kitchens and bathrooms, is much higher.
Improper Installation
Unfortunately, we also commonly run into issues caused by the improper installation of electrical equipment by previous contractors. Unlicensed or inexperienced technicians may try to cut corners when wiring circuits or installing an electrical panel, resulting in power failures, building code noncompliance, dead outlets, and exposed wires.
How N.E.T.R., Inc. Can Help
Our professional electricians will inspect your system to ensure it meets the highest safety and electrical efficiency standards. We thoroughly check your outlets, wires, and connections for any signs of damage or premature wear and tear. In the event your system needs a repair, upgrade, or replacement, our technicians will work with you to find the right solution.
With N.E.T.R., Inc.'s comprehensive electrical system safety inspections, you can:
Ensure your system is properly sized for how much electricity you need
Protect your property from fire hazards, power outages, or other damage
Replace outdated or malfunctioning electrical equipment
Maintain compliance with local building codes and regulations
Detect and troubleshoot potential issues before they become costly repairs
Get a full report on the condition of your electrical system
Get peace of mind knowing your electrical system is safe and functioning well.
At N.E.T.R., Inc., we can help diagnose and repair any electrical system issues you may be experiencing with your home or business. When your safety is on the line, you need a team of contractors you can trust to get the job done right.
Contact us today by dialing (781) 933-6387 for a free consultation and get peace of mind knowing that your family and investments are protected.
Serving the following areas:
Metro Boston
Metro West
North Shore
South Shore
Southern New Hampshire
Browse Our Other Electrical Services