Apartments and condos have unique heating and cooling needs. To offer comfort to your tenants without costing yourself too much money, you need an HVAC system that has features designed to work in multi-unit residential buildings. In particular, you should look for the following: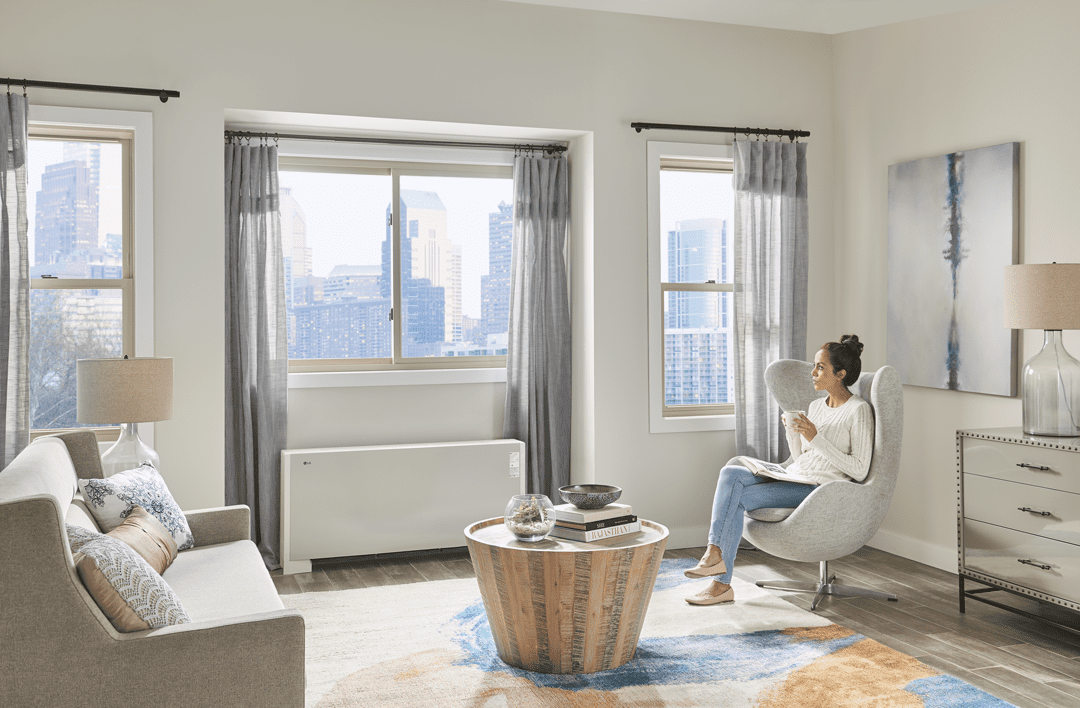 Zones
When providing heating, cooling, or any other services to the units in an apartment or condo building, one of the first decisions you have to make is whether to supply the building with shared services or individual services. In most cases with heating and cooling, the best option is individual services.
Then, the occupants in each unit can control their own thermostats and keep their homes at the most comfortable temperature for their needs. At the same time, you don't have to worry about dealing with the expense of unnecessarily heating and cooling empty units. With many multi-unit HVAC systems, you can even set up individual metering so that you can track usage for each unit and generate bills accordingly.
Master Controls
You may not want to give all the temperature control to the tenants in your apartment building or to the occupants of your condos. For instance, you may want to keep the temperature in your building above a certain level during the winter to ensure that water pipes don't freeze if your tenant goes out of town and turns off the heat in their unit.
To eliminate this risk, you need a multi-unit HVAC system with master controls. Then, you can define parameters for high and low temperatures, but your tenants still get the majority of the control over the thermostats in their individual units.
Building Software Integration
Special software allows you to control the HVAC system in your apartment building or condos. Ideally, you want cloud-based software that alerts you about malfunctions and lets you make changes to the system remotely. Additionally, you should look for an HVAC system with software that integrates into your building's energy management system so you can control everything from a single portal.
Heating and Cooling
Attracting quality tenants to your apartment building or finding buyers for your condo can be challenging, but the right amenities can help. Many building owners put in central heating throughout the entire building or electric baseboard heating with individualized controls in each unit, but they forgo cooling. This decision forces tenants to be hot during the summer or to put in unsightly window units.
To preserve the aesthetics of your building while also offering occupants as much comfort as possible, you should consider a system that combines both heating and cooling. For instance, with a ductless HVAC system designed for multi-unit apartment buildings and condos, each zone gets an air handling unit that can blow warm or cold air depending on the season. You can leverage this fact when advertising for apartment tenants or condo buyers.
Minimal Footprint
To optimize the space in your building, you need an HVAC system with a minimal footprint. The outdoor condenser, heat pump, and other equipment should fit easily on your roof, next to the building, or even on a window ledge if that's the only available space. Similarly, your interior units should take up a minimal amount of space in each apartment or condo.
With a multi-unit ductless system, you can easily achieve this goal. These systems consist of a slim outdoor unit connected to one or more indoor air handling units that can be discretely installed on walls, along floors, or over doorways. Flexible piping running through conduit connects the indoor and outdoor units, and that takes up a lot less room than traditional ductwork, thereby preserving valuable space within your building.
Quiet Operations
When choosing an HVAC system for an apartment or condo, you should also consider the noise generated by the unit. To create a homey feel in your building, you need the exterior and interior components to run as quietly as possible. For instance, Mitsubishi makes a multi-unit ductless HVAC system with interior units that operate at 19 decibels (quieter than a human whisper) and outdoor units that generate 58 decibels of sound (like ambient conversation in a restaurant).
Efficiency
Whether you're covering HVAC costs as part of your tenant's rent or billing tenants separately for their energy usage, you need an efficient HVAC system. If you opt for a heat pump with a variable speed compressor and inverter technology, you can reduce energy consumption and save money compared to other options.
Compartmentalized Ventilation
HVAC zones give your tenants the ability to control their own thermostats while letting you track usage for each individual unit. They also allow you to compartmentalize the ventilation throughout your building. When all of the areas in a tall building share a ventilation system, that compromises smoke control, fire safety, and indoor air quality.
By compartmentalizing interior ventilation, you isolate individual apartment units or condos from corridors, elevator shafts, and stairwells which reduces the risks associated with sharing a ventilation system. To do this, you need a system that ventilates each unit via an exterior wall, rather than across an interior pressure boundary, such as the floors or walls between units and common areas.
To ensure you select the best HVAC system for newly constructed or existing apartment buildings and condos, you need to work with a commercial HVAC specialist with experience designing systems for multi-unit buildings. At N.E.T.R., Inc., we have extensive experience working with commercial clients with a range of different needs, including owners of apartment buildings and condos.
Let us guide you toward the right HVAC system for your apartment building or condos. Contact us today to talk about your heating and cooling needs. We also offer commercial HVAC maintenance and repairs to ensure your system stays running efficiently and that repairs get handled quickly and professionally.