If you have a heat pump in your home, you already know that it can be a great way to regulate the temperature and keep your space comfortable. But like any appliance, they can also have their share of problems.
Below, we take a look at some common heat pump problems and how to solve them. We'll also provide some tips on how to prevent these problems before they start and if you need help from a professional, the team at N.E.T.R., Inc. can assist you.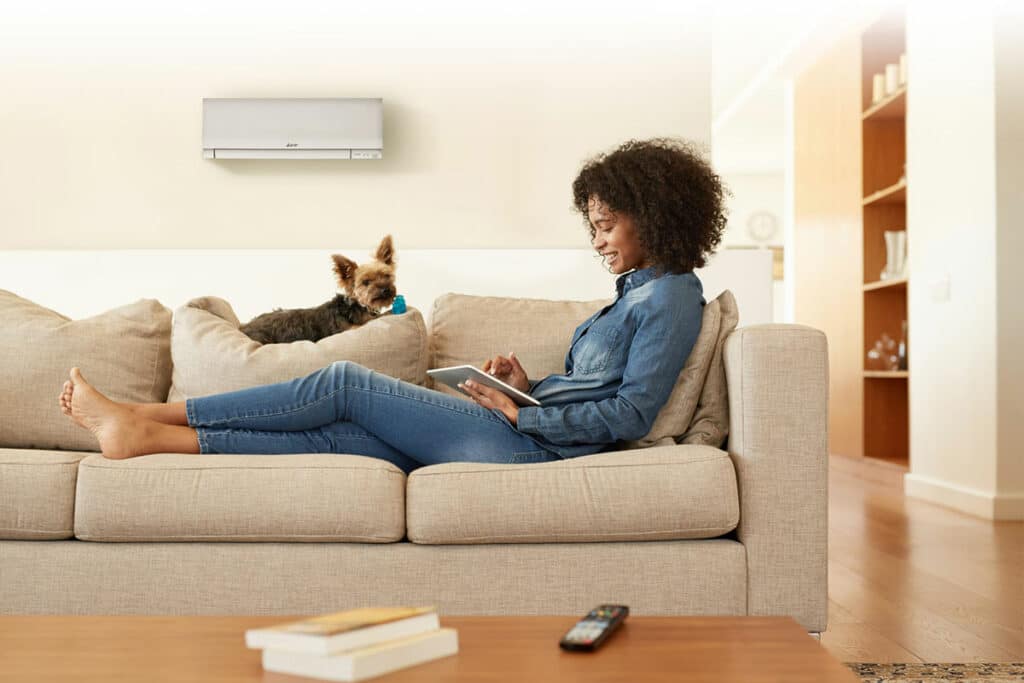 What Makes Mitsubishi Electric the Best Brand of Ductless HVAC Technology?
Mitsubishi Electric heat pump technology is one of the best on the market, offering consistent heating down to -13 degrees Fahrenheit. In terms of air conditioning, this brand also excels, offering customers a wide variety of customization options. Here are some other reasons our customers choose Mitsubishi ductless HVAC over competitors:
Quieter operation. Mitsubishi Electric's air handlers are impressively quiet, producing on average only 32 decibels of sound. For comparison, a human whisper is roughly 30 decibels, making these units able to run nearly undetected.
Maximum energy savings. Mitsubishi ductless HVAC models offer the most energy savings of all ductless units on the market. If you choose an ENERGY STAR® rated unit, you can save as much as 40% on your home heating and cooling expenses. ENERGY STAR® reports that ductless HVAC systems use a whopping 60% less energy than radiators, making them the most efficient heating solution currently available.
Advanced Inverter Technology. Mitsubishi Electric is one of the select HVAC providers offering ductless ACs with Inverter Technology, which allows indoor units to deliver precise heating and cooling. Instead of using a fixed-speed compressor, Mitsubishi Electric uses variable speed compressors that enable a ductless unit to run at dozens of different speed settings between 30% and 100%.
Mitsubishi Electric has the most rigorous training and certification program. Mitsubishi Electric has two levels of certifications for HVAC technicians – Diamond and Diamond Elite. Both of these certifications require contractors to be extensively and intensely trained to provide expert installation and service. N.E.T.R., Inc. is a Mitsubishi Electric Diamond Elite contractor, which is the highest level that can be obtained with the company.
Why You Should Mount Your Mitsubishi Ductless AC On the Wall
There are a few different types of installations for Mitsubishi ductless HVAC systems. You can have them installed near your floor, in your ceiling or ducts, or on the wall. Wall-mounted ductless units are by far the most common type of ductless HVAC installation. A wall-mounted cassette has a number of benefits compared to other types of installations, including better airflow, more precise temperature control, and easier access for maintenance, cleaning, and repairs.
Frequently Asked Questions About Mitsubishi Wall-Mounted Ductless Units
How long do Mitsubishi wall-mounted ductless units last?
Any brand of ductless mini split will last an average of 20 years if properly maintained. If you skip annual maintenance and cleaning, you can expect your system's lifespan to be halved. A Mitsubishi wall air conditioner can be expected to make it to the upper range of the average ductless HVAC system lifespan.
How much does a Mitsubishi wall-mounted ductless unit cost?
On average, a Mitsubishi wall-mounted ductless unit costs between $4,000 and $8,000 depending on the size and layout of your home and other factors that go into a successful ductless HVAC installation.
How much energy does a Mitsubishi wall-mounted ductless unit save?
Mitsubishi Electric ductless HVAC systems use significantly less energy than a standard central HVAC system. Energy.gov reports that as much as 30% of heating and cooling energy is lost through ductwork, meaning your central system has to work much harder to reach the same comfort levels in your home.
Learn More From Boston Mitsubishi Electric Diamond Elite Contractor N.E.T.R., Inc.
More than half of your waking hours are spent in the comfort of your own home – 62% of your time, to be exact, according to the American Time Use Survey. The COVID-19 pandemic has increased this figure by 12% since 2019 as more people are working from home than ever before.
The air quality and comfort level of your home matters when so much of your time is spent there. Ductless HVAC can help you achieve more reliable, precise, and cost-effective heating and cooling that can be used to supplement or replace your existing heater and/or air conditioner. Contact N.E.T.R., Inc. today to schedule a home demo of Mitsubishi Electric's advanced ductless heating and cooling technology by dialing (781) 933-6387. We've been serving the Boston metropolitan area since 1989 and can provide you with experienced HVAC service you can count on.