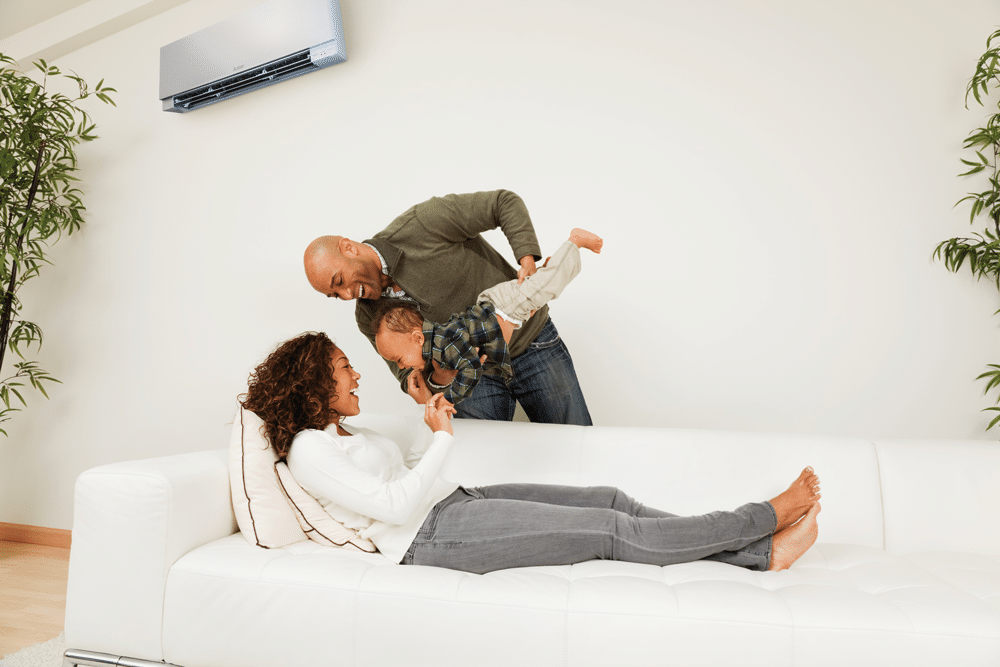 Ductless HVAC systems come in a wide variety of designs and capacities, and they can work in numerous environments. When you invest in a ductless system, you immediately save up to 25% just by getting rid of your ducts. On top of that, ductless systems use inverter-driven compressors, which can speed up or slow down the system based on your heating and cooling needs. In contrast, traditional systems cycle on and off repeatedly, which wastes energy.
Now that you've decided you want a ductless system, you just need to decide which system is right for you. While making your selection, there are several points to keep in mind.
Heating and Cooling
If you like, you can buy a mini split that just does cooling. For instance, if you live in a hot climate and you want to convert the attic to a living area or cool the garage during the summer, a mini split can meet your needs perfectly. However, if you want to completely replace your current HVAC solution or if you live in a cold climate, you probably want a mini split with a heat pump.
Note that when ductless systems first came out, they didn't have the power to provide adequate heating in cold climates, and as a result, homeowners in these climates had to augment their ductless systems with a backup heater. Luckily, that is no longer the case. When you invest in a ductless system with Mitsubishi H2i® technology, you can heat your space effectively without a backup heater when temperatures are as low as -13º F, and these systems tend to let in fewer drafts than baseboard heating.
Area
While narrowing in on the right ductless system for you, consider how much space you want to heat and cool. If you simply need to heat and cool a single room, you are likely going to choose a different system than you would if you were putting in ductless system to heat and cool an entire home. Similarly, if you're investing in a ductless system for a multi-unit commercial building or an apartment block, you need system that works in that environment.
Once you identify the area you need to heat and cool, you need to find the right capacity unit. If you opt for a unit that has too much power, you'll end up wasting energy, but a unit without enough power won't be able to meet your heating and cooling needs. A certified technician can help you hone in on the "goldilocks zone" in terms of heating and cooling capacity with your ductless system.
Number of Zones
On top of thinking of the total space you need to heat and cool, you should think about how many zones you want to have. In some cases, zones are dictated by the building's structure. For instance, two areas split by a large wall usually need to be separate zones. If you're putting a ductless system into an apartment building, each apartment may be its own zone or each apartment may have two or more zones in it.
In other cases, you may want to define zones based on how often you use certain spaces. To explain, imagine you don't use a certain room in your home and you don't want to waste money heating or cooling that space. In that situation, you may want to turn that room into its own zone. When you work with a quality HVAC contractor, they can help you identify the optimal number of zones for your space. In terms of zoning, ductless systems fall into one of two categories:
Single Zone — If you just need to heat or cool a small space, a single-zone system is all you need. These ductless systems have an indoor and an outdoor unit. They can work in additions, garages, attics, basements, or other parts of your home that aren't connected to your duct work, but they can also heat and cool a small building, a studio apartment, or similar spaces. Unfortunately, most single-zone systems can't be converted to multi-zone systems, so you need to make this choice carefully.
Multi-Zone — Multi-zone systems consist of a single outdoor unit and numerous indoor air handling units. All the indoor air handling units can be controlled separately, meaning you can turn off units that are not in use or you can set different temperatures for different areas.
Design of the Indoor Unit
Indoor air handling units can come in a variety of colors and designs to complement your interior, but they also boast a variety of mounting styles. The main mounting options as are follows:
Wall-Mounted Units — These units attach directly to the wall. They tend to be the most efficient when located on exterior walls, relatively near the ceiling, and many people opt to place them above doorways. However, they can be placed on interior walls as needed, with extra cabling.
Floor-Mounted Units — If you're dealing with sloped ceilings and low walls like you find in a finished attic, you may want to opt for a floor-mounted indoor unit. Typically, these units are installed on the base of the wall, near the floor rather than on the floor itself.
Ceiling Cassettes — Fitted into the ceiling, these units tend to provide broader coverage than wall or floor-mounted units, and many homeowners like their discreet style. Some models feature up to four outlets that you can adjust, open, and close as desired.
Suspended Units — Suspended by the ceiling with threaded rods, these indoor units are ideal in rooms with floor-to-ceiling windows that can't be fitted with wall units. They also work well in large spaces such as gyms, commercial showrooms, hotel lobbies, and restaurants. In rooms where cubicle walls may disrupt airflow from wall or floor units, suspended units are also ideal.
Controls
Whether you're investing in a single-zone ductless unit for a small area of your home or a large multi-zone ductless system for a large commercial building, you need to decide how you want to control the system. With a residential ductless system, you may want to look for a system that has programmable thermostats attached to each indoor unit as well as remote controls, so you can manually adjust the settings without moving.
When you're installing a ductless system into a whole building, you may want remotes for each individual air handling unit, but then, you may also want a branch circuit or a manifold controller. On top of that, you should look for a system that comes with software that lets you oversee the usage in each zone and generate heating and cooling bills for individual tenants, and ideally, you want that software to sync with your building management software for easy maintenance. For instance, the CITY MULTI ductless system offers all these advantages.
Noise Levels
As you look at different units, consider looking into the amount of noise created by both the indoor and outdoor units. To create a quiet and calm atmosphere, consider investing in a Mitsubishi unit. Even large commercial systems are surprisingly quiet. The outdoor unit runs at about 56 decibels, which is the amount of noise you'd expect from an electric toothbrush, and the indoor units run at about 24 decibels, the equivalent of wind gently rustling through leaves on a tree.
Ventilation & Humidity Control
As you talk with HVAC professionals about your options, keep in mind that ductless units don't just heat and cool. They also ventilate and control humidity. Ask about that process to see if it works for your needs. Ideally, you want a system that improves your indoor air quality but that also brings in ample air from the outside while integrating energy recovery tools.
Brand
Although many brands of ductless systems exist, only one is top selling. With a Mitsubishi ductless system, you can improve your efficiency by up to 50%, you can cool single or multi-zone rooms, and you can choose from more than 25 ENERGY STAR qualified models or nine ENERGY STAR most efficient models.
In addition to choosing the right ductless system for your needs, you also need to choose a quality installer, and that's where we come in. At N.E.T.R., Inc we have an A+ rating with the Better Business Bureau, we're also a member of the Air Conditioning Contractors of America, we are Mitsubishi Diamond Elite installers, and we are certified through NATE (North American Technician Excellence). Beyond that, our technicians are responsible, courteous, and knowledgeable. We can talk with you to help you determine the best ductless system for your needs. To learn more, contact us directly.