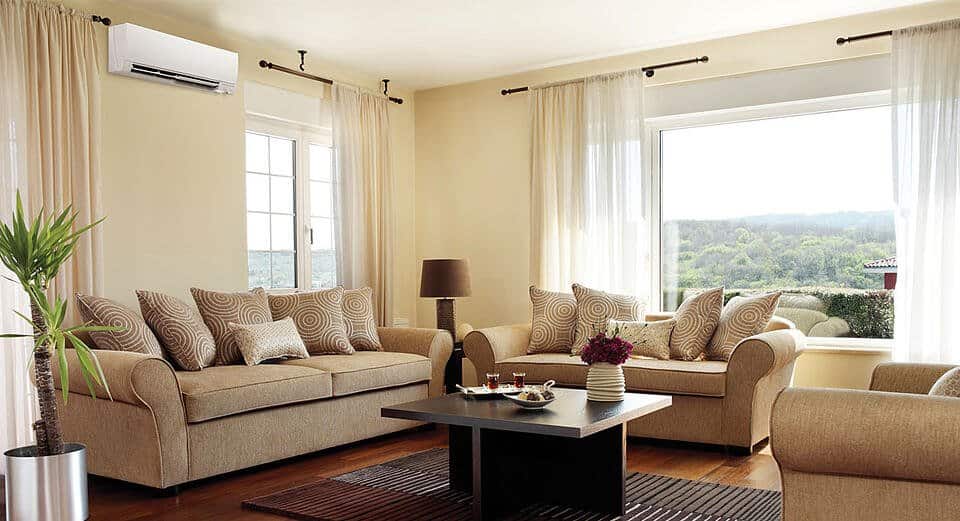 How much does it cost to install a mini split heat pump? Here in the Greater Boston area, ductless heating and cooling in a single zone configuration, fully installed and ready to turn on starts at $3500, and the price goes up from there depending on the number of zones that require conditioning.
More people are choosing Mitsubishi Electric Ductless Mini-Split heat pumps and air conditioners for their home so they can add the comfort they want, right where they need it most. Mitsubishi's ductless "mini-split" systems combined with WiFi technology and Mitsubishi Electric's Kumo Cloud system, enable homeowners to manage multiple zones of heating and cooling in the areas of your home where you need it most. And because they are one of the most efficient systems on the market today, you can get the comfort you crave with the flexibility needed to fit your home and your budget.
---
"…homeowners of a cape-style home in Natick MA decided four zones of comfort would work for them, making each bedroom comfortable and customizable on its own, while putting a separate zone in for the downstairs family room area."
---
If you're like most of our customers, you're wondering how much it would cost to get the heating and air conditioning you want, while ensuring you keep your monthly energy bills as low as possible.
The cost of zoned systems depends on many factors. The system consists primarily of an outdoor unit connected by refrigerant piping to one or more indoor units, that come in a variety of styles. These indoor units can be networked together to create zones of heating and cooling that can each be controlled separately. A single outdoor unit could create one zone or eight, or anything in between, depending on what you need and what your budget is. Even better, you can expand an existing system to include additional indoor zones in the future, allowing you to stage out costs over time if that's a concern.
For example, homeowners of a cape-style home in Natick MA decided four zones of comfort would work for them, making each bedroom comfortable and customizable on its own, while putting a separate zone in for the downstairs family room area. You can read more about how NETR helped design the perfect solution for this home by clicking here.
Because of the customization and flexibility of this solution, it's not as straightforward to give a price as it would be if you were just going to buy a window air conditioner or a whole home, unitary central heating and air system. The solutions offered by Mitsubishi's Zoned Comfort solutions can be ducted or ductless, or a hybrid of both. This flexibility means the solution for your home, whether it's a condo in the North End, a split level in Burlington, or a contemporary in Gloucester, can be designed by our experts at NETR, but that the cost will vary depending on the number of zones you need to achieve the comfort you crave. As a Diamond Contractor Mitsubishi, we have the experience and expertise to make sure you get the best and most efficient solution on the market with a full twelve year warranty.
---
Boston's North End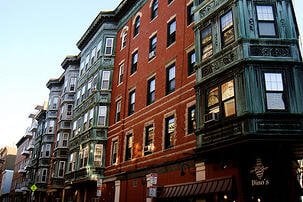 Problem: Homeowner needed a new HVAC system and wanted smart phone control and compatibility. Solution: A 4-zone ductless split system with Kumo Cloud controller allowed remote operation from anywhere from a smartphone or computer.
Burlington, MA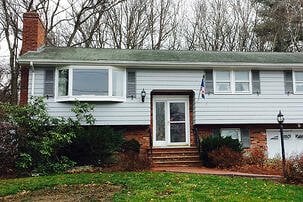 Problem: The existing system couldn't heat and cool the entire home evenly. Solution: We installed a single-zone Mitsubishi Hyper Heat Ductless Unit to supplement existing system, making it easier to maintain an even comfort level throughout the house.
---
What are the contributing factors that make up the system cost?
The first step to understanding the cost of a new Zoned Comfort Solution for your Boston-area home is to understand the individual elements that contribute to that cost:
A. New equipment. Each Zoned Comfort Solution includes an outdoor unit, indoor unit(s), controls and parts including the refrigerant line-set, wiring and electrical accessories. Conditioning one room or zone comes at a significantly different price than heating and cooling a home with eight or more zones. Generally, new equipment comes in at $3,000 to $15,000. Your costs will vary and may be higher or lower than this estimate.
B. Labor and Equipment. In addition to the cost of the equipment, there is the cost for design and installation of the system, customized for your home and needs. In general, the cost is approximately equal to the cost of the equipment itself, that covers our certified and trained technicians who can handle refrigerants safely, as well as perform the plumbing and electrical work necessary for an installation. Labor costs also vary depending on the complexity of the installation, and this may vary depending on the type of home you own as well.
C. Possible additional costs:
Electrical. These systems require a 240V outlet, which can cost between $200 to $1,000. The price will increase if your home's electrical panel requires a new 240V circuit. To avoid surprises, securing an estimate before purchasing a new system is always advised.

Equipment pad or stand. Creating an even surface underneath the outdoor unit for proper drainage generally costs $50 to $300. Alternatively, units can be mounted on brackets, so be sure to discuss the possible alternatives with us when designing your system and picking the best location for the outdoor unit.

Ductless or ducted? Choosing ducted indoor units introduces a price that is difficult to generalize. Some homeowners might be installing ductwork for the first time while others may be repurposing some of their existing ductwork, which adds a level of complexity – adding potentially 75 percent to the labor cost. One of the best things about Mitsubishi zoned comfort solutions, especially for older homes and condos, is that they can be installed without ductwork, saving you the time, money and inconvenience of retrofitting a home with ductwork.

Controllers. There are many controller options to choose from with Zoned Comfort Solutions. What you select will affect the cost. Wall-mounted units come standard with a handheld wireless controller; otherwise, factor in $200 to $300 per controller for a wall mounted thermostat or APP based control for each zone. There are even Kumo Cloud controllers available, which allow you to control your system from your smart phone, a benefit more and more people in the greater Boston area are choosing.

Any additional equipment needed for unique situations. Some homes need a little extra something; this is true for older homes, high-performance homes, and homes in the mountains or near the water. Some of these homes may require specialized designs and/or equipment, all of which impacts the cost of the system. Mitsuibishi's Hyper-Heating INVERTER®technology is developed to provide comfortable indoor temperatures even in extreme cold-climate conditions (as low as minus 13 degrees Fahrenheit) while saving energy and money- we've got solutions that can work in any of the winter weather Mother Nature can dish out here in New England.
As you can see, there are a lot of variables that affect the estimated cost of a Zoned Comfort Solution. While it is impossible to get a precise estimate of your costs without consulting a local contractor like us here at NETR, there is some third-party data available regarding the low end of the cost range. In July 2016, the Northwest Energy Efficiency Alliance published a study [1] showing that simpler heating and cooling zoned comfort solution installations (defined as having one outdoor unit connected to one indoor unit) range from $3,913 to $4,633. Based on this study as well as internal data from Mitsubishi, you can expect to pay – on average – between $4,000 and $5,500 for each zone (each area you want to condition). Depending on how you design your system, its total price is likely to fall within a range that averages from $4,000 to $20,000.
Your specific price range is directly impacted by the choices you make with the experts at NETR regarding the number of zones you want to condition, whether to use ductless or ducted indoor units, whether you need cooling only or heating and cooling, if you want a standard or premium product, what type of indoor units work best and so on. As a result, the answer to the question, "How much does a Zoned Comfort Solution cost?" remains a range.
[1] The study was titled, "Northwest Ductless Heat Pump Initiative: Market Progress Evaluation Report #5"; the study can be read in full at http://neea.org/docs/default-source/reports/northwest-ductless-heat-pump…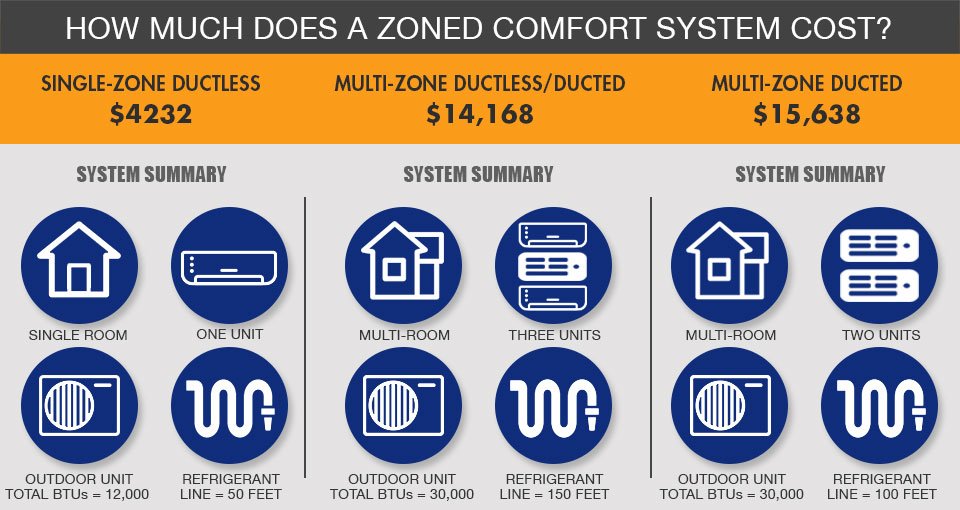 Depending on your home and your needs, the best way to find out how much a system would cost is to give us a call here at NETR. As a licensed Diamond contractor, we can save you money by designing a system that works for your home and provides the comfort you need for your home- and for your budget.
To get a better idea of what a solution might look like for your home, be sure to check out our case studies of homes across the Boston area. We've likely done an installation in your town, or on a home just like yours, and you can get a feel to what the solution looks like and what we helped the owners achieve. Whether you live in a colonial, cape-style, victorian, contemporary, split level, tudor, ranch or a brownstone, we've worked on a home like yours and you can see many examples of what might be possible.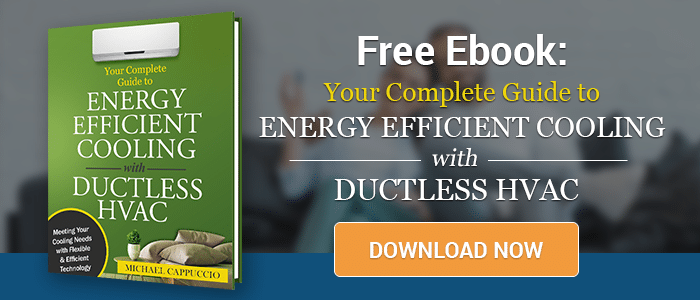 Getting an estimate for your home
Give us a call here at NETR. Systems designed and installed by an Elite Diamond Contractor like us are also covered by Mitsubishi's 12-year parts and compressor limited warranty.
When you meet with us, discuss how many zones you want, where indoor and outdoor units might go, whether you need cooling only or heating and cooling, if you prefer ductless or ducted options (or a mix) and any special considerations – for example if you're interested in a unit with an i-See™ sensor that detects temperature variations and controls the airflow.We'll also talk to you about what to expect during the installation process.
Sounds pretty good, right? Soon you'll have your estimated cost, and after that – a future filled with personalized comfort and energy savings.