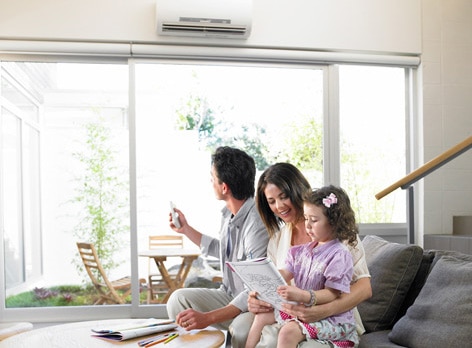 MITSUBISHI DUCTLESS DELIVERS CLEANER AND MORE EFFICIENT COOLING RIGHT WHERE YOU WANT IT
Many Boston area empty-nesters have large homes with traditional central air conditioning systems. With Mitsubishis Electric's ductless air conditioning, you can control the cooling in the rooms you use every day and close off unused rooms, saving energy and money.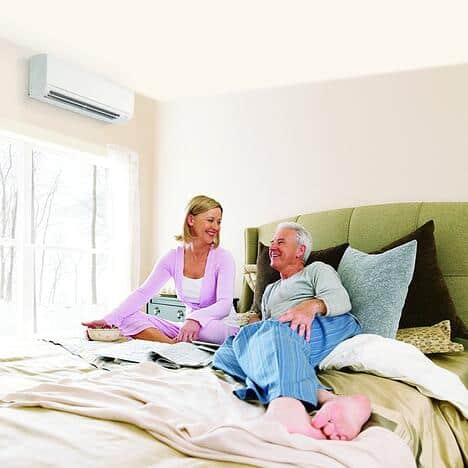 ---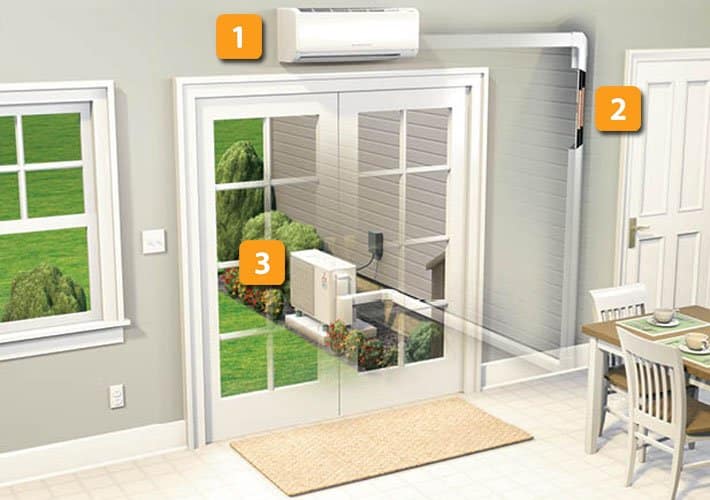 HERE'S HOW DUCTLESS WORKS
Ductless splits, also called "Mini-Splits" pump cooled or heated refrigerant directly to the wall or ceiling-mountedair-handling unit, and each unit has its own wireless electronic temperature control system, a.k.a., a remote.
Here's how the system works in a single room application in the Boston, Massachusetts area.
1. The indoor unit uses refrigerant to cool or heat air and quietly pushes the chilled air it where you need it in your living space.
2. Refrigerant and electrical lines connect the outdoor unit to the indoor unit through a 3″ opening in the exterior wall.
3. The outdoor unit's state-of-the-art heat pump cools or warms refrigerant and sends it back inside to the air handler, which continuously monitors the room for changes in temperature and sends conditioned air to the areas of the room that need it.

---
AIR CONDITIONING FOR THE ROOM THAT IS NEVER COOL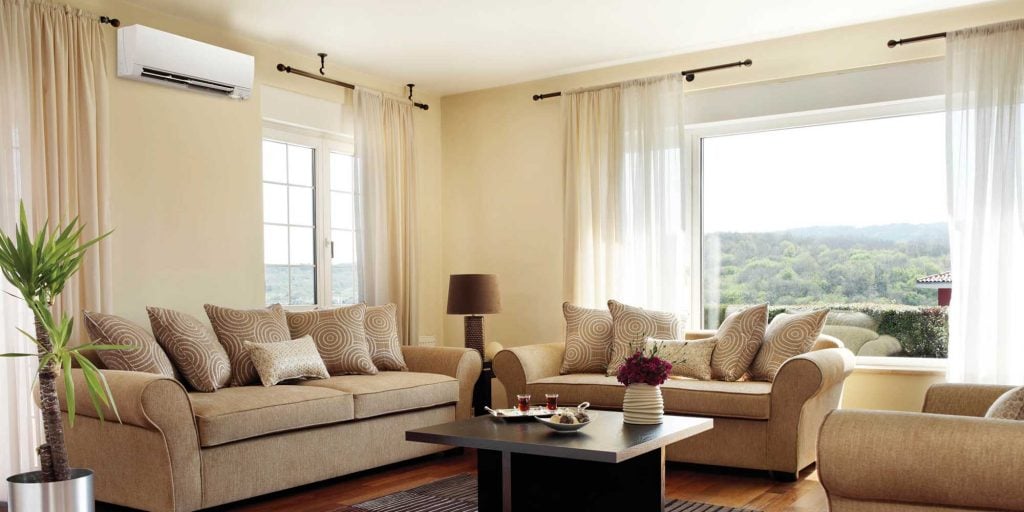 BEAT THE BOSTON HEAT
Boston area residents are accustomed to seeing high temperature and humidity combine to create uncomfortable rooms in every type of construction in every home, condo and apartment.



We've installed thousands of Mitsubishi ductless air conditioners all around Boston, and from New Hampshire to The Cape Cod.
Ductless wall air conditioners cut through that opressive wall of heat while operating whisper quiet.

BRING THE SAVINGS
Efficiency is the reason Mitsubishi's ductless air conditioners have consistently qualified for the highest level of Mass Save and CEC rebates on ductless air conditioners and installation. Combined with 0% payments plans, sometimes these systems can pay for themselves in reduced energy costs in just a couple of seasons. Oh yeah, in winter some models flip to become the most efficent heat pump available to the residential market.
Mitsubishi ductless air conditioning is environmentally and budget friendly.



• Drastically lessen or eliminate your dependence on oil and gas
• Inverter technology results in substantial energy savings
• Zone control for improved comfort and decreased energy use
• Mitsubishi ductless air conditioners are ENERGY STAR® rated
• Local and state utility rebates and incentive opportunities. 
Get up to $3750 in incentives & rebates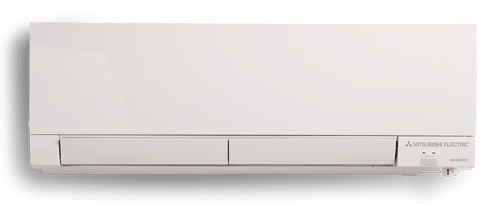 NETR wants to help modernize your Boston home's HVAC system. Did you know that ductless mini split systems are also the best way to heat your home? That makes these ultra efficent Mitsubishi systems a whole-house solution that can save you on energy costs year-round. And, for a limited time, NETR is offering up to $400 in incentives and rebates.
Fill out the form on this page to request a no-obligation ductless air conditioningconsultation. We help homeowners like you affordably upgrade their comfort systems every day.