---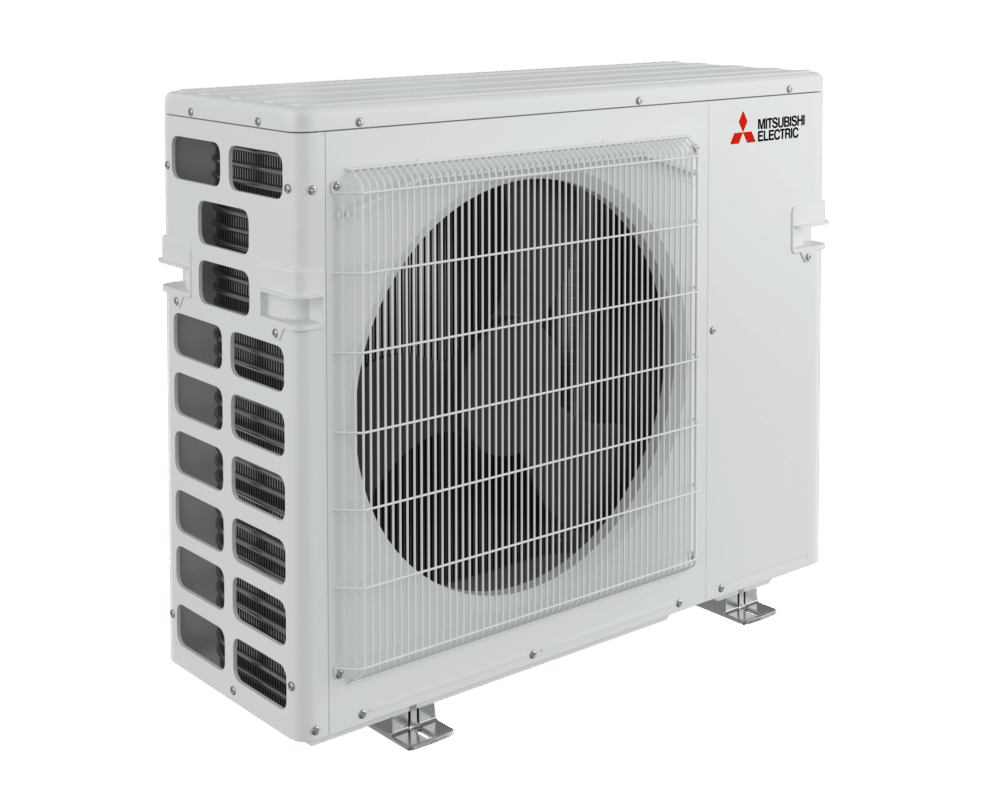 ---
Efficient Heating and Cooling for Your Whole Home
The Mitsubishi multi-zone heat pump can comfortably and efficiently heat and cool your home. When you add a multi-zone heat pump, you pair it with several indoor units that each create a zone. Then, you can customize the temperature and settings in each zone so that everyone in your home is comfortable but you never waste energy heating or cooling unused spaces.
Mitsubishi multi-zone outdoor units offer quiet operation, and their energy-efficient technology reduces your carbon footprint compared to other HVAC options. Keep reading to decide if electric heating and cooling from Mitsubishi is right for you.
How Multi-Zone Heat Pumps Heat and Cool Your Home
Heat pumps use electricity and inverter-driven technology to heat and cool your home. During the winter, the heat pump extracts heat from the cold outside air — yes, even in cold temperatures — and brings it into your home. The process works in reverse during the summer when the indoor unit extracts the heat from your home, allowing it to cool down.
In both seasons, the refrigerant in the system's lines absorbs the heat and moves it from the outdoor unit to the indoor unit or vice versa. Fans in the indoor unit move air over the warm or chilled refrigerant, releasing the perfect temperature of air into your home. With the multi-zone heat pump, this highly efficient process creates comfortable, even heating and cooling throughout each and every zone in your home.
FAQs About Multi-Zone Heat Pumps
Our clients have a lot of questions about heat pumps. Some people have never heard about this technology. Others have heard about the older generation of heat pumps, and they're surprised about how much they have improved.
To help you decide if a heat pump is right for your HVAC needs, we've put together the following list of frequently asked questions.
Are electric heat pumps better than fuel-burning heat?
Electric heat pumps are more energy-efficient and environmentally friendly than fuel-burning heating solutions. They can also cool your home in addition to heating it.
Can heat pumps provide your only source of heat?
Some homeowners use heat pumps to supplement their fuel-burning system, but others heat pumps as a standalone solution. In very cold climates, you may need to upgrade to hyper heat technology.
Will a heat pump save me money?
Most of our clients save money when they install a heat pump. By looking at efficiency ratings and your current system, we can help you estimate your potential savings.
How much does a multi-zone heat pump cost?
A heat pump is an investment into your home, but its cost can vary. Its capacity, features, and the number of indoor units affect its final cost.
How many indoor units can you attach to a multi-zone heat pump?
A multi-zone heat pump can typically connect to up to eight units. This is enough for most homes. in rare cases, you may need multiple outdoor units for very large homes or apartment buildings.
How do you install a multi-zone heat pump?
Our technicians identify the best positions for the indoor units. Then, they install the indoor and outdoor units and connect them with very small refrigerant and electrical lines that run through the walls.
If you have additional questions, please contact us directly. We love talking with clients about Mitsubishi heat pumps, and we have completed Mitsubishi's highest level of contractor training so we're always ready to answer your questions.
Related Resources
Case Studies
Want to see how other families and organizations have benefitted from installing multi-zone heat pumps? Then, check out these case studies.
To read more success stories, search for case studies in your area or based on your type of home by visiting our residential case studies page.
Resources and Insights on Multi-Zone Ductless Systems
Making the switch to ductless can be a big decision, and we want to ensure you're comfortable. To learn more about multi-zone ductless technology, check out these resources:
When you're ready to learn more, feel free to explore our blog or contact us directly. We love talking about the benefits of Mitsubishi heating and cooling.
Save Money With Rebates
Energy-efficient heating and cooling is the way of the future, and to help families make the leap, many organizations offer rebates when you invest in electric heat pumps. To learn more, check out our rebates page. We always have the latest details, and when you work with us, we ensure that you know about the most valuable rebates. We'll even help you with the application.