One of the most important systems in any home is its electrical system. It's responsible for providing power to every room in your house and is the cornerstone of your home's functionality. Electrical wiring runs through each of your walls, the floors, and the ceiling to provide electricity to overhead lights, wall outlets, appliances, and more. Any interruption in this system can be inconvenient at best and may completely destroy your electrical wiring at worst.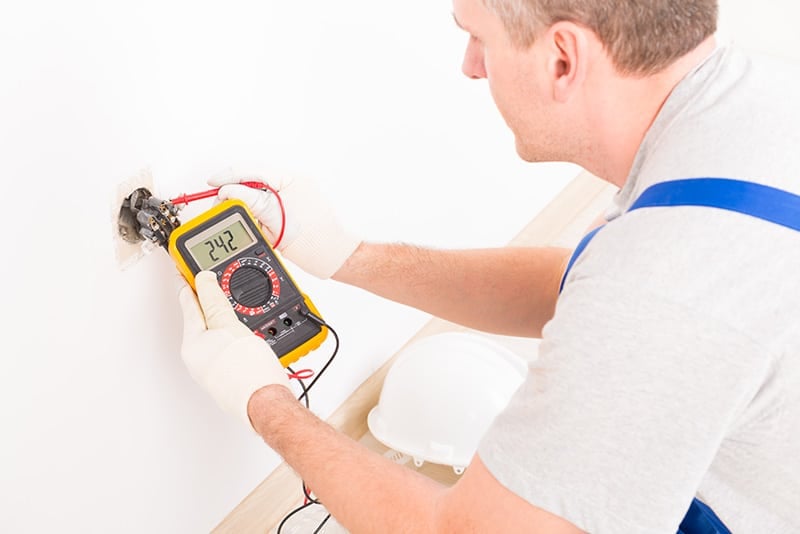 Making sure this system is safe, efficient, and up to current standards is crucial whether you plan to sell your home or continue living in it. If your home is like many of the older homes in Boston, having your wiring checked out is all the more important.
Here are 5 benefits of having an electrical inspection on your Boston home and how to get help assessing the safety of your electrical system, repairing any issues, and maintaining it in the future.  
1. Prevent Electrical Fires
Over time, electrical wires can fray or become exposed as a result of normal use. However, once faulty,  electrical wiring can cause sparking, which poses a significant fire risk in both residential and commercial structures. Fires that are electrical in nature can result in both damage to property and serious or even deadly injuries.
Electrical fires caused 6.8% of all home fires in 2018, per the United States Fire Administration (USFA). Compared to other types of fires, electrical fires are significantly more hazardous and destructive. Statistically, these fires inflict twice as much damage as non-electrical fires, along with a greater proportion of catastrophic injury and death. Aluminum wiring has a higher risk of creating an electrical fire than other types of wiring.
Having the wiring on your old Boston home inspected regularly and having faulty wiring repaired or replaced can save your life and the lives of your loved ones. 
2. Meet Inspection Requirements for the Sale of Your Home
If you're considering selling your home, there are a number of tasks to think about first, from patching holes to refinishing hardwood. One very important issue that often gets overlooked is inspecting the home's electrical system to ensure there are no holes, frays, or otherwise exposed wires.
Sellers can perform simple tasks like replacing light bulbs and switch plates, but you'll need an electrical professional to ensure that all wiring is up to code. When you work with N.E.T.R., Inc., our experienced technicians will identify any issues in your electrical system that could complicate your home's sale and repair or replace problematic wiring. This way, you won't be in for any surprises when prospective buyers have your home inspected on their own terms.
3. Reduce Energy Consumption and Costs
Optimizing energy efficiency is a vital element of keeping your electrical systems in good working order. Regular maintenance can help you save money on utilities and ensure that your system continues to operate at peak performance, potentially resulting in a lower monthly power bill. 
An experienced electrician can inform you whether your system is inefficient and if so, how much money it's costing you. This is particularly true for older homes, especially houses with knob-and-tube wiring. Not only can updating your electrical wiring save you money every month in reduced energy costs, but it can also help lower your carbon footprint. 
4. Protect Your Appliances and Technology
It's critical to protect expensive appliances and electronic devices against defective wiring if you want them to last. Anything connected to your wiring might be destroyed if the wires are damaged or frayed due to a power surge, overloading, or a small electrical fire.
A simple enough fix could cause thousands of dollars in damage to refrigerators, dishwashers, computers, home security systems, and other integral electronic components in your home. Regular electrical system inspections can protect the longevity of your home investments. 
5. Reduce Your Homeowners Insurance Premiums
Electrical wiring is typically be covered by your homeowner's insurance policy, but the amount or type of coverage may vary based on a number of things. It may pay for electrical wiring faults caused by a qualified risk, but it's less likely to cover issues caused by carelessness, neglect, or lack of proper maintenance.
Due to the general danger posed by their age, older houses are more difficult to insure as a result of the older wiring and outdated electrical systems. If you update your electrical wiring or have regular maintenance done and provide this information to your homeowner's insurance provider, your rates may be lowered. 
Contact N.E.T.R., Inc. Today For an Old Home Electrical Inspection
If you own an older home in the Boston metropolitan area, it's a good idea to have your electrical system and home's wiring inspected for fraying, holes that rodents may have chewed, or other types of damage. Have your system updated as needed to replace outdated or damaged electrical components can make your home safer, reduce your energy costs, and lower the cost of your homeowner's insurance.
N.E.T.R., Inc. is an experienced Boston HVAC and electrical service provider that can offer you both peace of mind and financial savings by making sure that your old home's electrical systems are safe and in good working order.
Contact us today to learn more about the importance of staying up to date on the electrical wiring in your old home, to discuss wiring schematics for a new residential or office construction, or for any other questions you may have. One of our experienced technicians will come to your property to conduct a thorough assessment and offer you a detailed quote.
Call now at (781) 933-6387. Our veteran team of Mitsubishi Electric Diamond Elite Contractors are available now to assist you.