Many home and business owners look for ways to cut costs when having their houses or offices maintained. In some cases, various repairs can be made by the owner, saving money that would have otherwise gone to a service contractor for the same repair.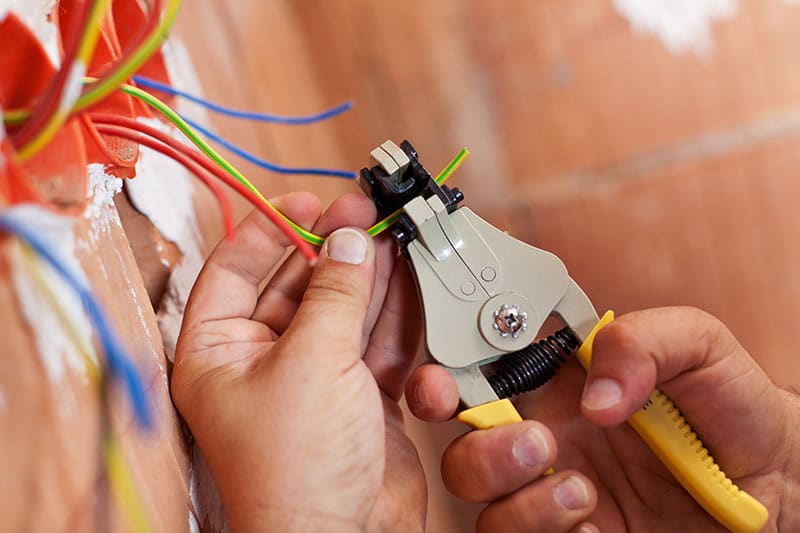 This may seem like a good idea to apply to any repair needed for your home or business, but this simply isn't the case. Electrical repairs, in particular, can be especially dangerous and pose the risk of serious injury or even death.
According to the National Safety Council (NSC) and the U.S. Consumer Product Safety Commission (CPSC), approximately 400 people die in their homes every year due to electrocution. This averages to roughly four deaths per week in American homes from electrocution. The majority of these deaths are preventable.
It requires many years of instruction and expertise to master the sophisticated nature of electrical work. As a result, it's always a good idea to enlist the services of professionals for electrical jobs that are better left out your to-do agenda.
Most electrical repairs aren't of the do-it-yourself variety and attempting them can be disastrous. Here are several DIY electrical repairs that you should never do yourself and who to call when you have an electrical issue that you need assistance with.
Upgrading Your Wiring
Modifying or changing the electric cables in your home or office, regardless of the building's age, may be incredibly risky. If you wire your building incorrectly, this could result in failing a home inspection at best or a fire hazard at worst. It's simply not worth the gamble, and even if no one gets hurt, a DIY electrical repair might cost a great deal of funds to fix.
The smartest — and safest — option in this situation is to have the wiring in your home or office upgraded or replaced by a professional electrician. Attempting to do so yourself could leave wires exposed, which creates the perfect recipe for a fire, especially if the exposed wires are near insulation, fabric, or other highly flammable objects.
Updating a Circuit or Installing a New Circuit
Your electrical circuits may need to be updated if you find that you don't have enough open plugs in a space to accommodate your power needs within that space.
For example, if you're constantly looking for an open plug and coming up empty each time, this means your home or office has more power needs than the building can currently accommodate. Additionally, if your breakers trip regularly, this indicates that your circuits lack sufficient electrical capacity for the current demands for power.
It's not just inconvenient to have to flip your breakers so often, but it might also be pricey if you work remotely and rely on office technology to work. Updating your current electrical circuits or installing a new one to meet increased power demands can be difficult and dangerous to do and leaving it to a professional electrician is generally your best bet.
This is especially true if you plan to add multiple new outlets, or outlets in a number of different rooms. Only a qualified electrician can safely map out the connections between your main power sources and new outlets.
Installing a Ceiling or Exhaust Fan
Installing an exhaust fan or a ceiling fan may appear easy enough, but it's actually a very precise and possibly risky task. Electrical wiring is always hazardous to work with, and even slight errors can lead to significant issues down the road. For example, a small gap in between the ceiling and the center of the fan can result in a loud shaking noise.
Or, if your exhaust vents aren't correctly sealed, toxic fumes might leak back into your house, causing mold formation. It's also potentially incredibly dangerous to install the wrong equipment for your home's wiring. However, an experienced electrician can easily mitigate these issues and prevent any problems from arising when installing or upgrading a fan in your home or office.
Servicing Your Electrical Panel
Updates to the electrical panel in your home or office may be required to keep up with modern technology. The function of your electrical panel is to keep electrical power from overwhelming and ruining the wiring in your building. Your electrical panel might not be capable of keeping up if you add more and more appliances and electronics to your space. This can cause circuit breakers to trip and potentially cause a fire.
Furthermore, distinguishing between the need for a simple repair and when a replacement is necessary can be both challenging and time-consuming. When it comes to updating your electrical panel, you should rely on a trusted local electrician for assistance.
Upgrading Your Electrical Service
The solution to obtaining uninterrupted power for all of your devices and appliances may be increasing the electrical service in your home or office building. If your lights flicker often and your circuit breakers trip, or you never seem to have enough outlets for all the things in your house that plug in, the key may be to upgrade your electrical wiring and circuit panel.
However, this is an extremely complex electrical repair that involves precise calculations to avoid having too much or too little power in each area of your home or other building.
Contact N.E.T.R., Inc. Today for Experienced Electrical Repairs
At N.E.T.R., Inc., we have experienced technicians and electrical professionals who can provide you with prompt service to repair electrical issues in your home or office as quickly as possible. Contact us today for answers to your questions about electrical problems or to book a time for one of our veteran techs to come out to your house or other building for an evaluation. Call now by dialing (781) 933-6387.