---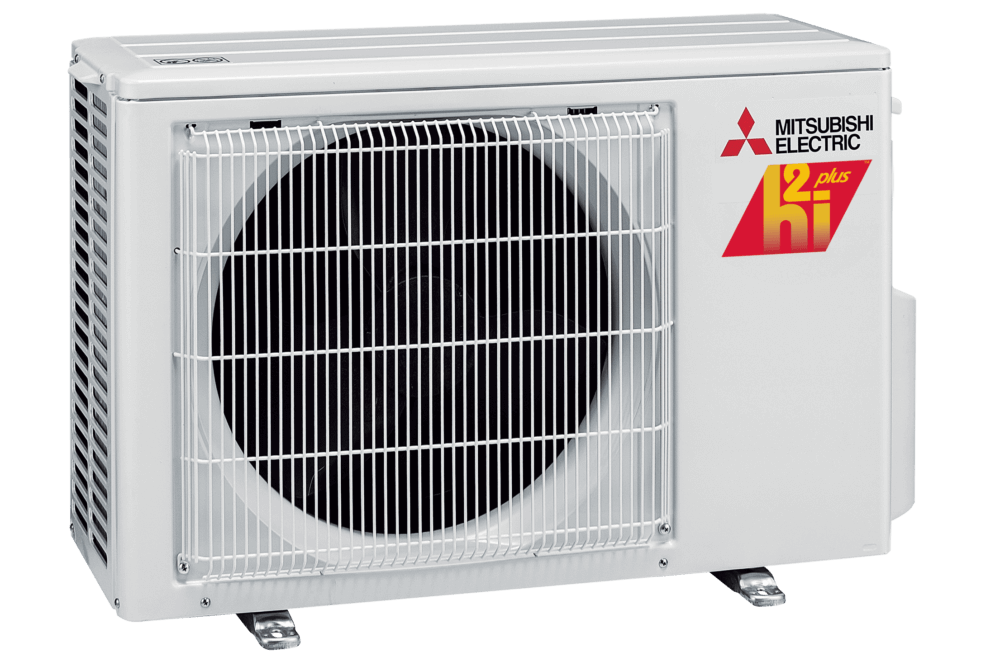 ---
The Mitsubishi single-zone hyper heat outdoor unit can support a single indoor unit, allowing you to heat or cool a single zone in your home. Hyper heat technology is perfectly suited for cold climates in the northeastern United States, and it can efficiently heat your home in temps as low as -13 degrees.
Because hyper heat can heat and cool your home, it can easily replace your current HVAC system. Here's what you need to know about this heating and cooling option.
How Hyper Heat Single-Zone Units Work
A single-zone hyper heat outdoor unit attaches to a single indoor unit with very small lines that go discretely into your walls without disrupting your home. The lines carry refrigerant and power between the two units.
During the winter, the outdoor unit finds heat from the outside air — yes, even in sub-zero temperatures — and allows it to absorb into the refrigerant. The refrigerant travels through the tubes to the indoor unit. There, fans pass air over the refrigerant, and warm, comfortable air heats your home.
The heat pump uses the same process in reverse to cool your home during the summer. The refrigerant in the indoor unit absorbs warm air from your home, and then, it travels through the lines to the outdoor unit where the warm air gets released outside.
Why Hyper Heat Systems Use Less Energy
Mitsubishi hyper-heat systems rely on INVERTER-driven technology to use the perfect amount of energy for heating and cooling. Traditional HVAC systems run at full power until your home reaches its target temperature. Then, they turn off until the temps change and the cycle starts over again. This process wastes energy, especially as the heating or cooling system thunders on and off.
The INVERTER at the heart of a heat pump works constantly, gently adjusting its power in response to subtle changes in your room's temperature. It avoids temperature fluctuations, which safeguards your comfort and reduces your energy consumption. Thanks to this technology, hyper heat can reduce your heating and cooling bills by up to 40%.
Who Should Use a Single-Zone Hyper Heat Outdoor Unit
A single-zone hyper heat unit can meet a wide range of heating and cooling challenges. If you're experiencing any of the following issues, you may want to consider a single-zone hyper heat outdoor unit:
You want to add heating and cooling to an area that is not connected to your ductwork.
You're tired of installing window AC units in the summer.
Your current heating system is old and inefficient.
You want to add AC or heating but your home doesn't have existing ductwork.
Your home is struggling with uneven heating or cooling.
You're looking for an energy-efficient HVAC solution for a new home.
You live in a cold climate where you need the extra strength of hyper heat technology.
The single-zone unit can support a single indoor unit. That makes it ideal for heating and cooling a single zone in a large home or the entirety of a small home. If you need multiple zones, you may need to upgrade to the multi-zone hyper-heat outdoor unit.
Related Resources
Case Studies About Hyper Heat
When clients contact us, we don't just sell them a ductless heating and cooling solution. Instead, we talk with them about their current heating challenges. Then, after carefully considering their home and their needs, we guide them toward the best products to meet their challenges.
Want to see our process in action? Then, check out these case studies to see how hyper heat technology has helped previous clients:
To learn more about how hyper heat has helped homeowners become cooler in the summer and warmer in the winter, check out our residential case studies page.
Resources and Insights About Hyper Heat
Before choosing your next home heating solution, you should know the facts. Get your questions answered by exploring these resources:
We encourage you to look through our site for other resources or download the hyper heat brochure to learn more about this technology.
Rebates for Single-Zone Hyper Heat Technology
To encourage homeowners to select more efficient home heating solutions, Mass Save and other organizations offer a range of rebates. If you qualify for any money-saving rebates, we'll even help you through the application process.