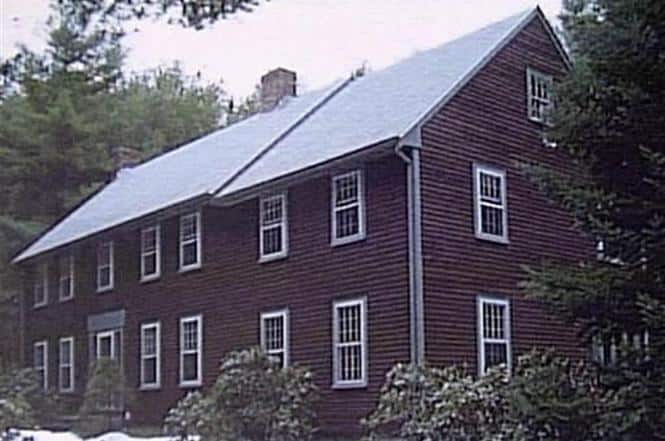 Building an addition onto a home is very exciting but it comes with a lot of complications. Because the house wasn't built with this addition in mind, a lot of details must be addressed before the room can be completed.
It needs electricity, maybe running water, heating and air conditioning.  We didn't take care of the first two, but when it comes to the heating and cooling, this homeowner decided to give us a call.
---
Problem: This homeowner had put an addition on their colonial home, and needed heating and cooling for it. They were using oil heat and window units at this point but wanted a more elegant solution.
Solution: They went with a Mitsubishi Electric 2 Zone Ductless Cooling and Heating System. We put in one outdoor mini split heating and cooling unit, and two indoor units between the addition and the kitchen. These systems are built to both heat and cool, allowing them to use their addition comfortably all year long.
---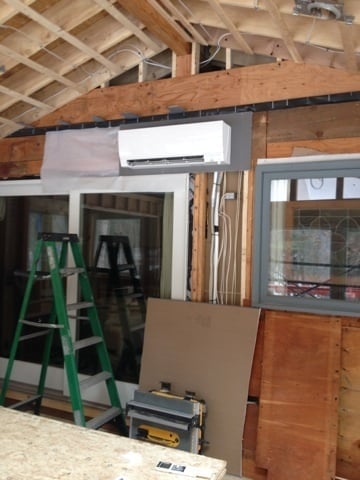 What was Done to the Home
These home owners already had oil heating and would pull out the old window units when they needed to cool off. They were sick of the window units, which were noisy and inefficient.
They also took up an entire window all season long. They decided when they put their addition onto the home, they would also take care of the air units in the kitchen.
They wanted something that could heat and cool, while being energy efficient and low maintenance. So, they began researching the best solutions and they came across awesome reviews of the Mitsubishi Ductless Systems.
They decided to call N.E.T.R., Inc. after seeing we were named New England's #1 Elite Diamond Dealer, an award given by Mitsubishi Electric, and reading our reviews online.
They decided to install two indoor units, with one outdoor condenser. One ductless mini-split unit was placed in the kitchen, while another was put over the doorway of their new addition. Because these units offer both cooling and heating, the home owners were now able to use their new addition all year long.
In a place like Carlisle, MA, having adequate systems for cooling and heating every room in your home is a must!  Without the proper heating and cooling units, these rooms would have been unusable for most of the year!   Because we installed a unit in the kitchen, a place that can get very hot, now the home owners have a way to regulate the heat and keep the room comfortable! They were also able to free up a window, allowing in more light and air flow on warm, sunny days.
What Ductless Mini-Split Heating and Cooling Units Will Do for Your Home
These new ductless mini-split heating and cooling units will not only keep the house more comfortable, but also have multiple benefits compared to the the old window units.
For example, they are much quieter. No need to turn up the TV, or be bothered by the loud humming of a window unit. Ductless mini-split units are also far more energy efficient. They not only take use less energy to do the job, but also do a better job using the energy they do spend!
One of the other great things about ductless split systems, especially compared to a traditional system, is that they can work independently of each other. This means that while their kitchen unit is turned on, the one in the addition can still be off, saving energy and money.
A traditional heating and cooling system would be struggling to make the entire house the same temperature, causing the energy use to increase, and the bills to follow suit.  While the new mini split ac regulates the separate rooms and their temperatures with ease.
Now this home is cool in the summer, warm in the winter, and the windows are free from nasty old window units!